Agriculture Ministry to open new path for farm produce sales
"We have to figure out a new 'farm produce path' that allows us to connect fields and markets," said Minister of Agriculture and Rural Development Le Minh Hoan.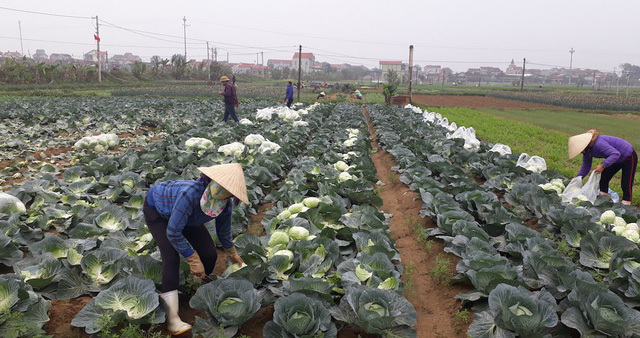 Hoan spoke at a meeting some days ago that discussed urgent solutions to connect production and consumption of farm produce, as sales are stuck because of Covid-19.
The Ministry of Agriculture and Rural Development (MARD) decided that Vietnam will change its way from single value-based to multi-value-based, and refer to the market as the criteria for production and management.
"Previously, we sold what we could produce. Now we sell what the market needs. Information from farm produce consumption centers will give data to farmers on production, and will have farming area codes. We first need to master the 100-million people consumer market and then reach out to the world market," Hoan said.
He said that the market can only be satisfied when utilities for consumers and production are optimized. When consumers find it convenient to buy things, they will place orders. Once total demand is stimulated, there will be total supply.
He said Covid-19 is one reason behind the current supply chain disruption but this is just temporary. Disruption occurs periodically. Farmers often are confused about oversupply and have to call for 'farm produce rescue campaigns'.
Through a forum that connects production and consumption of farm produce, farmers will better understand the market and how to satisfy market demands. Local agriculture departments will find their roles in production orientation. Everything will depend on the market.
"The forum serves as the place to match supply and demand," he said.
It will also help MARD, the state management agency reshaping the agricultural production chain, in areas such as preservation, preliminary treatment, processing, logistics and marketing. In other words, this is a 'digital agriculture map', which will show where congestion is located.
Most recently, a website for farm produce connecting farmers and sellers and buyers was set up. A virtual farm produce exhibition was organized, allowing farmers to attend exhibitions shown in 3D and 4D to learn about farm produce quality.
The Taskforce 970 will apply digital technology for farm produce administration and mapping, updating information about output, prices and growing areas. This data will be important for the management agency to give general assessments and conclusions.
Consumer tastes
Nguyen Hoang Anh, Deputy Chair of the Vietnam Digital Agriculture Association, said there should be chain linkage rules for each product and category.
Regional development plans should be suited to the production capacity of each region, from seeds and cultivation to storage, processing and trade.
Hoang Van Duy, general director of Mekong Seafood Group, said thanks to Taskforce 970, his company has signed a deal for 300 tons of food. But he wants to connect with units that have stable input materials and can satisfy higher requirements on quality and food safety.
Nguyen Anh Duc, General Director of Saigon Coop, said that it would connect with local material growing areas.
There are many available goods distribution channels, including e-commerce sites. Farm produce development in localities should fit online demands, including packaging, to make connections more effective.
In related news, Vietnam's exported $24.23 billion worth of farm produce in the first half of the year, an increase of 28.2 percent over the same period 2020. Vietnam earned $10.4 billion from the export of major produce, up by 13.3 percent, $4.05 percent from seafood exports and $8.7 billion from forestry products. 
Tam An

As China has unexpectedly stopped collecting bananas, a large amount of bananas remains unsold, including 20,000 tons in Lao Cai and Lai Chau alone.

Ministries are strengthening cooperation with each other and with Chinese counterparts to solve difficulties in exporting agricultural products at the country's border gates.