Agriculture tourism – a new 'gold mine'
Within a month during the lychee season this year, the garden of Ms. Pham Thi Lien in An Lao village in Thanh Ha district, Hai Duong province welcomed about 5,000 visitors.
Visitors could buy a VND30,000 ticket to take photos, or a VND50,000 ticket to both take photos and enjoy fresh lychee on the spot. Ms. Lien earned nearly VND200 million from these services, not including the money from selling lychees.
"This is the first year I have offered this service. I only planted lychee to sell fruit before. Unexpectedly, tourists from all over the country, even Ho Chi Minh City and the southern region, came to visit my garden," she said.
According to Lien, agricultural tourism brings dual benefits. She cans sell her agricultural products while earning more money from tourists, and more specifically, each tourist becomes a person to promote her agricultural product image on social media.
At the Flowers and Frogs House in Tan Quy Dong village in Sa Dec, Dong Thap province, visitors can grow flowers, take care of frogs and enjoy rustic cuisine. This has helped the owner of the Flowers and Frogs House to increase revenue by 40 times compared to only planting flowers and raising frogs for sale.
How to develop agricultural tourism?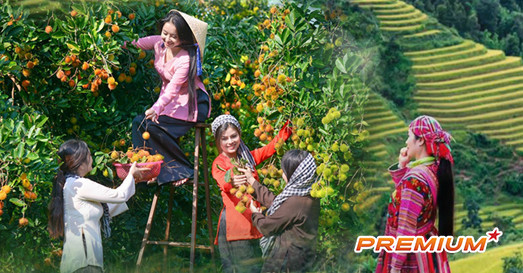 Agricultural tourism has become a global trend. In many countries, this type of tourism has been developed for half a century.
According to the World Tourism Organization, the number of tourists in rural and ecological tourism accounts for about 10% of total tourists with a revenue of about USD 30 billion per year. Each year, the proportion of tourists to rural areas increases from 10-30%, while traditional tourism is only at 4%.
Vietnam is known as an agricultural powerhouse. The export of agricultural, forestry and fishery products brought in nearly USD 50 billion in 2021. Each ecological region of the country has its own strengths in terms of specialty seedlings, culture, and history as well as national identity. The countryside has about 2,000 craft villages that can be combined with tourism.
The annual Tourism Report shows that the number of visitors and revenue from tourism has increased sharply over the years. Specifically, in 2018, the number of tourists reached 95 million; total revenue from tourists is estimated at VND 637,000 billion. In 2019, Vietnam welcomed 103 million visitors, earning total revenue of VND 755 trillion.
In 2020 and 2021, the outbreak of Covid-19 severely affected the tourism industry. But in 2022, the tourism industry has recovered rapidly. In the first half of the year, the country received 60.8 million visitors, exceeding the year target, with total revenue estimated at VND 265,000 billion.
With an abundant source of international and domestic tourists, the potential for agricultural tourism stretches from the North to the South, but this type of tourism in Vietnam is still fragmented.
Having the advantage of Tourism and Trade Investment Promotion Center, there are still only 33 agricultural tourism farms in the province that operate effectively.
He pointed out that agricultural tourism has not fully exploited the potential and strengths of the locality. Cooperation between tour operators and destinations is still limited.
ChimiFarm Moc Chau is one of the first establishments to implement the model of agricultural production associated with tourism, but the owner Mui Thi Thuy said that she does all the work from welcoming guests, preparing, planting and taking care of the garden. Not being trained at tourism school, she faces difficulties and low economic efficiency.
On August 2, Deputy Prime Minister Pham Binh Minh signed a decision approving the rural tourism development program in the 2021-2025 period.
The goal by 2025 is to standardize rural tourism destinations and products. Each province or city has at least one recognized rural tourist destination associated with its advantages in agriculture, culture, craft villages or ecological environment; 50% of rural tourism service establishments are recognized as meeting tourist service standards.
At least 50% of the recognized points will be digitized and advertised online; 100% destinations introduced and promoted; and new rural districts with tourism potential will build at least one model of a specific agricultural and rural tourism linkage chain.
Other goals: 70% of rural tourism establishment owners trained in tourism management; 80% of rural tourism workers trained with professional skills to serve tourists, of which at least 50% are female; and each tourist destination with at least 1 staff fluent in foreign languages.
Ms. Phan Yen Ly, Research and Development Director of Say Cheese Company, said many opportunities exist to develop rural tourism. However, travel agencies and rural tourism development units must be able to breathe life into products and touch the hearts of tourists.
Marketing , digital transformation, and at the same time infrastructure needs to be upgraded, especially accommodation services.
Regarding the potential of agricultural tourism, experts said that in the US, there are tourist farms that welcome over 1.4 million visitors per year, making a profit of up to $10 million.
In the town of Yufuin in Oita Prefecture (Japan) with a total area of ​​about 127 km2, a population of about 10,000, each year it welcomes about 3.8-4 million tourists. One of the strengths of this locality is the organic agricultural production model, creating a green and clean living environment, creating a famous agricultural brand.
In Taiwan, agritourism was developed 40 years ago, and has become a "green miracle", a spearheaded economic sector that has helped people earn high incomes, while agricultural products are promoted widely.
In Vietnam, rural tourism can be considered a new "gold mine" for farmers. However, it is necessary to do it professionally, and methodically, and to have a connection between people, authorities and travel businesses in promoting, building products, linking into chains, communities, and tourist villages to attract domestic and foreign tourists.
Tam An