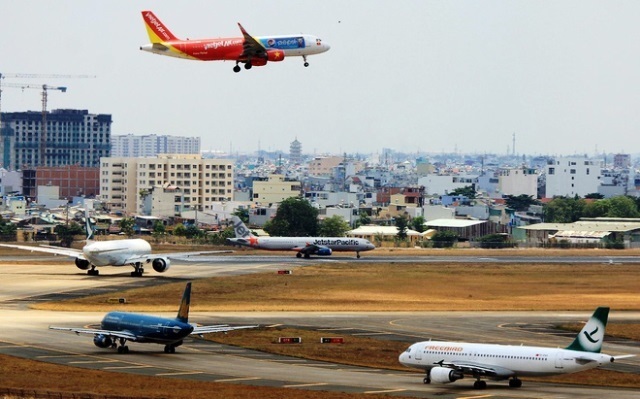 The Government has agreed to resume routine international flights carrying passengers to destinations with a high safety level, including Beijing, Guangxi (China), Tokyo (Japan), Seoul (South Korea), Taipei (Taiwan, China), Bangkok (Thailand), Singapore, Vientiane (Laos), San Francisco/Los Angeles (the US), and Phnom Penh (Cambodia), starting on January 1.
CAAV (Civil Aviation Authority of Vietnam) Deputy Head Vo Huy Cuong said the reopening shows Vietnam's strong determination to resume all socio-economic activities.
The reopening of nine international air routes is being implemented step by step to avoid panic among the public. Another 15 air routes will be reopened in the next phase.
The manager of a planning division of an airline told VietNamNet that, with the Government's decision on allowing to reopen some air routes, airlines will be able to cut operation costs and create two-way flight schedules.
"The costs to serve irregular flights, especially ones from and to other countries, are high. If airlines can provide routine flights, the operation costs will be lower, which reduce airfares.
Moreover, the exemption of concentrated quarantine for passengers with full vaccinations and negative test results will help reduce passenger's expenses. As such, passengers will have more opportunities to return to Vietnam once there are more flights.
Many overseas Vietnamese want to return to celebrate Tet, and want the Government to allow the resumption of commercial flights. However, many people have worries about airfare and quarantine costs, which would hinder repatriation. With the resumption of commercial flights from January 1, the concern will be lifted.
Experts point out that the medical policy for foreigners plays a very important role in attracting foreign travelers in the competition with other destinations.
The Ministry of Industry and Trade (MOIT) said as the pandemic is being controlled, other countries, including regional ones (Thailand, Singapore, Cambodia… etc) have been running demand stimulus programs. To compete, Vietnam needs to loosen strict regulations to attract more travelers.
As international flights are open to all passengers, the Ministry of Transport (MOT) said it would be better to set medical and epidemiological requirements without discriminatory treatment toward nationalities.
MOT also suggested that international tourists should be required to have insurance policies to cover medical treatment if their contract Covid-19 and need treatment in Vietnam; and passengers must install a medical declaration app before getting onboard to save time for procedures during their entry to Vietnam.
It's also necessary to clarify the requirements for people who do not use smartphones. 
Vu Diep

The Ministry of Transport has requested that localities facilitate conditions in which people who have tickets for international flights can access airports on time.

Regular international flights from/to Vietnam will be resumed in two phases, with air travel with nine foreign destinations to be available again in the first phase and fifteen in the second phase.