VietNamNet Bridge - Though the Civil Aviation Authority of Vietnam (CAAV) has lowered the airfare ceiling by 4 percent, air carriers' airfares have remained the same.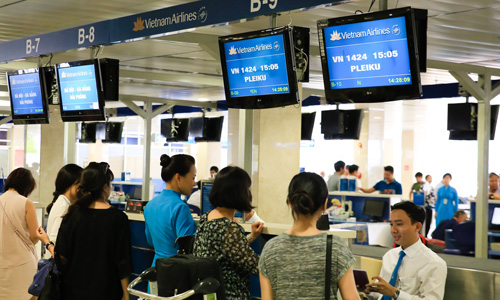 CAAV last week released the decision on adjusting the air transport service fee. Following continued fuel price decreases, airfares were reduced by 4 percent on average. One-way tickets on domestic routes would be priced at VND1.6-3.75 million.
However, passengers have been warned that they should not expect airfare reductions.
Lam, the owner of a booking agent in Dong Da district in Hanoi, said that the CAAV's move would in no way affect the ticket prices his agent was applying.
"Under the latest decision, the most expensive air ticket could be priced at VND3.75 million. However, our tickets are now priced at no more than VND3.3 million. Therefore, the 4 percent airfare cut will not affect us," he explained.
Lam went on to say that booking agents can make a profit from the fixed booking fee of VND50,000-60,000 that airlines allow booking agents to collect on every ticket. Meanwhile, the booking fee remains unchanged.
He noted that the 4 percent airfare cut decided by the watchdog agency was insignificant, because airlines always try to lower airfares to attract passengers.
Thu, the owner of a booking agent on Dien Bien Phu street in Binh Thanh district of HCM City, noted that most air carriers were now running sales promotion campaigns in order to stimulate demand, which is declining.
Jetstar Pacific, for example, issued tickets at just VND70,000 for flights between Hanoi and Da Nang City (not including taxes and fees), while Vietjet Air's passengers have to pay VND149,000 and Vietnam Airlines's several hundreds of thousands of dong.
If counting taxes and fees, the total expenses passengers have to pay would be VND450,000-700,000.
"All tickets have been cut by 30-50 percent in price since the April-May national holiday ended as a result of low demand," Thu said.
Thu's four booking agents issued 500 tickets in July, a 20 percent decrease from the month before.
Passengers took flights during that time to attend conferences or weddings. They were not travelers," she explained.
A representative from Vietnam Airlines said the air carrier's airfares were 70-85 percent of the ceiling airfare level set by CAAV.
Jetstar Pacific also said its airfares were just equal to 2/3 of the ceiling levels.
The carrier often runs sales promotion campaigns, offering substantial discount rates.
"If we reconsider the new airfare policy, we will only adjust the highest airfare," a senior executive said.
VNE