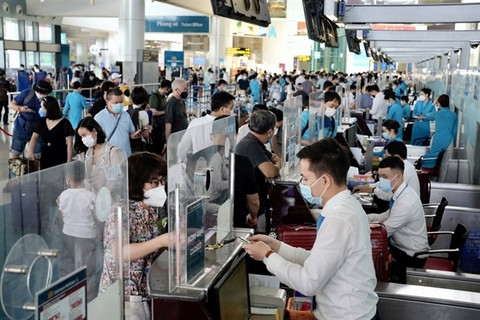 Passengers check in at Noi Bai International Airport. — VNA/VNS Photo Huy Hung
To safeguard passengers' interests, particularly during the upcoming April 30-May 1 holiday and summer peak travel periods, the CAAV has required Vietnamese airlines to implement pricing guidelines strictly.
They must publish and publicise selling prices following regulations on distribution channels and penalise agents who fail to comply with domestic fare rules.
Furthermore, the CAAV has requested a strengthening of ticket sales control to ensure that sales are made at the declared price without exceeding the ceiling price outlined in the Ministry of Transport's Circular 17/2019/TT-BGTVT, which set the price range for passenger transport services on domestic routes.
The CAAV has called for greater communication with passengers about purchasing air tickets from authorised agents and official distribution channels and providing feedback on high domestic airfares to airline hotlines.
According to Circular 17/2019/TT-BGTVT, the price range for economy-class passenger transportation services is calculated based on the route distance.
For routes under 500 kilometres, the maximum one-way fare is VND1.6 million (US$67.8) per ticket for the group of routes for socio-economic development and VND1.7 million for other routes.
The maximum fare for routes between 500 kilometres and less than 850 kilometres is VND2.2 million for a one-way ticket.
For flights between 850 and less than 1,000 kilometres, the maximum price is VND2.79 million per ticket, while for routes of 1,280 kilometres or more, the maximum price for a one-way ticket is VND3.75 million. — VNS