VietNamNet Bridge - The government has guaranteed the loans that Vietnam Airlines got from commercial banks to buy modern aircraft. Will this add to the public debt burden?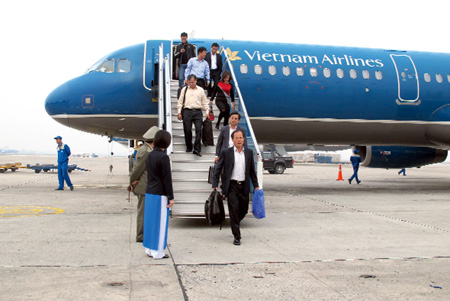 Vietnam Airlines, the national flag air carrier, and Vietjet Air, the first private airline in Vietnam, have caused controversy with their plans to expand their fleets.
Vietnam Airlines has received one Boeing 787 Dreamliner, a super-product of the modern aviation industry. The state-owned air carrier plans to spend VND21.2 trillion on its fleet expansion plan in 2015 alone, under a plan approved by the Prime Minister.
Meanwhile, Vietjet Air has spent $56 million to buy an aircraft engine and spent another $680 million to buy six A321s more under a plan submitted to the Ministry of Transport.
Under current laws, the loans under the government's guarantee are counted as public debt, which means that the public debt will increase with loans for Vietnam Airlines.
The Head of the Civil Aviation Authority of Vietnam (CAAV) Lai Xuan Thanh has tried to calm the public down by saying that the risk of the loans is not high because Vietnam Airlines has been performing well.
A 20-year review over Vietnam Airlines' operation showed that the air carrier always make profits, therefore, there is no need to worry that the government may have to pay debt for Vietnam Airlines.
Vietnam Airlines is still a state-owned enterprise, though it was equitized, because the state holds the controlling stakes. However, as the air carrier now operates as a joint stock company, the transparency in financial activities and business management will receive higher attention.
Thanh also denied that taxpayers have to pay for the air carrier's borrowing to expand its fleet, and have to pay high airfares for domestic flights to offset the loss the air carrier incurs for international flights.
"We cannot say people have to bear the airlines' loans. It is Vietnam Airlines which has to take responsibility for this," he said in an interview with Dat Viet.
When asked how the government, as the guarantor, will control the Vietnam Airlines' loan, Thanh said that all airlines have to draw up annual, medium- and long-term strategies. However, he said it is the airline which will determine their business plans.
Meanwhile, CAAV will still maintain state management over the airfare. However, as Thanh said, it is not the state's function to intervene in enterprises' operations by releasing administrative commands.
Dat Viet