Airlines need more assistance to recover, develop
Vietnam's domestic aviation market has been bouncing back, but many airlines are still grappling with difficulties caused by the COVID-19 pandemic, latent risks, and soaring expenses.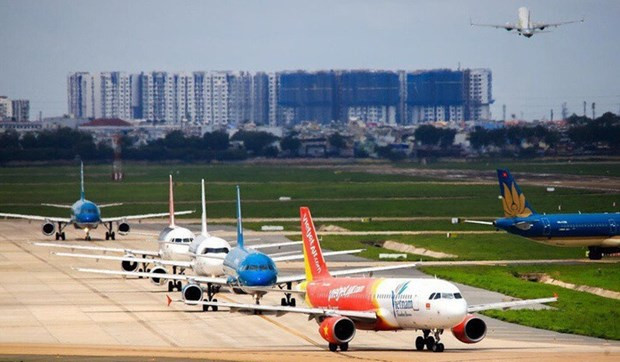 The aviation market of Vietnam has been recovering. (Photo: VNA)
After a period of stagnation due to the pandemic, the number of passengers on domestic air routes has rebounded strongly.
In 2022, air transport served about 55 million passengers, surging 3.7-fold from 2021 and equivalent to 69.6% of that before the COVID-19 outbreak in 2019. The number of air passengers increased almost 92% year on year in the first two months of 2023.
However, the recovery is uneven among the segments. Cargo transport is rebounding fast and enjoying growth compared to 2019 while passenger transport is recovering at a slower pace and mainly in the domestic market, according to the Vietnam Aviation Business Association.
Despite certain growth in the transportation volume, the revenue of Vietnamese airlines hasn't increased accordingly or even declined as a result of discounts to stimulate demand and rising fuel prices and other input costs.
In contrast to the strong recovery of some enterprises running infrastructure facilities and providing services, many airlines and other service suppliers are still struggling with difficulties as they have to deal with adverse impacts emerging during the pandemic.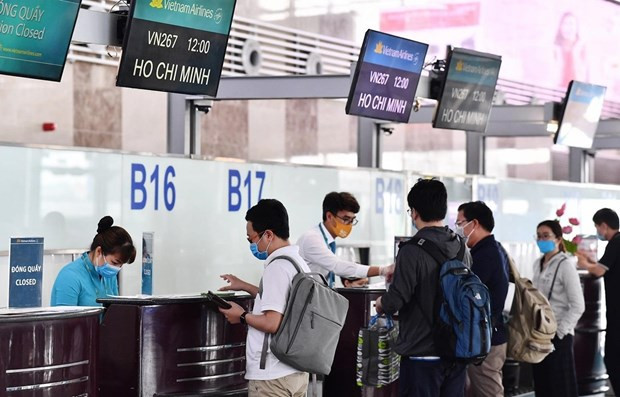 Passengers handle boarding procedures at check-in counters of Vietnam Airlines. (Photo: VNA)
Witnessing a fall in revenue, most aviation firms have had to scale down operations, and some even had to sell part of their fleet, said Bui Doan Ne, Vice Chairman and Secretary General of the Vietnam Aviation Business Association.
Authorities have assisted aviation enterprises via different support programmes and packages, but these supports haven't been interconnected to generate common effects for the entire sector or groups of businesses, he pointed out.
Therefore, it is necessary to make a comprehensive review of effects of the State's policies on the sector, continue perfecting policies, and develop manpower training centres in Vietnam to address shortages and reduce dependence on other countries, Ne added.
He recommended the State devise policies for attracting more private investment and public - private partnerships to help diversify and upgrade aviation infrastructure, promote negotiations with the potential markets that Vietnam hasn't fully tapped into, and hold more promotion activities to help the aviation and tourism sectors attract international passengers and investors.
The Civil Aviation Authority of Vietnam have forecast the domestic aviation market will fully recover by the end of 2023 and post fast growth compared to 2019. The international market is also bouncing back gradually and will near the 2019 level by the end of this year.
Economist Can Van Luc held that although air travel demand is predicted to sustain the upward trend in 2023, the growth may slow down.
Due to financial difficulties, risks posed by the international situation, the slow recovery of international tourism, and high fuel prices and interest rates, it is necessary to maintain the land rent reduction policy, extend tax payment deadlines, and cut down fees of some services at airports like in 2022, he suggested./. VNA