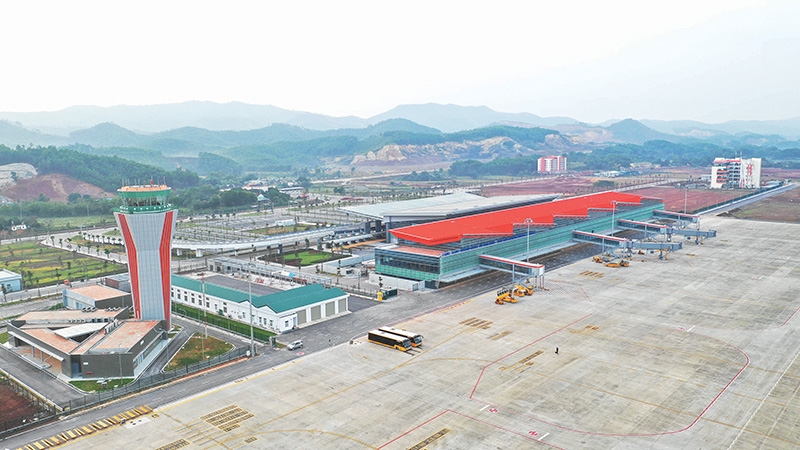 Some provinces believe they will require much stronger airport infrastructure for the next decade and beyond. Photo: Duc Thanh
A number of proposals by cities and provinces to build an airport have been announced. On February 25, the People's Committee of the southern province of Binh Phuoc proposed to the Ministry of Transport (MoT) to have Binh Phuoc airport included in the national planning on airport development for 2021-2030, with a vision towards 2050.
Binh Phuoc currently has four military airports. The province envisions that it will become one of the country's industrial hubs with a number of industrial parks (IPs) and clusters like Chon Thanh 1, 2, and 3, and Minh Hung IP and others. Moreover, it has a 260-km border with Cambodia. Therefore, a dual-purpose of military and civil airport is deemed important to spur socioeconomic development, while ensuring security and defense.
Similarly, the Transport Department of the northern province of Bac Giang proposed to develop the existing Kep military airport into a dual-purpose military and civil airport, attributing the sparse density of civil airport in the region, which has Noi Bai, Haiphong, and Van Don. Currently, Bac Giang, Lang Son, and other neighbouring localities are using Noi Bai, which is facing an overload. Moreover, the distance from Bac Giang to Noi Bai is 150km.
Earlier, the People's Committee of the northern province of Ha Giang also submitted a similar proposal to the MoT. The province plans to locate the Ha Giang airport project in Tan Quang commune designed as a category 4C airport. Another northern province, Ninh Binh, has also made a similar proposal.
Leaps and bounds
The first meeting is to be held in the next two months to appraise the draft being built on national planning on airport development for the decade and beyond. Currently, the MoT has received proposals to build airports from eight localities.
Although cities and provinces all reaffirmed the importance and necessity of airport development to their future socioeconomic development, the picture of existing airport operations raise concerns. In the last 10 years, Vietnam's aviation market has seen two-digit growth, averaging at 15.8 per cent annually which also brings about tourism growth and socioeconomic development.
For this reason, cities and provinces have been rushing to build airports which has somewhat damaged aviation network planning as well as the inefficiency of many.
Aviation and economic experts have raised their objections to the proposal, saying that travelling demand in Ha Giang, Ninh Binh, and Bac Giang is not high enough, while terrain for airport development is not favourable.
Aviation expert Nguyen Bach Tung said that Ninh Binh reported an increase in the number of tourists in recent years. However, the travelling demand among locals remains low. Meanwhile, the Tho Xuan airport in the northern central province of Thanh Hoa and the Cat Bi airport in the northern port city of Haiphong have enough capacity to serve passengers from neighbouring localities like Ninh Binh, Thai Binh, Nam Dinh, and Ha Nam.
Similarly, senior economist Ngo Tri Long analysed that a similar race occurred 10 years ago and the consequences still exist today as a lot of airports are operating in moderation. Some even consist of only one flight a day, inevitably creating a large waste of money.
"The country now has 22 airports, but just six or seven operate profitably. Airport development is costly, therefore, airport planning should be built based on reality and market demands to increase efficiency and prevent waste," Long noted. "A province is likely to have three airports, if it can prove persuasively that they will spur socioeconomic development."
A leader of Airports Corporation of Vietnam, the operator of 21 airports in the country, once admitted that a number of airports (Vinh, Tuy Hoa, Can Tho) lost VND80-90 billion ($3.48-3.9 million) annually, while the threshold of some others (Dong Hoi, Phu Quoc, Phu Cat) is a little bit lower.
According to Tran Tuan Linh from the Vietnam Aviation Scientific Institute, it is necessary to consider the criteria on people's access to airports within a radius of 100km before adding a new airport project to the planning. "In other countries, besides traditional airports, they also have various kinds of aviation airports like general aviation business and seaplanes. Therefore, the density is acceptable. However, if this criterion is applied for Vietnam, it may be too dense."
Linh said that the compilers are yet to clarify the criteria on adding new airports and those to develop a domestic airport into an international-level one in the final-term report on the draft. This has prompted a batch of new proposals.
Echoing Linh's view, Tran Kim Chung, vice head of the Central Institute for Economic Management, said that the national airport development planning should go properly with development planning of other means of transport. Land funds, manpower, technology, and finance should be considered together.
Chung recommended that total investment for airports should be balanced with the country's total infrastructure investment and general total investment in the periods.
In response, the MoT said that it is gathering ideas from ministries, agencies, and localities about the draft. Accordingly, studies on operation of existing airports, travelling demands, and international experience are a focus in the draft making.
Dinh Viet Thang, head of the Civil Aviation Authority of Vietnam, which is working on the draft, said that it does not mean that all airports in the planning will be built immediately, and that airport plans are to serve the regional demand, not serve province-to-province flights.
"The density of 22 airports per the national area is about 16,000 square kilometres per airport. In comparison with other regional countries, that density and number in Vietnam are at an average rate," Thang said.
New prospects
Under the draft, the country will by 2030 have 26 airports, including 14 international ones, with another four airports to be built by 2050 on top of that, including one cross-border one. This means that eight new airports will be built – Long Thanh International Airport and a second airport for Hanoi, as well as airports in Son La, Lai Chau, Cao Bang, Lao Cai, Binh Thuan, and Quang Tri.
If the draft is approved, it is estimated that the total investment for 2020-2030 is VND365.1 trillion ($11.52 billion), and VND866.36 trillion ($37.66 billion) for 2030-2050.
Amid state budget constraints, calling for private investment is a solution, thus creating an opportunity for domestic private and international ventures to take part. Foreign investors are indeed interested in various aspects of an airport, with numerous additional services that relate to airports, aircraft, or airlines. The main ones are typically passenger terminal operation, cargo warehouse operation, aviation petroleum services, aircraft maintenance, air navigation, and personnel training.
There are some driving forces for international financiers, such as those in the EU-Vietnam Free Trade Agreement, which came into force in August 2020 and which will eventually make it easier for foreign investors to provide these services.
After the success of Van Don International Airport in the northern province of Quang Ninh from private player Sun Group, it has been proven that efficiency can be achieved with a privately-invested project.
Minister of Transport Nguyen Van The previously told VIR, "One of the lessons that the MoT learned is to pay due attention to attracting more private investment in the sector's projects in the future to tap into their strong financial capacity and good development strategies."
VIR

Airport development planning should prioritise investment in key projects and have rigorous standards for project approval, experts have said.