VietNamNet Bridge – Several weeks ahead of the lunar New Year festival (Tet), the Poison Control Center at the country's largest hospital, Bach Mai in Hanoi, received dozens of alcohol poisoning patients, up 30% compared to the same period last year. Some of the patients became blind from drinking fake alcohol.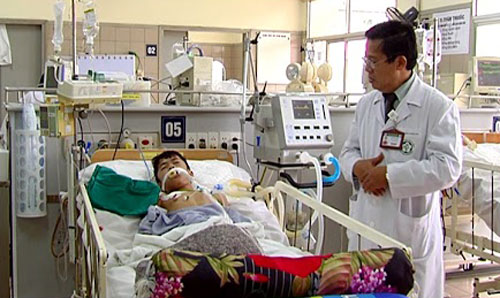 A patient at the Poison Control Center.
One of the most serious cases was a man from Hanoi, who lost his eyesight and suffered from cerebral hemorrhage. According to the patient's family members, just a day after a party with his friends, his eyesight was blurry. He went to a hospital near his home for examination and was then transferred to the Bach Mai Hospital. At that time he fell into a coma.
Doctors at the Poison Control Center said that in the last week, they have treated many critical cases like this. Most patients were poisoned with methanol.
Dr. Nguyen Kim Son, Director of the Poison Control Center, said methanol is industrial alcohol, which is usually used by restaurants as fuel for hot pots. This substance is used to produce fake wine. Methanol poisoning can cause blindness and even death.
Dr. Son said that the number of alcohol poisoning cases always rises before and after the Tet holiday.
Medical experts advised people to control the level of alcohol intake. People should choose wine and alcohol beverages with clear indication of origin and avoid drinking spirits with alcohol content of 30 percent or higher or drink no more than 30 ml per day, he added.
Relatives of men who have drunk too much should make them vomit and drink a lot of water to dilute the concentration of alcohol in their blood. When these men have symptoms of breathing failure and convulsions, they should be taken to the nearest medical clinic.
Le Ha