All Vietnam Airlines aircraft disinfected for international flights

Vietnam Airlines has moved to thoroughly disinfect all aircraft that operate on international routes to prevent the spread of the novel coronavirus and ensure the safety of passengers, flight crews, and the wider community.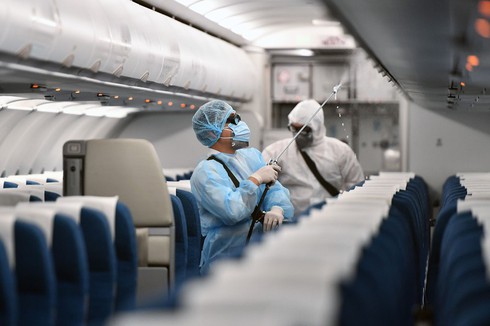 Illustrative image
According to a statement made by the national flag carrier on March 10, flights carrying passengers who show abnormal signs of health will be reported to authorities and then follow the appropriate procedures.
The operation will see the entire passenger cabin seating area, cockpit, and flight attendants' preparation area, be thoroughly disinfected.
Areas that require the most attention are those that have high rates of direct hand contact such as the luggage compartments and armrests. Other areas such as seat surfaces, carpets, floors, or anywhere else that passengers might directly touch must also be carefully disinfected and cleaned.
According to regulations and standards established by health authorities, the Disinfection Spraying Solution CH2200 will be used during the cleaning process. This disinfectant was approved for use by the aircraft manufacturer and will pose no adverse health risks to passengers.
Moreover, Vietnam Airlines will be measuring the body temperature of travelers departing to and from European countries, while also providing face masks and encouraging people to limit both their movement and communication during flights.
For domestic flights, the flag carrier will be disinfecting all direct hand contact areas. Headphones will be cleaned using Chloramine B after all flights, whilst technical vehicles operating at Noi Bai and Tan Son Nhat International Airports will be kept clean around the clock.
These moves come after the decision to make all people entering the country fill out a compulsory health declaration came into effect as of 6 am on March 7. VOV

Airplanes remained the primary means of transport to carry international visitors to Vietnam, with 80% of the total 18 million foreign travelers to the country in 2019 arriving by air.  

Vietnam has great potential for airlines, but it is not easy to access it. Many players have had to give up the game.