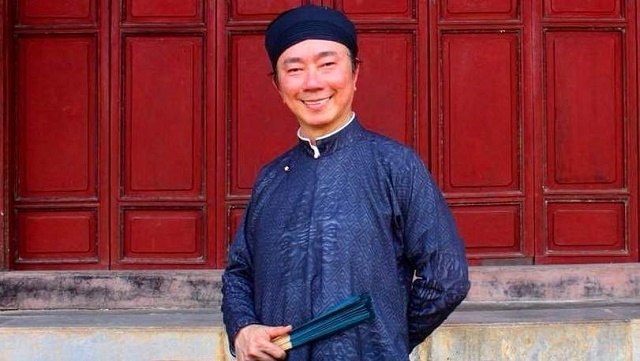 Ambassador Pham Sanh Chau
Chau, who is currently working as the Vietnamese Ambassador to India, Nepal and Bhutan, granted an interview to Nhan Dan Monthly Newspaper to share his 20-year diplomatic career during which he has ceaselessly worked to promote cultural diplomacy, thus helping to duplicate Vietnam's soft power.
Question: You have recently posted a story on your Facebook about a Vietnamese restaurant in Gurgaon city, India, which was launched on May 19 – the birthdate of our beloved President Ho Chi Minh. The restaurant's chef, who is Indian, can cook most Vietnamese dishes; all the staff there wear Vietnamese conical hats and the Vietnam's map, including both Hoang Sa (Paracel) and Truong Sa (Spratly) archipelagos, were printed in their uniform. Can you please tell us more about the restaurant?
Ambassador Pham Sanh Chau: When he came to say farewell to me before I left for India, Indresnil – a representative from the Tata Group in Vietnam told me that there is no Vietnamese restaurant in New Delhi. There was one at the Taj Mahal but it was closed down due to ineffective operation.
The information made me sad since Vietnam's strong advantage of cuisine has not yet been fully promoted in the country, which meant that I can't afford to introduce one of the pillars of Vietnam's soft power to my friends.
I felt worried at the same time as there are many Vietnamese delegations visiting India every year, whist Indian food isn't likely to be in their favourite list. Therefore, helping to open a Vietnamese restaurant in India had become an urgent order for me.
Can you please tell us how you made the order come true?
I have set a number of goals for my Indian tenure, but the three most important ones including launching a new direct air route linking the two countries, installing a statue of Uncle Ho in New Delhi, and opening a Vietnamese restaurant in the host country.
However, it is not easy to realise the third goal. I had questioned what made it difficult to bring Vietnamese cuisine closer to the country. Finally, I figured out the answer to the question when I was invited to a wedding hosted by family of Indian billionaire Nitin Shad in Vietnam's Phu Quoc island in March this year.
Serving around 700 guests, Shad came to Vietnam with a strong staff including 50 chefs, sous chefs, and tonnes of Indian spices and food.
Replying to my question on why he didn't order Vietnamese food, he said that Vietnamese cuisine doesn't appeal to Indians' taste. Up to 50% of Indians are vegans, who said that Vietnamese food is quite boring as it lacks salt, isn't spicy, the signature Indian aroma, and creamy sauces. Meanwhile, Indians like eating with their hands, no matter what their social background is.
Fortunately, at that time I received an email from Vaibhav Bhargava, an Indian chef who loves Vietnamese food so much that he came to Vietnam's Nha Trang city to attend a three-month cooking class. He visited me when he returned to India and asked for help. The knot of my third goal was untied; and a Vietnamese restaurant was born after.
I invited around 15 ambassadors and their spouses to the opening ceremony and debuted a club of food ambassadors on the occasion. I also invited Preeti Saran, former Indian Deputy Foreign Minister and former Indian Ambassador to Vietnam, and her spouse Pankaj Saran, former Deputy National Security Adviser, to the event. I chose May 19 to inaugurate the restaurant as a practical activity to celebrate President Ho Chi Minh's birthday.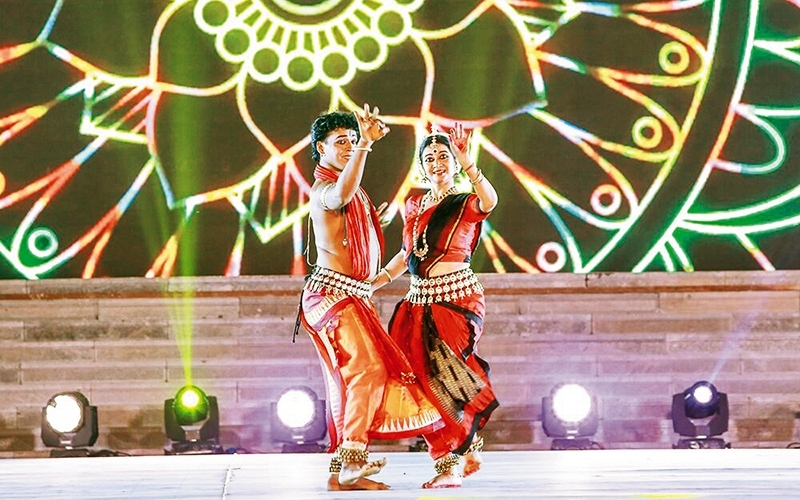 A performance of India's Odissi dance at the Heritage Boulevard artistic programme held in Ha Nam province in May 2019
Most recently, you invited art troupes from India and Bhutan to attend the Vietnam Television's 'Heritage Boulevard' programme in Vietnam. Can you please tell us about what brought you to the programme?
For the last nine months, I have visited 20 out of 29 states in India. I was most impressed by a visit to Odisha, a coastal state in eastern region of the country. Odisha used to be an ancient kingdom with at least 5,000-year history. Bestowed with poetic landscape and thousands of holy temples, Odisha is also well-known for its classical dance Odissi.
I was captivated immediately when I directly admired the charming dance for the first time. Although I had heard about the Indian art of dancing and had enjoyed several Indian dances in Vietnam before, I was completely enchanted by the body movements and facial expressions of the artists while watching the performance right in the birthplace of the dance. It was such an unforgettable memory of mine that I wanted to introduce the charming dance to Vietnamese audience.
It came as an accident that I then received a message from journalist Diem Quynh from the Vietnam Television calling the Embassy' help to invite a 10-member art troupe to attend the 'Heritage Boulevard' programme, which would be broadcast live on May 12 from the Tam Chuc pagoda in Ha Nam province.
Can you please tell us about how you selected the Indian and Bhutanese art troupes to the programme?
Journalist Diem Quynh reiterated that I had to choose the most outstanding art troupes to the 'Heritage Boulevard' programme. The Mask Dance Art Troupe is the most prominent one in Bhutan.
Regarding India, I decided to nominate the art of Odissi dance. However, as there are a lot of art troupes practicing the classical dance, I must ask for consultancy from the Director General of the Indian Council for Cultural Relations. Finally, the Aniruddha Das & Group, which most of the members come from Odisha state, was selected.
Thank you so much for your sharing!
Nhan Dan