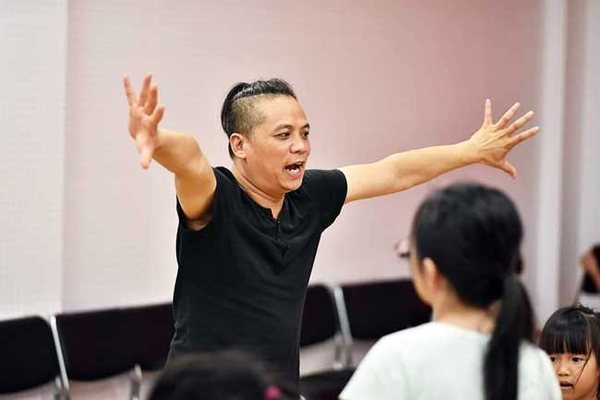 Tony Le Nguyen is teaching at Erato art school in Hanoi - PHOTO:COURTESY OF SALON SAIGON
In a recent talk in the cozy space of Salon Saigon, Tony Le Nguyen donned a simple and comfortable costume: a black T-shirt and a pair of jeans. Showing his friendliness and agility, Le Nguyen started his stories.
Le Nguyen was born in 1968 in Sa Dec City in the Mekong Delta province of Dong Thap. "That is my birthplace I saw in my passport," Le
Nguyen said. When he was a little child, he moved to Australia with his family, where he started to work in the film sector in 1985.
Career in the film industry
Le Nguyen pursued his career in the seventh art quite coincidentally. His first role was a terrorist who set off a bomb and died. Although the performance lasted only more or less one minute, the camera zoomed in on his "dead" face so impressed film directors that Le Nguyen's subsequent long way in the film industry began soon.
He then had more opportunities to engage deeply. Among those roles was in a play about racism. He played the role of a Vietnamese, one of the four main characters in the play. It might sound weird to some because at the time he was the only amateur actor. However, the play became a success and was quite popular at that time in Australia, with 200 shows within two years. Le Nguyen said he had gained a lot of experience in acting through the role. The unexpected achievement prompted him to devote more time to acting and the seventh art.
Le Nguyen started a new chapter in his career when he received a role in Romper Stomper, an Australian drama film written and directed by Geoffrey Wright in 1992. In the movie Le Nguyen acted alongside Russel Crowe, who is now a Hollywood star. Tiger, the leader of a Vietnamese gang in the film was played by Le Nguyen, while the leader of Skinhead, an Australian gang, was played by Crowe. At that time, the movie, which brought migration issues to public attention, sparked heated debates among both critics and movie-goers. Le Nguyen said it helped bring up another perspective about migrants to Australia who were considered by many to be a burden of the government and those stealing jobs from the Australians. The movie also discussed free speech, he added.
The role in Romper Stomper once again earned Le Nguyen a chance to shine. He worked as an actor for 10 years. In 1995, he wrote his first play named "Running in Circles" inspired by his own life. Le Nguyen said he feels comfortable when talking about his life including all the ups and downs. Sometimes bad things should be showed instead of only the bright side of life, he further explained. 
Le Nguyen's "Running in Circles" has had three versions so far and it is hard to guess the end of each version if audiences do not follow the play till the end. "If you know the outcome of a film already, you should not watch it," he said. "Running in Circles" tells the conflicts between old and young generations and husband and wife, as well as the role of women at that time. It also tries to relay a message that "you have to pay the price to live a life you want," he said.
Something for the film industry in Vietnam
Le Nguyen was awarded the Community Cultural Development Fellowship by the Australia Council for the Arts in 2000. That gave him a chance to travel around the world in which he learned about different cultures. During the trip, he met many new friends, some of whom were active in the film industry.
One of these friends told him that his Vietnamese origin is an important asset that might have helped him create great works. Hollywood is a greedy giant who will take all resources for its works and Vietnam is not an exception. Le Nguyen said he thought he should do something for the film sector in Vietnam, "now or never."
Le Nguyen said Vietnam may be a good venue for the film industry as stories, characters and contexts are always present around. Also, filmmaking technology in Vietnam has improved over the years, he added.
That's why Le Nguyen returned to Vietnam in 2013, filled with a desire to further develop the country's cinema industry. In the same year, Le Nguyen began teaching drama at Blackbox in Hanoi where he has instructed young people with a passion for the seventh art. He said they may become the generation that will make the Vietnamese film industry better in the future.
Le Nguyen said he has encouraged his students to make films with a mindset that Vietnamese movies have to meet the world's standards and thus make them be known to the world.
Apart from teaching drama, Le Nguyen, together with his two friends, is running the Center for Improvisational Comedy Vietnam in Hanoi. The first-ever improvisational comedy is contributing to the development of the kind of comedy which is quite new in Vietnam, he said. Moreover, Le Nguyen has established Meo DaNang Creative Centre in Danang. What makes the center special is its name, he explained. Meo means imperfection and unusualness, which partly shows the soul of artists. DaNang is the name of Danang without accent, also meaning having several different functions. The center is built to support and teaching skills for disable people who want to learn about the seventh art, he added.
Propelled by his ardent love for the seventh art as well as the country where he was born, Le Nguyen has tried his best to realize his dream. "I know it's a long and arduous way," he said. "But it's better late than never."
Tony Le Nguyen in a nutshell
Tony Le Nguyen has also appeared in other television productions including: Stingers, SeaChange, Raw FM, G.P., Fast Forward, All Together Now, Embassy, Secrets, The Damnation of Harvey McHugh, Paradise Beach and Australia's most wanted.
Between 1986 and 1987, Le Nguyen toured with Mary Coustas in Handspan Theatre's production A Change of Face written by Andrea Lemon and directed by Carmelina di Guglielmo.In 1994, he founded Australian Vietnamese Youth Media with the support of Huu Tran and the theatre coordinator at the Footscray Community Arts Centre.
In 1996, he co-directed Worlds Apart with Gary McKechnie, a half-hour Television drama about generation conflict within a Vietnamese Australian family.Currently, he is regularly traveling between Australia and Vietnam to teach film-making and drama to young people in Vietnam and to work as Head of Drama at Erato School of Music & Performing Arts. SGT
 
Vuong Anh