VietNamNet Bridge – Gregoire Sevaz, 36, a freelance photographer from Paris, typically produces portraits and other works featuring gardens, interiors, still life and travel.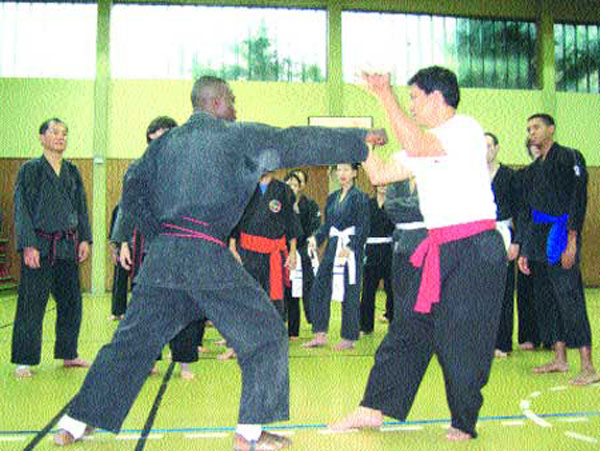 Packing a punch: Martial art master Nguyen Quang Dung (right) teaches a foreign student. The school now has some 100 trainees from all walks of life, including policemen, soldiers, state employees, businesspeople, teachers and school students.
Beyond his profession though, Sevaz has a great passion for martial arts, particularly for Qi Gong, which he practices in France.
"In France, I don't practise martial arts at a school; instead, I have a master, Evelyne Lichardy," Sevaz said.
He arrived in Ha Noi earlier this month, having signed up for a short training course at the Viet Nam Hong Quyen Dao (VNHQD) School on 220 Hang Bong Street, where he is being taught directly by the school's founder, martial arts master Nguyen Quang Dung, whose style of teaching impressed Sevaz from the start.
"VNHQD is an eye-opening experience for me. Similar to my branch of martial arts, [the course taught at] VNHQD is focused on precision in execution. The basics seem to be the same; the main difference is in the physical contact, which is not found in Taichi and Qi Gong. You also have to crouch lower to the ground to assume the basic positions.
"I cannot compare VNHQD with other martial schools, but the teachings are generally the same, and attention, inspection and regular (daily) training are important," he said.
Sevaz said the course had presented a good opportunity to learn from Master Dung.
"Meeting Master Dung meant a great deal to me, and I feel I was extremely lucky to have gotten this chance. There is a French expression, "la force tranquille", which means "quiet strength", and that's what he has inspired in me.
"This course was an opportunity for me to discover Viet Nam through martial arts from a martial arts master himself. He gave me his precious time, which I didn't think I would merit when I first arrived.
"He has already invited me to come back, which is the gift of the year to me!"
For his part, Master Dung expressed appreciation for Sevaz's abilities.
"I tested his competence before teaching him. Sevaz has a strong constitution and all the suitable elements for a martial artist.
"He learned the techniques I taught very quickly. Generally, I've found that all the Western learners I've taught have followed logical thought patterns and have a very good approach to studying."
Development story
VNHQD was inaugurated in 1985 on 220 Hang Bong Street. It was initially a dojo used to train family members and neighbours in traditional martial arts.
After 20 years of development, the dojo has been used by hundreds of martial arts coaches and learners.
It was officially recognised as a member of the Ha Noi Martial Arts Association on May 19, 2005, when it was called "Thieu Lam Hong Gia Quang Dung Dojo 220 Hang Bong".
In 2009, its name was changed to "Viet Nam Hong Quyen Dao Martial Arts Dojo" (www.hongquyendao.vn).
On January 15, 2015, the UNESCO Culture and Sports Development Centre officially recognised the dojo as "Viet Nam Hong Quyen Dao School" and became its patron.
Over the course of its development, the school has welcomed and exchanged performances with many groups of foreign martial artists, including those from France, Poland, Hong Kong and Russia, as well as Spain.
The school's representative, Chief Master Dung, has trained martial artists on exchange programmes from many countries, including France, Germany, Poland and China. An international level-two martial arts master from China's Shaolin Tung Shan Academy, named Thu Hao, was also an exchange student at the school.
Masters, coaches and students from the Viet Nam Martial Arts Union in France attend annual exchange programmes to train at the school.
The school now has some 100 trainees from all walks of life, such as policemen, soldiers, state employees, and businesspeople, as well as teachers and primary or secondary school students.
"We implement our main principle: To study martial arts to enhance physical development and develop a good nature; and to maintain and develop the traditional martial arts culture," Master Dung said.
Talking about the school, the UNESCO Culture and Sports Development Centre's director, Vu Van Hong, said the VNHQD had been operating for a long time, earning many achievements along the way. He said the school had always been one of the leading institutes for traditional martial arts activities.
Secretary General of the Ha Noi Martial Arts Association Le Ngoc Quang said VNHQD had always attached a great deal of importance to preserving the national martial arts.
"The school's members are very active in maintaining and developing traditional martial arts locally and abroad," he said.
For Sevaz, his tour to Ha Noi has left quite an impression on him.
"The city looks like an ant colony (absolutely no offence intended), particularly around areas with food, at least in the area where I live. Traffic is heavy; even for a Parisian, it's not that easy to cross the road. The food is tasty, but I need more time to experience the full range of the cuisine. The hospitality, even in a tourist-focused place, seems to be authentic."
Talking about cooperation between different martial arts schools in France and Viet Nam, Sevaz said: "It's more than co-operation; it seems like a family. My master Evelyne gave me his name [Dung], and I quickly made contact via Facebook, where I received a big 'Yes' to my request to practise under him and discover his style of martial arts.
"That was one more great experience that permitted me to grow and develop my mind and to become stronger, smarter and enriched."
Hoang Trung Hieu
VNS