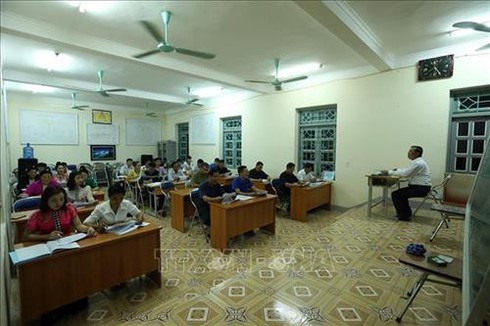 A Thai ancient language class in Noong Luong commune, Dien Bien province. (Photo: dantocmiennui.vn)
In an effort to preserve the language, Dien Bien province has opened classes to teach ancient Thai writing.
Every evening, about 30 people attend an ancient Thai language class at the office of the Noong Luong communal People's Committee. They are aged 15 to 73 years old, coming from several different hamlets in the commune. Some of them are local administrative officials.
73-year-old Lo Van Vuong in Thanh Chinh hamlet said although he has poor eyesight and trouble hearing, he wants to learn ancient Thai writing because it concerns the roots of his group.
"I can read reformed Thai writing but not the ancient Thai characters. Attending the class has helped me understand and write in the ancient Thai language. I'll teach my children and anyone who wants to learn it," Chinh said.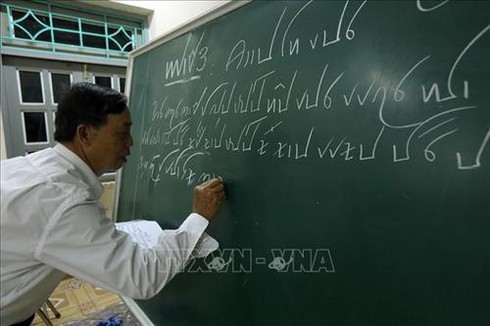 Teacher Lo Van Cu teaches ancient Thai language.
Luong Thi Phuong Linh, the youngest member, is a grade-10 pupil of Dien Bien district's Secondary School. After a month of study, she can read and write in the ancient Thai language.
"I like ancient Thai writing. The characters have varied meanings and word combination is often very interesting. Conversational language is easy but writing is difficult because it's different from the Vietnamese scripts." Linh said.
Chu Thuy Lien, Vice Director of Dien Bien province's Committee on Ethnic Minority Affairs, said the province has many programs to preserve and promote ethnic culture, including languages.
"We'll continue to teach ancient Thai writing to Thai administrative officials as well as young people. They will be able to communicate with other Thai branches throughout Southeast Asia." Lien said.
The ancient Thai language class will be held annually to preserve and promote the language and the Thai culture. VOV5