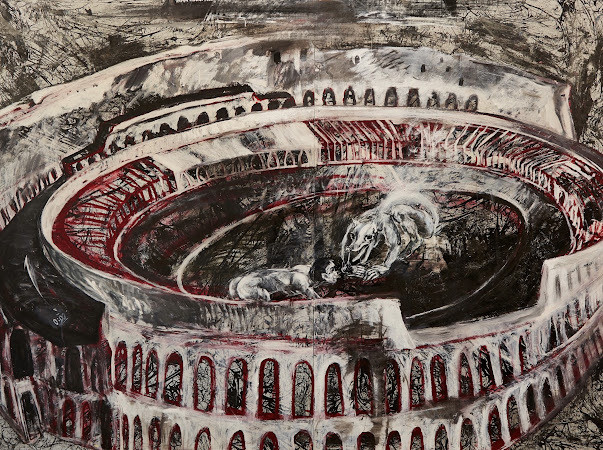 Đấu Trường La Mã (Color Powder) art work by Phạm Thanh Toàn. — Photo from the artist
This is the first time art lovers in the city have an opportunity to enjoy and contemplate the concept of "another space" between art and antique architecture.
Không Gian Khác is the fourth solo exhibition of artist Phạm Thanh Toàn. It reflects a young artist's imagination about a fictional triangle that shapes human society: spirituality, love and social influences.
The exhibition also reflects the development of Phạm Thanh Toàn's artwork in recent years.
Each collection of Toàn contains few artworks. But they are huge scenes of extreme dimensions. His characters are not only people, objects in this world, gods, creatures from the Bible, myths, epics, fairy tales, movies, but also objects not of this world.
Their stories are very close to Vietnamese life and culture. However, Không Gian Khác does not reflect reality socially. It expresses another world to the world we are living in.
It is an imagined happy world formed from the artist's obsession with yin-yang, life-death - reincarnation, the desire for freedom, the game of thrones, and marriage. The happy world of a boy who has compassion, and nostalgic memories of the past quintessence, especially a very free and happy mind.
Therefore, although overwhelming, Toàn's paintings are not difficult to understand.
The solo exhibition Không Gian Khác displays 10 large-format oil paintings from two to six metres and one sculpture.
The 130-year-old house at No 29-31 Tôn Thất Thiệp features nineteenth-century colonial architecture and was treated as the guest house of the Hindu Sri Thendayuthapani temple located opposite in the past. — VNS