A persistent chill in the ocean off Antarctica that defies the global warming blamed for melting Arctic ice at the other end of the planet is caused by cold waters welling up from the depths after hundreds of years, scientists said on Monday.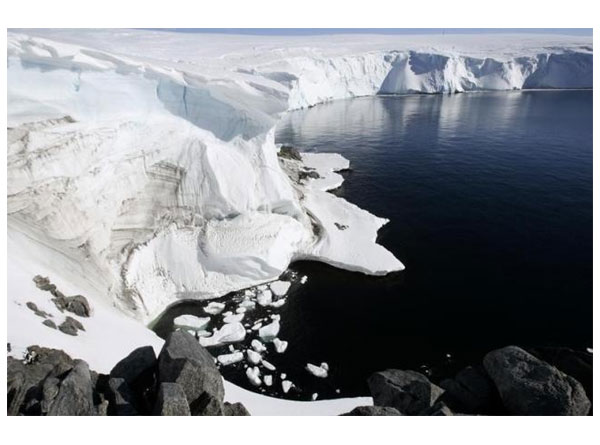 Melting ice shows through at a cliff face at Landsend, on the coast of Cape Denison in Antarctica December 12, 2009.
The Southern Ocean off Antarctica may be among the last places on Earth to feel the impact of man-made climate change, with a lag of centuries to affect waters emerging from up to 5,000 meters (16,000 ft) deep, the U.S. study said.
Many people who doubt mainstream scientific findings that human use of fossil fuels is warming the planet often point to the paradox of expanding winter sea ice off Antarctica in recent decades and a rapid shrinking of ice in the Arctic.
"Our findings are a step toward resolving the mystery," lead author Kyle Armour of the University of Washington, Seattle, told Reuters of the study in the journal Nature Geoscience.
He noted the upwelling of cold water helped to explain the persistence of sea ice but not its expansion, a trend other studies have linked to shifts in winds off the vast frozen continent.
Monday's report found that warm waters in the Gulf Stream cool as they flow north into the North Atlantic, then sink and loop south towards Antarctica as part of an aquatic conveyor belt that takes centuries to complete.
Eventually, gale force winds in the Southern Ocean around Antarctica blow surface waters northwards and draw the chill, ancient waters from the depths.
That upwelling helps explain why the surface of the Southern Ocean have warmed by just 0.02 degree Celsius (0.036 Fahrenheit) per decade since 1950, a fraction of the global average of 0.08 degree (0.144F), the study said.
It was unclear if the cold waters could delay a melt of ice locked up on land in Antarctica, the biggest worry about the continent that could sharply raise global sea levels.
Colin Summerhayes of the Scott Polar Research Institute, who was not involved in the study, said even the slight warming in waters to about 1 degree Celsius (33.8°F) had been bad news for ice shelves around the fringes of Antarctica.
"Even water that cool is still warm enough to melt the ice at the base of the ice shelves," he wrote in a comment.
Source: Reuters