VietNamNet Bridge – The 2013 Vietnam Anti-Corruption Initiative Programme (VACI) was launched in Hanoi on November 29 to support ideas aiming at mitigating corruption and increasing transparency and responsibility for a better living environment.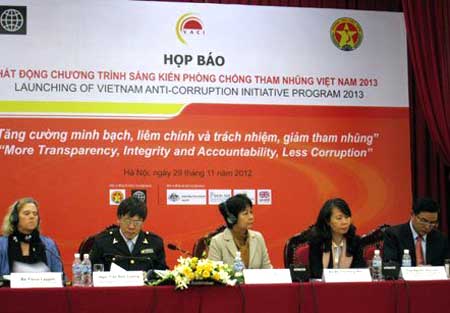 The 2013 Vietnam Anti-Corruption Initiative Programme
(VACI) was launched in Hanoi
.
(Photo: VNN)
The programme also offers chances for the initiators to meet and exchange ideas.
Addressing the launch ceremony, Deputy Inspector General Tran Duc Luong said Vietnam has a quite comprehensive legal framework regarding anti-corruption.
However, there are still shortcomings in the application and enforcement of legal documents and policies, especially in some localities, he said, stressing the need to increase the effectiveness of policy implementation.
According to the Head of the UK Department for International Development to Vietnam Fiona Lappin, a lack of transparency and honesty will breed corruption.
She said VACI programmes in 2009 and 2011 have helped change community's awareness via initiatives, adding that she believes the 2013 programme will be a success.
The Vietnam Anti-Corruption Initiative Programme invites the submission of ideas on how to build a serving administration, strengthen public honesty and morality and increase transparency and the right to information access as well as the sense of responsibility.
Twenty best ideas will be selected for prize awarding and cash funding for implementation, with 300 million VND at the maximum for each.
From December 12-20, the organising board, including the Inspectorate General and the World Bank, will organise five seminars to introduce the programme in Hanoi, Thai Nguyen and Dak Lak provinces, Ho Chi Minh City and Can Tho City.
VietNamNet/Vietnam Plus