Anti-erosion infrastructure must be upgraded before rainy season: deputy minister

Deputy Minister of Agriculture and Rural Development Nguyen Hoang Hiep has urged localities nationwide to step up the construction and repair of structures designed to prevent erosion along river banks and coastal areas before the rainy season
 in order to minimise losses caused by natural disasters.
Landslides in the Mekong Delta causing serious erosion
Mekong Delta losing land from subsidence, landslides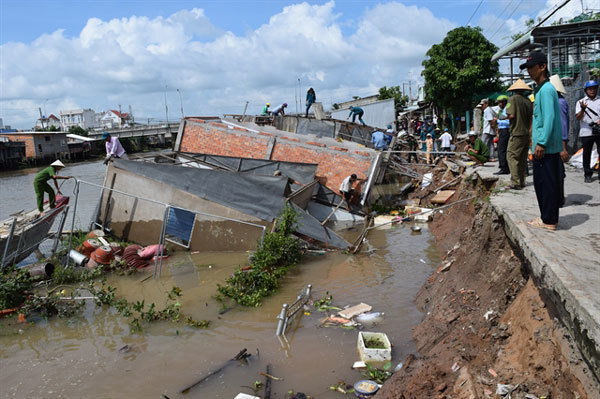 Houses that collapsed following serious landslides on July 15 in Chau Thanh District, the Mekong Delta province of Dong Thap. VNA/VNS Photo Chuong Dai
He spoke at a conference on Friday held by the Central Steering Committee on Natural Disaster Prevention and Control to discuss preparing for the coming rainy season in the southern region.
According to the committee, there were many extreme and abnormal weather conditions across provinces and cities nationwide last year.
Natural disasters killed 224 people and caused economic losses of nearly VND20 trillion (US$870 million).
In the Mekong Delta region, there were 123 hail storms and thunderstorms, accounting for 55 per cent of the country's total.
Ten people went missing or were killed due to 441 instances of river bank and coastal land erosion.
The damage caused by natural disasters to the Mekong Delta region last year was estimated to be nearly VND118 billion ($5.1 million).
Vice chairman of Ca Mau Province's People's Committee Le Van Su told the conference the province had been severely affected by the impacts of climate change and the increasing frequency and severity of typhoons, whirlwinds, rising sea levels and droughts. These have led to erosion along river banks and coastal areas as well as serious saline intrusion, affecting the livelihoods of local people.
Since early 2018, natural disasters – especially thunderstorms, whirlwinds and tides – have caused erosion on 250km of river banks in Ca Mau Province, killing seven people and damaging 1,655 houses.
More than 2,400ha of rice and other crops have been destroyed in the province.
According to vice chairman Su, the province has a lot of eroded areas but lacks the funds to repair them and relocate residents.
Addressing the conference, United Nations Development Programme Resident Representative in Viet Nam Caitlin Wiesen made three recommendations to accelerate natural disaster prevention and control in the southern provinces.
They included building a strong partnership among all stakeholders, engagement of the private sector and risk-informed anticipatory governance.
"Engagement of the private sector is not only a good thing to do, but a smart and essential task for disaster risk management," she said.
"In the context of climate change, natural disasters become more extreme and difficult to predict, with high levels of uncertainty. Here risk-informed anticipatory governance becomes urgent.
"There is a critical need to regularly collect and update quality disaster data, consolidate and maintain an integrated information system and apply innovative information-technology tools to better predict, prepare and cope with uncertainty and disaster challenges. This will help to anticipate risks and undertake well-informed decisions such as organising proactive response plans for risk spots and allocating scarce resources where most needed."
Deputy Minister of Agriculture and Rural Development Hiep said ministries, sectors and localities should support local natural disaster response teams and step up efforts to inform communities about how to prevent disasters and protect children from drowning.
Localities must upgrade sea dykes, bridges, embankments and irrigation channels to be ready to respond to any incident, he said.
He also urged the region to foster international co-operation and collaboration with Mekong river countries to respond to cross-border floods, rising sea levels and climate change.
VNS