Antimicrobial resistance increases in VN, mostly due to antibiotic overuse
A 56-year-old patient from Binh Thuan Province was hospitalised recently at the Hospital for Tropical Diseases in HCM City for prolonged fever and diarrhoea.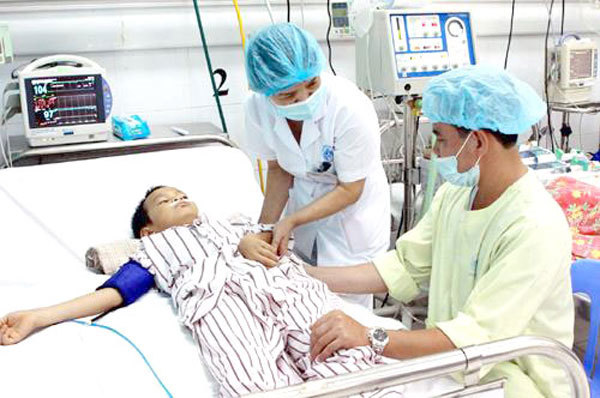 Antimicrobial resistance is increasing in Vietnam. — VNA/VNS Photo Duong Ngoc
After examination, Dr Du Le Thanh Xuan said the patient had Cushing syndrome, which has symptoms of a fatty hump between the shoulders, a rounded face, and pink or purple stretch marks on the skin.
The patient was treated with broad-spectrum antibiotics, but the situation became worse. Endotracheal intubation and mechanical ventilation then had to be used.
The hospital's doctors also began using a stronger antibiotic called Carbapenem, but the patient's blood pressure was unstable and recovery was slow.
The doctors then ordered a blood culture test which checked for bacteria, yeast, and other microorganisms. The results showed the presence of multidrug-resistant Pseudomonas bacteria.
The doctors decided to use a new antibiotic called Ceptaxidime, but the patient had a fever again, a worse blood infection, and kidney failure as well.
Another antibiotic Caspofulgin was used to treat the patient.
"We treated him for 25 days with Caspofulgin instead of seven or 10 days as we do for other patients," Xuan said.  
The patient, who has now been transferred from the ICU to a normal treatment room, is one of many who have been exposed to multidrug-resistant bacteria at the hospital, she said.
Dr Nguyen Thanh Truong, the deputy head of the hospital, said the hospital's rate of antimicrobial resistance is 30 per cent to 40 per cent.
The hospital each year has had an average of 150 patients with severe multidrug-resistance. The figure is increasing, Truong said. Since January, 147 out of 1,700 tests have shown patients' exposure to multidrug-resistant bacteria such as Acinetobacter, Pseudomonas, E.Coli and others, which are resistant to the new-generation antibiotic Carbapenem.
Dr Tran Quyet Tien, deputy head of Cho Ray Hospital, said that the hospital's rate of antimicrobial resistance is more than 60 per cent, leading to difficulties in treatment and increased costs as well as influences on patients' health.
According to the World Health Organization (WHO), antimicrobial resistance is the ability of microorganisms, such as bacteria, viruses, fungi, and parasites, to grow in the presence of a drug that would normally kill them or limit their growth.
Dr Nguyen Van Vinh Chau, head of the Hospital for Tropical Diseases, said that nearly 88 per cent of Vietnamese buy antibiotics at drugstores without doctors' prescriptions, a practice that leads to overuse and antimicrobial resistance.
Moreover, doctors, especially at private health clinics, prescribe antibiotics improperly, Chau said, adding that several public hospitals have not set up a division to control antibiotic usage.
Dr Nguyen Van Hao of the hospital said the environment at hospitals, especially in the Department of Resuscitation – Emergency, is an ideal area to spread drug-resistant bacteria if the control of infections is not carried out strictly.
Dr Ngo Thi Hoa of the Oxford University Clinical Research Unit in HCM City said the use of antibiotics in agriculture has also contributed to an increase in antimicrobial resistance.
Chau said that nearly 10 million people in the world will die from causes related to antimicrobial resistance by 2050, so the proper use of antibiotics should be managed more strictly.
According to the World Health Organisation, Vietnam is among the countries with a growing threat of antimicrobial resistance.  VNS
Antibiotics are overused and misused widely in Vietnam, health experts have warned, calling for drastic measures to curb antimicrobial resistance (AMR) in the country.

The World Health Organization (WHO) puts Vietnam in the group of countries with the highest rate of antibiotic resistance in the world.