VietNamNet Bridge – A fair held every Saturday in Ha Noi has become a weekly destination for antique enthusiasts. While some people come as collectors, others visit the fair simply to touch and look at old items that trigger memories of times gone by.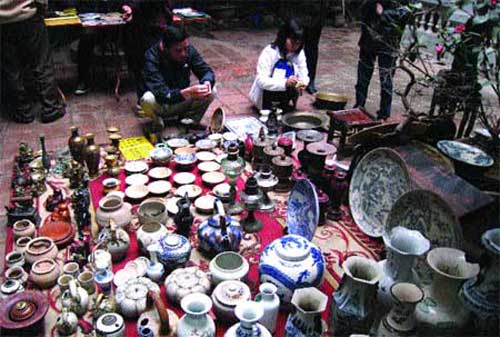 Fair trade: Antique enthusiasts meet and exchange goods every weekend at the fair.
A fair for old items and antiques is held every Saturday in the space of the Lu Tra Quan (Lu tea shop), behind a small slope on Lane 456 Hoang Hoa Tham, in Ba Dinh District.
Wiping off the spring rain droplets remaining on his antiques, seller Nguyen Minh Quang softly said: "They are my childhood."
His stall does not have many items, just some aluminum spoons, kettles, pots, and ceramics.
"Making aluminum things was my family's job. Now sitting here, what I often think of is my childhood," he said.
Although the fair organisers do not advertise widely, since it was opened in June 2013, every Saturday morning a lot of customers arrive here to look, exchange, buy and sell old items that sellers have painstakingly collected.
The market has nearly 30 "booths", actually, each booth has just one or two tables. Other sellers simply display their items on a large nylon sheet on the ground.
But visitors find that the items for sale here change every week: the stalls are filled with items that do not follow a certain theme, as sellers put up for sale what they have collected, and this brings pleasure for buyers who carefully look and sift through all the items.
At the fair, one can find plenty of things from antiques to vintage, with items originating from different historical moments. Some objects are over one hundred years old, while others were just in the 1960's and 1970's, such as porcelain bowls, vases, oil lamps, watches, desk phones, irons, copper food trays, glasses, old money, old magazines, water containers, spoons and bowls.
These old things, thought to be lost to the past, such as water jars, watches, eyeglasses, old photographs, ceramics from feudal times, American oil lamps, cameras, and paper money of different periods, have taken on a new life at this fair.
There are many items that belong to collectors who spent many years searching for them, so sellers do not think too much about whether their goods can be sold or at what profits, but mainly for the purpose of expanding communications and sharing experiences in distinguishing real and fake antiques.
Passion for antiques
Kieu Quoc Khanh, former head of the Ha Noi Calligraphy Club, is the person who organised and encouraged antique lovers to hold this fair.
"The antique enthusiasts previously knew about each other, so we organized the fair to help them have opportunities to meet, and to create a place to exchange, trade and share experience about antique collecting," he said.
Khanh said the establishment of a true antique fair is necessary because sporadic purchases or online transactions sometimes lead to confusion between fake and real items, so buyers were cheated.
"The fair is held like a forum, gathering antique enthusiasts who come for discussions and evaluations of the quality of the old items, so that customers who don't have much experience will not be fooled when purchasing in this fair."
A bit larger than other booths because he has two tables, Nguyen Quang Huy's booth displays everything from old fans, oil lamps, French crystal light fixtures, clocks, desk phone sets, and bronze dishes.
"For the sellers here, things that we bring to the fair are just a part of the items that we have collected. Sometimes, one has something that the others are looking for, so we exchange with each other.
"Collecting antiques is a pleasure for us, so bringing items to the fair, mainly allows us to meet people who share similar passions," he said.
In addition to older people who want to find items attached to their past memories, there are a lot of young people who come for the enjoyment of viewing antiques.
Hoang Gia Bao from Dong Da District in Ha Noi said: "I've been to this place several time. Sometimes, I feel like I can come back to the old times. Previously, my grandparents also had many products similar to items being sold here, so when visiting the fair I have a very familiar feeling."
Gerard Gastel, a student from France, said a Vietnamese friend introduced him to the fair.
"I see a lot of antiques on display, and through them I have learned a lot about the culture and history of Viet Nam. For foreigners like us, this is really an interesting subject to study," he said.
People flock to the fair, curiously considering and asking for prices of items, then thoughtfully looking at them. They bargain, but there is no loud shouting or quarrelling.
The salesmen always answer enthusiastically, explaining the origin, age and quality of each item. The clients ask for a price then leave, but the sellers do not seem to be sad.
Seller Nguyen Van Tung said: "My booth mainly sells crockery and old bronze items, but to be able to own these things, sometimes collectors must have luck. There were some products that, after selling them, I felt really regretful about, even when I met their new owners again, I asked them to re-sell these things, but they refused."
Appraising the quality of each item is mainly based on the experience of buyers and assurance of sellers who spent many years hunting antiques.
The sellers hold an auction every month to collect money to help the poor patients.
Initially, the fair was the place only for those who like collecting antiques in Ha Noi, but after half a year of operation, it has attracted a lot of people from different provinces.
Nguyen Xuan Phuc, from Phuc Yen District of Vinh Phuc Province, regularly comes to the fair to both exchange, gain experience in evaluating antiques, and considers it a way to earn money.
His booth only has some army water bottles, old electric fans, clocks and tea pots... but as he works hard collecting items to sell, each month he earns some VND3 million to add to his monthly wages to support his family.
Meanwhile, seller Quang said the fair is like an "offline session on culture" of antique enthusiasts, also providing a picture of Ha Noi from the feudal era to the hard economic time during wars.
"All of the corners in Ha Noi are here, this is a Ha Noi very different than the world out there.
"The fair is increasingly well-known, and has become the destination for antique lovers to exchange, trade and share experiences. I hope the fair will form a particular cultural point, a playground for those who collect antiques," he said.
Source: VNS