VietNamNet Bridge – The physically disabling condition has made Nguyen Van Mac redefine his life. The owner of a profitable factory is a hard-to-beat rival of other small-sized businesses in northern Thai Binh Province.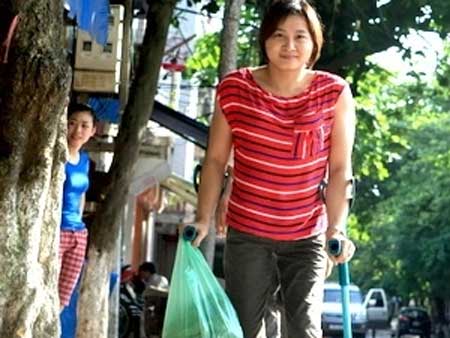 Pham Thi Thai Hong, Chairwoman of Thai Binh City's Club for Disabled Youngsters. (Photo: VNA)
Mac's father fought in the southern battlefields during the war against the US. He was exposed to Agent Orange/dioxin sprayed by US troops and passed down the implicit devastating effects of the toxic chemical to Mac, who was born with ineffective legs.
"I often tell myself that I am much luckier than many other victims of Agent Orange/dioxin who are mentally impaired or even face death every day," said Nguyen Van Mac, Director of the Mai Mac tissue factory in Dong Hai Commune, Quynh Phu district.
Optimism has kept Mac going through the years. His immobility has fortified his determination to conquer the bumpy road to build up his own career.
Mac's billion dong business provides stable jobs for 14 other AO victims who earn on average more than 2 million VND each month.
Among the 9,000 second and third generation victims of AO/dioxin in Thai Binh Province, there are those who have used their strong inner power to make their lives better.
Born with handicapped legs, Pham Thi Thai Hong, Chairwoman of Thai Binh City's Club for Disabled Youngsters, is a tiny woman full of energy and desire to make her own name.
A hard worker since she was a small girl, Hong clubbed together with some friends to open a jewellery shop at the age of 25 to help feed themselves.
Starting her business with numerous difficulties and lack of capital and experience, it was her faith in a bright future that helped her overcome all obstacles and move forward.
Now 33, the energetic, softly spoken woman has set up her own shop in the heart of Thai Binh City, with monthly revenue reaching 70-80 million VND.
The city's Club for Disabled Youngsters has so far gathered nearly 300 members, with the majority being second and third generation AO victims like Mac. Living with imperfect bodies and poor health, day-by-day they exert great efforts to overcome challenges and become useful people.
Initiated by the club, a movement encouraging people with disabilities to get rich on their own has been spreading across Thai Binh Province. Through various forms of business in various fields, dozens of them have successfully escaped poverty, become prosperous and helped others follow their dreams.
Nguyen Thanh Binh, 35, Vice Chairwoman of the club is a creative tailor. Besides designing and tailoring, she has turned her shop into a vocational training centre where she is a teacher. Nearly 100 people, many of whom are young people with disabilities and AO victims, have gained experience, with apprentices in hardship getting free training and given jobs.
Accompanying disabled people since its inception, the club in Thai Binh City has finished a number of projects helping these unfortunate members of society.
They include a World Bank-funded project empowering disabled youngsters in Thai Binh with knowledge on productive healthcare, an Italian Aifo Organisation-funded community rehabilitation project, and another one supporting poor, disabled and AO affected people financed by the Vietnam Veterans of America Foundation.
For its part, the Thai Binh Association for Agent Orange/dioxin Victims has made its own move to incessantly improve living conditions for the victims.
"Helping AO victims enjoy better material and spiritual lives is always a focus and major task of the association and local government of all levels," said Nguyen Duc Hanh, President of the Thai Binh Association for Agent Orange/dioxin Victims.
Since 2004, the Association has raised nearly 27 billion VND from philanthropists, businesses and organizations in and outside the country, helping more than 300 families develop household-based economies.
In addition, the association has provided over 100 families with breeding pigs and cows, built more than 300 houses of gratitude and donated 400 wheelchairs to AO victims.
As one of the localities that sent the largest amount of supplies and soldiers to the battlefield during the anti-US war, Thai Binh Province is home to more than 34,000 people directly or indirectly exposed to Agent Orange/dioxin (AO).
"I simply try to be a useful member of society," Mac confided with a warm smile. In the starry eyes of the 40-year-old man, there sparkles an endless love for life.
Source: Vietnam Plus