Apparel sector faces supply chain disruption
Stagnant business and production activities as a result of the impact of Covid-19, increased pressure over delivery to partners, and high transport costs are threatening the supply chains of the apparel sector.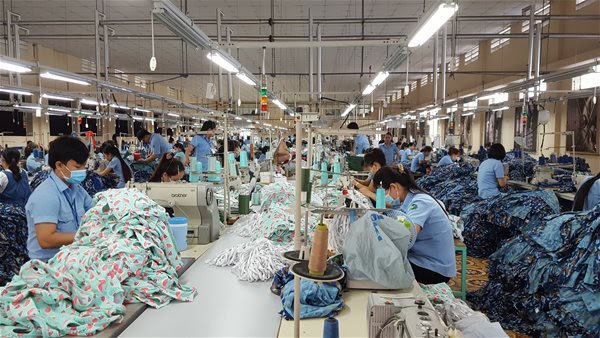 Employees at work at an apparel firm. The Covid-19 pandemic has disrupted the supply chains of the apparel sector - PHOTO: TRONG NGHIA
"The supply chain of the apparel sector is nearing paralysis. If the situation does not improve, the prestige of Vietnam's apparel sector will be seriously damaged in the eyes of international customers," said Vu Duc Giang, chairman of the Vietnam Textile and Apparel Association (VITAS).
Since the coronavirus outbreak in Vietnam, many textile and garment firms in the southern region have suspended their operations, while a number of medium and small enterprises have withdrawn from the market, Giang added.
Though the stay-at-work mode was applied at firms, the production situation was yet to get better. 
Le Uyen Trang Nha, general director of Viking Vietnam in HCMC, said that to maintain production, the firm arranged accommodation and dining rooms for employees, which hiked production costs. As 150 employees are staying at the factory for work, the firm must spend an extra VND450 million in costs each month.
Apart from increased production costs, the unstable sentiment of live-in employees has reduced labor productivity by 20%-30%.
Besides, many workers have left HCMC to return to their home towns to avoid the transmission of Covid-19, hindering operations.
Giang predicted that a mere 60%-65% of employees who rushed home would return to HCMC for work after the pandemic is brought under control, leading to a severe shortage of manpower.
In addition, the slower circulation and transportation of goods have contributed to disrupting the supply chains of the apparel sector.
The social distancing order under the prime minister's Directive 16, which is being applied in many provinces and cities to prevent the spread of Covid-19, has slowed down the transport of materials, according to VITAS.
Local exporters have also faced difficulties in export activities as shipping costs were revised up sharply over the past few months. The fee to ship a 40-feet container from Vietnam to Europe has hit US$11,000.
Moreover, due to stagnant production, many international partners have canceled orders in Vietnam and placed orders elsewhere.
VITAS has repeatedly proposed the Government offer preferential and priority policies to the apparel sector, including allowing firms to operate normally if a district where the firms are located in provinces or cities in the southern region has undergone 15 days without new infections, but in vain, Giang said.
Source: Saigon Times