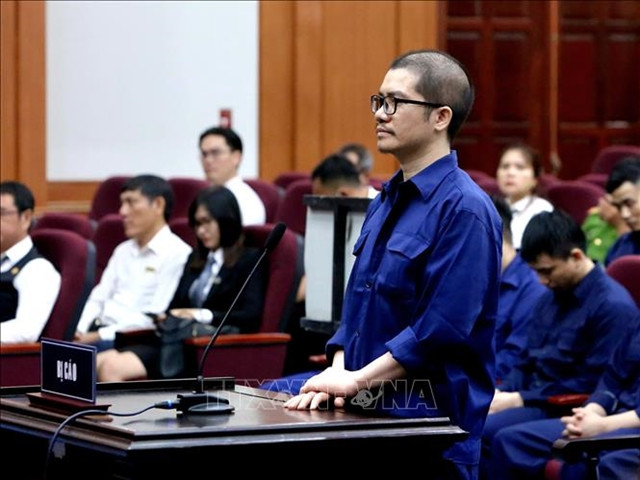 Nguyễn Thái Luyện, 36, chairman of Alibaba Company, at the HCM City People's Court appeals trial on Monday, which has been delayed until May. VNA/VNS Photo
The HCM City People's Court on Monday (March 17) decided to delay the appeals trial of Alibaba Company owners and employees who were earlier found guilty of "property fraud" and "money laundering", causing more than 4,500 victims to lose over VNĐ2.4 trillion (US$101 million).
The appeals trial of Nguyễn Thái Luyện, 36, chairman of the company, and 14 other defendants, was delayed until May due to the absence of a number of defense attorneys, according to the court.
Along with other defendants, Luyện has repeatedly said he "did not commit property fraud" and "the company did not lie when providing information about the land plots for sale to customers."
At the first trial last December, the court found Luyện guilty and sentenced him to life imprisonment for property fraud, and his wife Võ Thị Thanh Mai to a total of 30 years in prison for property fraud and money laundering.
Other defendants received from three years (suspended sentence) to 27 years in prison for property fraud.
In addition, the court ordered Luyện and his wife Mai to pay 4,550 victims VNĐ2.4 trillion in compensation. It also told Mai to pay back VNĐ13 billion she got from money laundering.
After the first trial ended, 18 out of 23 defendants appealed, but three defendants later withdrew their appeals, according to the court.
According to the indictment, in 2016, Nguyễn Thái Luyện established HCM City-based Alibaba Real Estate Joint Stock Company with 22 affiliate companies to invest in 58 projects in Đồng Nai, Bà Rịa-Vũng Tàu and Bình Thuận provinces.
Luyện assigned his relatives and 2,600 trusted employees to act as legal entities of these companies to illegally appropriate property.
Taking advantage of people's lack of understanding of the law in the transfer of land use rights, Luyện and his accomplices counterfeited residential projects, illegally divided and separated land plots and sold them to thousands of people to illegally appropriate VNĐ2.4 trillion.
To create trust and attract customers, Luyện promised to buy back the land at prices 30 per cent higher after 12 months or 38 per cent higher after 15 months from the date of payment.
He also told purchasers they could rent the land back for 2 per cent per month from the date of signing if the customers paid 95 per cent of the contract value.
With this method, most customers who received land transfers in the form of residential plots offered by the company did not receive the certificates of land use rights. Instead, Alibaba Company paid interest or repurchased the land according to options contracts or attached contract addendums.
According to the court, Alibaba Company was not permitted to divide and separate land plots, and the land was not residential as advertised by the company. The offering of options or attached contract addendums was a means of luring people to the projects. — VNS