VietNamNet Bridge – Hundreds of hectares of barren land in the central province of Thua Thien – Hue have become fertile in recent years after farmers used aquatic weeds to fertilise the soil.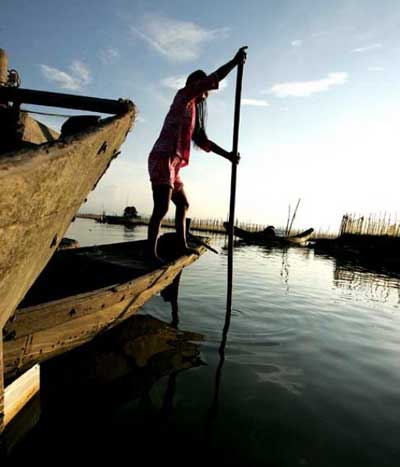 Tam Giang Lagoon. (Illustrative image – Source: Internet)
In Quang Dien District's Quang Thai Commune, farmers have used several kinds of aquatic weeds including tape-grass harvested from the Tam Giang Lagoon to fertilise their fields and gardens, increasing crop yields.
Van Duc Thang, who has planted more than 700 tobacco plants in Quang Thai Commune, said: "Previously, no crop could be planted on this land. Either the plants would die because they did not have enough water or their growth would be stunted."
However, since he began using aquatic weeds, Thang's family is able to earn profits of more than VND30 million (US$1,420) a year from growing tobacco.
Besides providing nutrients for plants, aquatic weeds help retain moisture in the soil.
Farmers put a 10-20cm thick layer of aquatic weeds around the plants they want to cultivate.
The weeds will decompose after one month and become a source of fertiliser for the plants.
During the decomposing period, the aquatic weeds can hold water and keep the soil moist.
Phan Nong, deputy chairman of the Quang Thai People's Committee, said local farmers are now using aquatic weeds to expand cultivation.
The commune's acreage of cash crops, mostly bitter melon and tobacco, has increased from less than 10ha in 2010 to 50ha now, he said.
The cultivation of bitter melon and tobacco has brought farmers profits of VND50-100 million per hectare a year, he said.
The commune has also planted forests on new 200ha of white sandy hills, using aquatic weeds to fertilise them, he said.
Quang Thai now has 400ha of water surfaces where aquatic weeds grow.
Most farmers in the Tam Giang – Cau Pha lagoon area, which stretches for 68km in the districts of Phong Dien, Quang Dien, Huong Tra, Phu Vang and Phu Loc, are using aquatic weeds to rejuvenate their land and plant cash crops.
Aquatic weeds, which grow in brackish water, can be harvested all year round at the province's lagoons and are now being sold at VND200,000-300,000 a tonne.
The use of aquatic weeds helps them produce clean crops and save on fertiliser costs, farmers say.
Source: VNS