The major reason behind the flooding, according to experts, is rapid unprogrammed urban development and rise of buildings.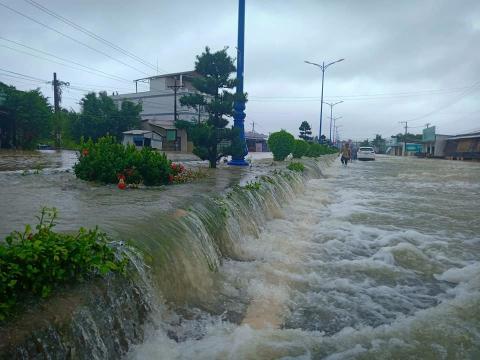 Flooding is also a sign of development of local tourism and will worsen in the future.

An expert, who asked to be anonymous, said the biggest problem of Vietnam's economy and tourism is the unprogrammed hot development. Investors rush to build houses and resorts for profit, but don't care about local urban planning. 

The major reason behind the flooding, according to experts, is rapid unprogrammed urban development and rise of buildings.
"The flooding is a warning for local authorities to reconsider their unsustainable development," he said, adding that floods will be even more serious if urban development planning does not improve.

According to Vu Hoai Phuong, rector of the Hue Tourism College, in an economy, tourism follows other industries. In general, tourism develops after industries and social services increase.

"It is obvious that our vision in tourism development with a long-term development strategy for several decades needs to be reconsidered," he said.

There is a new concept in the world called 'optimal development'. This means that Vietnam needs to consider pros and cons when developing tourism to find out if the price paid for development is worth it.

According to the Phu Quoc Island Economic Zone Board of Management, as of July 2019, Phu Quoc had 300 projects with total investment capital of VND370 trillion, mostly resort projects.

Khem, Dai, Truong and Ganh Dau Beaches, which are the largest and most beautiful beaches in Phu Quoc, and neglected in the past, have become noisy with land plots allocated to investors for resort development.

Analysts warned that resorts, hotels, beachfront villas and shophouses which have been increasing will turn into concrete walls which will block the entry and hide the view to the sea.

As for Da Lat, experts pointed out that the hot development of hi-tech agriculture, with the unreasonable increase in the number of glass and net houses, is the reason behind the floods.
Thoi Bao Kinh Te Sai Gon reported that flooding and heavy downpours caused thousand tons of trash from Cam Ly landfill to fall into valleys in Da Lat City, burying multiple gardens of local people and setting off horrible odors.
Mai Lan

While most students nationwide are eagerly preparing for the new academic year, which will officially start next month, many children in flood-stricken areas will struggle to return to school.  

Hit by unprecedented rainfall, Phu Quoc Island off the Mekong Delta province of Kien Giang has faced heavy floods over the past few days because of the island's old drainage system.