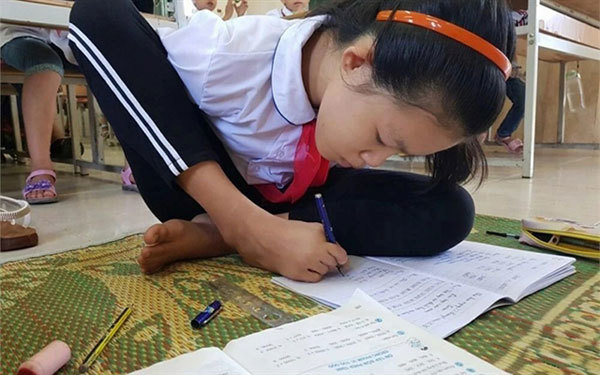 Linh Thi Hong in her class. — Photo nhandan.com.vn
Despite being born prematurely with a weight of 1.5kg and without arms, Hong has thrived thanks to her spirit and the hard work and tears of her parents Linh Van Ba and Duong Thi Vui, who are San Diu ethnic people living Lap Dinh Village, Ngoc Thanh Commune of Phuc Yen City.
Her weak body made Hong suffer a lot early in life and she spent more time in the hospital than at home.
Hong's health has been relatively stable since 2015, after four colonoscopy-related surgeries.
Without hands, Hong uses her legs for all daily activities.
Due to her disability, her parents and neighbours thought that Hong would be unable to go to school but with the help of her family and teachers, the girl overcame adversity and lives life with her feet.
"Born in a family of three siblings, Hong was born with a birth defect without arms up to her elbow," said Ba, Hong's father.
"In my family, there was no one with any deformity. Hong was our first daughter," Ba recalled.
"We were so sad but we told ourselves that we would take care of and raise her anyway," the father said.
"We gradually felt reassured and relieved when we watched our daughter grow up day by day," he added.
Two years later, Hong had two brothers.
Despite not having hands, Hong always had optimism and learnt to do everything with her feet.
"She can do everything with her feet very nicely such as drawing, writing and sewing," her father said.
When Hong's brother started to go to school, she taught herself using his textbooks.
Seeing her friends in the neighbourhood going to school, the little girl yearned to go with them to class.
"Seeing that the children around the neighbourhood all went to kindergarten, my girl also asked to go. For many days, she stood outside the window and looked at the class so I pitied my child and could not hold back the tears," he said.
In 2007, when Hong was six, her father registered her for a kindergarten.
Initially, she was refused due to her disability but her father was persistent.
After testing Hong's memory and ability to use her legs, the school decided to admit her.
"However, due to poor health, my wife and I wanted her to take a break from school for a while," he said.
Many years later, with their child's desire to learn, Ba and his wife knocked asked several schools to admit their daughter, but they all said she couldn't learn if she couldn't hold a pen.
Then, her hard journey to write with her feet started.
When her brother entered grade 1, Hong sat next to him when he was reviewing lessons and doing homework.
That reminded Hong's parents that their daughter also wanted and needed to go to school.
Then, her parents bought her textbooks and books to teach herself.
Talking about Hong's application for school, Ba shared that it was a difficult time because there was no suitable school in the commune for her and the teachers said they were unable to teach children with disabilities like Hong.
Undeterred, the family encouraged Hong to study at home.
"She learned to read very quickly. But teaching her writing with her feet seemed to be an impossible mission for me because she does not have both hands," Ba said.
Admiring Hong's strong efforts, a teacher in Phuc Yen Township started to teach Hong to use her toes to grip the pen to write.
In the early days of writing, Hong's body curled up with each letter, sweat ran down her cheeks and her toes bled, but she refused to give up.
"Some days, her feet were so tired but no words were completed," Hong's father recalled.
After thousands of hours of practice, she learned to write with her feet.
Finally, her efforts were off and she was admitted to the first grade of Ngoc Thanh C Primary School when she was nine.
Do Thi Thanh Van, the school's principal, recalled: "At that time, we had to try many ways to get Hong the best and most convenient seat to listen to and write lessons."
The final option was that Hong would bring her own mat to spread on the classroom floor in the space between the podium and the student desks. There, Hong used her feet to write her first lessons.
For four years, Van watched Hong's working in class from her office.
"The atmosphere in this classroom was a little different. During class time, anyone who finished their work came and helped Hong," Van said.
"In the break time, other pupils sat on Hong's mat to play with her," the principal said.
"Although she sits in a separate position, Hong has never been isolated but is always in harmony with her innocent and naughty friends," she said.
Every day, rain or shine, Hong goes to school and she's always motivated to learn, no matter how many times she stumbles.
"I watched TV and saw many young people who have similar circumstances as I can write very well with their feet," Hong said.
"The falls hurt, but I like to go to school so that my future will become an information technology engineer, I won't stay at home," Hong said.
Last year, Hong won the first prize of Good Handwriting of Vinh Phuc City and was one of 130 outstanding students honoured by the Ministry of Education and Training.  VNS 

A disabled girl from the Central Highland province of Kon Tum has made her dream of going to university become a reality.