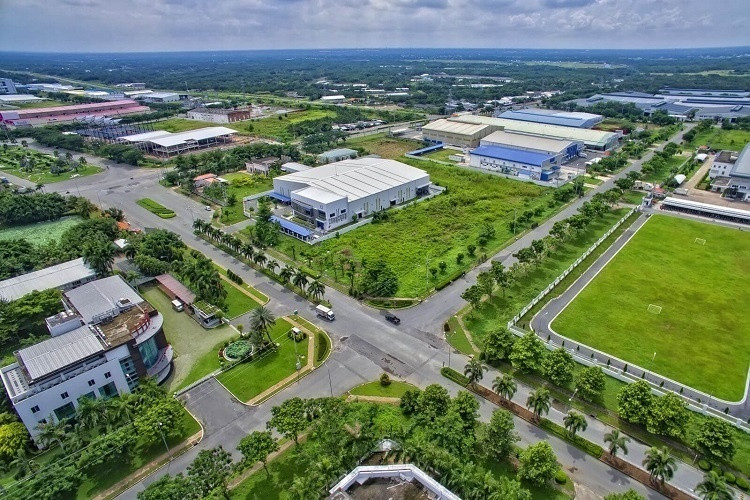 Industry experts believe that industrial real estate will be the brightest light in Vietnam's real estate market in 2023. Photo: Le Toan
As of February 20, according to the Ministry of Planning and Investment, the real estate sector placed second among businesses and areas that are attracting foreign investment with the total investment capital of almost $396.9 million, representing more than 12.8 per cent of the total. Compared to 2022, this figure climbed more than threefold.
Several industry professionals believe that industrial real estate will be the brightest light in the nation's real estate market in 2023. According to Trang Bui, general director of Cushman & Wakefield Vietnam, the country is the top market for industrial real estate investments.
According to her, Vietnam's location between China and Singapore and bordering the East Sea – one of the world's most important marine trading zones – gives it a strategic advantage.
Vietnam is also the gateway to Laos, northeastern Cambodia, Thailand, and southwest China, and its location at the junction of global marine and aviation routes facilitates trade with both neighbouring and distant nations.
Around 40 per cent of cargo travelling from the Indian Ocean to the Pacific will transit the East Sea en route to China, Japan, South Korea, and the United States.
Economist and Associate Professor Dr. Dinh Trong Thinh determines that Vietnam's real estate still has deficiencies in some areas. Thus, there are still several aspects that would benefit from international investment. Specifically, infrastructure is the component that helps Vietnam to lure foreign investment in general, and the real estate industry in particular.
The tourism and resort real estate sectors follow. Although Vietnam has developed a number of attractive tourist and resort locations over time, unfortunately, the optimal method for managing the firms and the substantial client base has not yet been established.
"If international companies invest, it will increase the number of tourists visiting Vietnam. In addition, there are relatively few items in the low-cost commercial housing market since investment is primarily concentrated on high-quality products," stated Thinh.
According to the General Statistical Office, the number of newly founded real estate enterprises in the first two months of 2023 was just 550, a 62.4 per cent decrease from the same time in the previous year.
Additionally, 235 businesses were closed, an increase of roughly 20 per cent over the same time frame.
There were 608 real estate businesses that resumed operations, a decrease of 18.8 per cent.
Source: VIR