Full-day activities dedicated to handmade skills
All handmade artists in Ha Noi will gather to show off their products at the Mintown Handmade Special Event on Sunday.
Visitors to the event will have chance to purchase a wide ranges of handmade items, from accessories to clothes, from jewellery to ceramics and glass.
Workshops to guide visitors how to make handmade items will also be organised. Another activity of the event is an exhibition showcasing the items created by handmade artists.
Music and Japanese yosakoi dance performance will be on the agenda. The event will take place from 9am-10pm at the Chu Van An High School, 10 Thuy Khue Street, Tay Ho District.
Ticket costs VND25,000 at the door, or VND20,000 before March 24 and available at Handymoon, 3 Alley 409, Kim Ma Street; We Love Handmade, 26 Alley Phat Loc, Hoan Kiem District; Lolibooks Cafe, 18 Alley 131 Thai Ha Street; O'Hina, 47 Yen Phu Street; HC Leather, 93F Ly Nam De Street; Ha Noi Rock City, 27/52 To Ngoc Van Street; Met Cafe, 142 Doi Can Street.
Art exchange connects Vietnam and RoK
An art exchange between Vietnam and the Republic of Korea (RoK) was held at the Korean Broadcasting Station (KBS) in Seoul on March 20.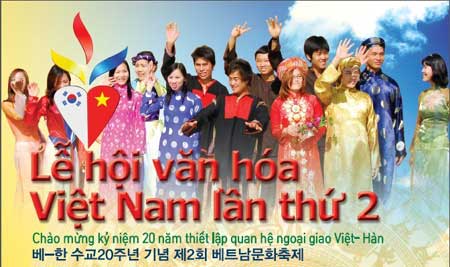 Illustrative image.
Among those present at the event, co-organized by the Vietnam People's Army and the RoK Ministry of National Defence (MND), were Korean MND Deputy Minister Im Kwan-bin, Vietnamese Minister Counselor Nguyen Manh Dong, and outstanding artists from both countries.

Entitled "Vietnam-RoK Friendship Bridge", the art exchange aimed to promote mutual understanding between the Vietnamese and Korean peoples and strengthen friendship and cooperation between the two nations.
Vietnamese and Korean artists received great applause from audiences when performing folksongs in both national languages.
From Seoul, the Vietnamese art troupe will tour South Chungcheong province on March 22 to have another exchange with Korean military artists.
Decibel Lounge to screen Oscar-winning Amour
Amour, this year's Oscar winner for best foreign language film, will be shown at the Decibel Lounge on April 3.
Directed by Michael Haneke, the Austrian film features the life and love of a couple in their eighties.
The screening will begin at 8pm. The cafe is located at 79/2/5 Phan Ke Binh Street in District 1.
Institute presents concert by Senegalese band
The Institute of Cultural Exchange with France (IDECAF) will present a concert by Senegalese songwriter and singer Jesers (Serge Morniz) and his band on March 29.
Jesers and his band, including percussionist Philippe Moniz, guitarist Marc Geschickt and sound engineer France Albisser will bring "new French music" to the performance that begins at 8pm.
Tickets costing VND100,000 per person and VND50,000 for students are available at the venue, 28 Le Thanh Ton Street in District 1.
Book swapping club expands reading circle
Over the past several years, the activity of exchanging used books – once the domain of the young - has become increasingly popular in communities as a means for readers to meet, discuss and swap their favourite reads.
Dong Tay Book Exchange Club in the capital city of Ha Noi is one of a growing number of organisations that allow readers to swap their old books for the ones they need.
Founded last May by the Dong Tay Culture Language Centre, the club now has nearly 200 members including students and graduates.
Old books that members do not want to read again are brought to the Dong Tay Bookstore at 62 Nguyen Chi Thanh Street, Dong Da District where they are revalued. For each distributed book, the owner will receive a token allowing them to receive a book from another reader.
"People of all ages and backgrounds are encouraged to take part in the club", says Nguyen Viet Hai, a third-year student from the Diplomatic Academy of Viet Nam and the head of the initiative.
The club is open from 2-9pm every Sunday, when books of many types - excluding newspapers, textbooks and outdated and unedited books - are exchanged among members.
The books may be new or old but they should be in good condition, clean and unmarked.
The swapping helps bibliophiles to obtain new reading material without having to go mad with money, explains 26-year-old member Nguyen Huong Giang.
Despite her busy working schedule at the city's Muong Thanh Hotel, Giang still finds the time to read and join the club every week.
"For me, book exchange is a helpful activity. I have found many books from the club including some valuable and rare ones that cannot be found elsewhere," she says happily.
The club has also readers to gain a new circle of friends. They can build lasting relationships through book swapping, often sparked by a discussion about a good paperback or a bad film adaptation.
"At first we only talk about book related matters such as author and content, but after becoming closer the conversations become more ebullient and we talk about anything and everything," comments Hoang Minh Quan, 23. "We even compare the club to a round-table conference!"
The club's activities are supported by the Dong Tay Book Store, which has donated hundreds of books according to manager Doan Tu Hoan.
"The idea of book swapping isn't new. But we are still determined to organise the activity because we understand that not all bibliophiles have the money and opportunity to read the books they love," he smiles.
During a period when the culture of reading is not given the attention and encouragement it deserves, book exchanges have become a meaningful way to store, preserve and popularise useful books among society.
Perhaps the birth of more book clubs like Dong Tay can open a new chapter for the country's avid readers.
VNN/VOV/VNS