Dragon dance festival to celebrate Ha Noi's liberation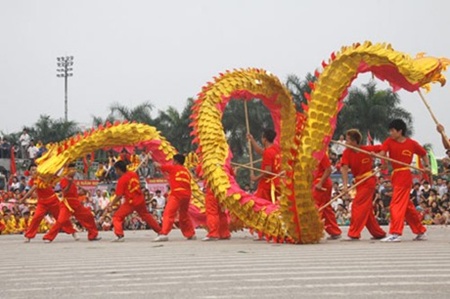 Ha Noi will hold the fourth dragon dance festival this Saturday, as part of a series of cultural activities to celebrate the 60th anniversary of the city's liberation on October 10.
The Ha Noi Dragon Dance Festival 2014 will take place from 1.30pm to 18.30pm at the King Ly Thai To Park, opposite the Hoan Kiem (Sword) Lake.
According to the organising board, the festival features pairs of dragon dancers from all districts in the city, promising a large-scale event with motley-embroidered dragons.
After the dragon dance and an award ceremony, the pairs of dragon dancers will parade around the Hoan Kiem Lake, which has been decorated with fresh flowers and flashing lights to create a joyful and festive ambience for the local people and foreign tourists alike.
German director to screen film in Viet Nam
Director Pepe Danquart will come to Viet Nam to screen his film, Run Boy, Run, in Ha Noi and HCM City this weekend.
The Academy Award winning director, whose work focuses on German society, sports and politics, comes at the Viet Nam Cinematography Association's invite.
Run Boy, Run, an adaptation of Uri Orlev's novel, tells the true story of an eight year old refugee who escapes from a Warsaw ghetto during the WWII German occupation. Along the way the boy is forced to rely on the goodwill of the people he meets in a battle-torn countryside.
The film will air at 7pm in German with Vietnamese and English subtitles. After the screenings, there will be question-and-answer sessions with the director.
"Street Art Gallery Hanoi" celebrates German Unity Day
An art project entitled "Street Art Gallery Hanoi" is underway in Hanoi marking the 24th anniversary of German Unity Day (1990-2014) and 25 years since the fall of the Berlin Wall.
Paintings showed on walls around the German Embassy campus in Hanoi aim to remind of the fall of the Berlin Wall- a historic event in the world.
Additionally, an online gallery with works involving in the project as well as painters'portraits will be posted on the website: www.streetartgallery-hanoi.com.
The exhibition runs until late 2014.
Veteran author writes cultural commentary
Noted culture researcher and author Huu Ngoc has just published a new book containing his commentaries on Vietnamese culture as well as famous Vietnamese and foreign contemporaries.
Titled Huu Ngoc – Dong Hanh Cung The Ki Van Hoa Viet Nam (Huu Ngoc Accompanies a Century of Vietnamese Culture), the book has three chapters: Nhung Nguoi Viet Cung Thoi (Vietnamese Contemporaries), Nhung Nguoi Nuoc Ngoai Cung Thoi (Foreign Contemporaries) and Nhung Goc Nhin Van Hoa (Cultural Views).
In his latest work, published by the Information and Communications Publishing House, the 96-year-old culturist writes about the development of Vietnamese culture including the impacts of exchange with foreign cultures.
His commentaries on Vietnamese and foreign acquaintances that he has directly met or been influenced by also paint a vivid picture of Vietnamese culture.
Among the people he discusses are Huynh Thuc Khang, Nguyen Thai Hoc, Ho Chi Minh, Phan Khoi, Tan Da and Vu Trong Phung.
"In Vietnamese culture, we should understand the very important notion of change," Ngoc said at the book's launching ceremony held last Saturday as part of the Ha Noi Book Fair.
"So where or what is the Vietnamese cultural identity?
"The roots of over 3,000 years ago are still living. For example, here and there, there are still images of ploughs and buffaloes; old folk verses and songs still live in the souls of Vietnamese people, consciously and subconsciously."
Poet Tran Dang Khoa said Huu Ngoc's latest work was "a special book, a dense and diverse cultural forest with many colours, simple, strange and alluring.
"Huu Ngoc does not seem to age. He's like a fossil skeleton. Time seems unable to "strike" him. He's like a river flowing very rapidly…"
Born in 1918 in Ha Noi, Huu Ngoc is fluent in four foreign languages – French, English, German and Chinese. He has authored numerous articles, including commentaries on foreign cultures and long-running columns in Le Courier du Vietnam and Viet Nam News.
His writing is light, but carries many interesting and little-known facets of a culture, using historical sources, myths, legends, festivals, cuisine and politics. He also delves into spiritual aspects of other cultures.
A collection of his essays titled A Sketch of Vietnamese Culture in French and English is considered a literary landmark that was presented by the Vietnamese Government to visiting Heads of State at the 7th Francophone Meeting in Ha Noi in 1997.
He has continued to work on the book after 1997, developing it into a larger tome of 1,200 pages under a new title, Wandering through Vietnamese Culture that included selections from the weekly edition of Viet Nam News.
Khanh Hoa develops new tourism products
The central coastal province of Khanh Hoa's Department of Tourism has developed a number of new tourism services in the run-up to the 6 th Asian Beach Games in 2016 in order to attract more holidaymakers to its Nha Trang city.
Among those are dolphin performances at Vinpearl Land and Flyboard, a water jetpack that propels those fearless enough to try it meters into the air.
In addition, the local tourism sector has looked into eco-tourism along the Cai River and the surrounding countryside. The province also aims to develop handicraft and fine arts facilities between now and 2020 in a bid to attract more visitors.
The province is undertaking maximum efforts to prepare for the Sea Festival 2015 and the 6 th Asian Beach Games in 2016, with a focus on infrastructure and tourism services.
This will be the third time an Asian sports competition is held in Vietnam , after the Asian Indoor Games in 2009 and the Southeast Asian Games in 2003.
During the first nine months of this year, Khanh Hoa welcomed more than 2.7 million tourists, up 21 percent compared to the year before. They included more than 608,000 foreign tourists, an increase of 26 percent.
The province earned more than 4.5 billion VND (214 million USD) from tourism activities.
Ancient literature temples honor Vietnamese literature
Five Vietnam's ancient literature temples have been recognized as the country's favorite spots, announced the General Director of Vietnam Guinness Book Center (Vietbooks).
Van Mieu Quoc Tu Giam- the Temple of Literature that is also known as the first university of Vietnam was founded in 1070. Temple of literature has been not only a symbol of Vietnamese culture and intellectuals but also a Confucianism cultural icon of Hanoi and the country for nearly 1,000 years. Its campus houses a garden of 82 stone steles honoring 1,304 doctors who were honored in 82 ancient time examinations during 15th to 18th centuries (1442 -1779) under the reign of Le Kings. The Temple of Literature was recognized as the UNESCO's World Documentary Heritage in 2010.
The remaining records are Xich Dang Literature Temple in Hung Yen Province, Mao Dien Literature Temple in Hai Duong Province, Van Thanh Temple in Thua Thien-Hue Province, and Tran Bien Literature Temple in Dong Nai Province's Bien Hoa City.
Pop singer My Tam to bring free concert for youth
Vietnam's most famous pop singer, My Tam will give a free lconcert for students and youth at Military Zone 7 Stadium in Ho Chi Minh City on November 9.
Music lovers will have a chance to enjoy her popular and latest songs in various musical genres, such as pop ballad, electronic dance Rock, Latin house and more.
Musicians Le Quang and Tam Vinh, choreographer John Huy Tran, dancers Lam Vinh Hai and Anh Khoa, and artists of the MTE dancing troupe will join the performance.
The organizer expects the concert will attract from 20,000-30,000 audiences.
The singer will also bring the music show to Hanoi's Hang Day Stadium on November 23rd.
Artists join street project to mark Germany's unification
Artworks by 21 Vietnamese and foreign artists are being hung on walls surrounding the German Embassy in Hanoi under a German-sponsored project entitled 'Street Art Gallery Hanoi'.
The project was launched as an event to mark Germany's National Day (October 3, 1990 -2014) and the 25th anniversary of the fall of the Berlin Wall - a monumental day in history that led to Germany's reunification (1989-2014), announced the Embassy at a press conference in Hanoi on September 30.
Participating artists were encouraged to present their ideas of how to overcome barriers between people.
Works will be on display until the end of 2014. An online gallery of the exhibits and artists' profiles can be seen at www.streetartgallery-hanoi.com.
Also at the press conference, Ambassador Jutta Gisela Frasch revealed the inauguration of a "German House" in Ho Chi Minh City in 2015. The construction is set to provide Vietnamese visitors with comprehensive information about the culture, politics and economy of Germany.
Hanoi to have 6 more pedestrian streets on weekends
Hanoi will make six more pedestrians only streets during weekends beginning October 3, said Nguyen Cong Khoi , party secretary of Hoan Kiem District.
These streets will include Hang Buom, Hang Giay, Luong Ngoc Quyen, Ma May, Dao Duy Tu and Ta Hien.
The move is aimed at creating more open space for tourists and help the cultural environment of the old quarter, particularly in terms of food.
According to the Hanoi People's Committee, business activities on the sidewalks will be banned to make walking easier for tourists.
The committee also licensed several parking lots covering a total area of 648 square metres to facilitate the increased parking demand.
In April this year, Dong Xuan Joint Stock Company piloted the project to make these six streets pedestrian only. They found that the project would be feasible and had strong public support.
The Department of Transport has been asked to improve the road surface of these streets.
Vietnam artists to support half-Vietnamese survivor of ferry disaster in Korea show
Around 30 Vietnamese artists will be in South Korea next month to join a four-day program to support the Vietnamese community in the East Asian country, particularly a half-Vietnamese girl who survived the tragic Sewol ferry disaster in April.
They include singers Thu Minh, Hoang Hai, Truc Nhan, Trang Phap, cai luong (a kind of Vietnamese traditional music) artist Que Tran, and the artist delegation from the Vietnam Contemporary Art Theatre.
The program, running from October 1 to 4, aims at establishing an aid society to support Kwon Ji Yeon, the five-year-old passenger rescued from the Sewol ferry that sank off South Korean coast on April 16.
Kwon was born to a Vietnamese mother and a South Korean father who died in the accident with her older brother. The Sewol ferry disaster killed more than 290 people.
The program is one of the major activities of a series to celebrate the 22nd year anniversary of the Vietnam – South Korean relation.
The main show of the program, slated to take place on September 3 at Hong Seong City in Chung Cheong Nam District, is expected to be broadcast on Vietnam Television on November 9, and in South Korea the same month.
The show director Oh Hyung Jick has expressed his appreciation of Vietnamese artists since they do not receive any payment for their performance.
This is the second time the show is hosted in South Korea, after last year's event, which caught attention from the Vietnamese community in the country.
Both shows are intended to help Vietnamese people living in Korea ease the nostalgia for their homeland.
There are around 230,000 Vietnamese people living in Korea, including about 70,000 Vietnamese wives of local men.
The performances also hope to help children who were born to Vietnamese – Korean parents understand more about Vietnamese culture.
Japanese antiques on show in city
The exhibition 'Japanese Antiques' has just opened at the HCMC Museum of History, displaying about 240 antiques dating back to the Nguyen Dynasty from the 16th century to give Vietnamese visitors a glimpse of Japanese history and culture.
On display, antiques are arranged into different themes from household ceramic utensils and bronze worshipping objects like Buddhist statues and altar cupboards to metal coins and many fine arts works.
Vietnamese people can have a chance to admire Katana sword, a wooden or metal weapon of the Japanese people in the 17th century, as well as traditional altar cupboards and incense burners for use in rituals of Japanese, and Netsuke masks made of wood.
The show aims at highlighting the trade exchange between Vietnam and Japan from the 16th century when Japan merchants visited Vietnam for commercial and cultural exchanges.
The exhibition runs until February 29 next year at the museum, 2 Nguyen Binh Khiem Street in HCMC's District 1.
VNS/SGGP/VOV/Dantri