My Tam to perform at 'Dreaming together in Osaka'
Singer My Tam will be the sole Vietnam representative to perform with guitarist Oshio Kotaro at 'Dreaming together in Osaka' this upcoming April.
'Dreaming together in Osaka' is an exchange between Vietnam and Japan artists to mark the 20th anniversary of Vietnam-Japan Friendship Association in Kansai.
The performance will be divided into three parts. My Tam will sing Vietnam and Japan songs with Osaka music band in the first part. The second part will be Oshio Kotaro's guitar performance and the last part will be a combination between My Tam and guitarist Oshio Kotaro.
The programme is set for April 5 at the NHK hall in the centre of Osaka City.
India to aid renovation of My Son towers
India will send experts and give a five-year subsidy of about US$2.5 million for renovation of the towers in the My Son sanctuary in the central Quang Nam province.
According to Dinh Hai, director of the Quang Nam Culture, Sports and Tourism Department, these details were included in a memorandum on preservation and renovation, signed by the leaders of the two countries last year.
India will send experts, materials, facilities and equipment for the task, while the province will spend nearly VND20 billion ($9.5 million) to pay the salary for 85 workers involved the project and offer accommodation to the Indian experts during the period, he added.
Local actress wins SoapStar SuperStar contest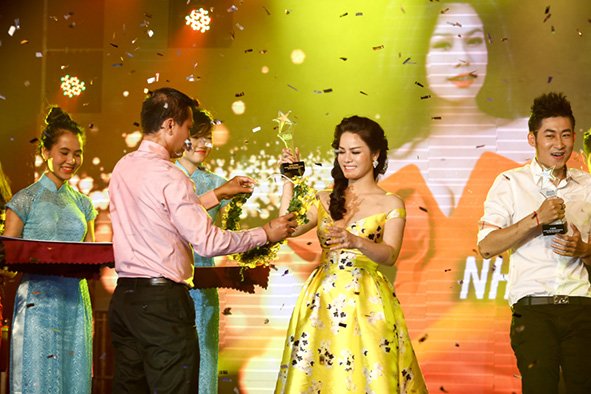 Actress Nhat Kim Anh won the first SoapStar SuperStar (Sao Viet toan nang) contest last week.
She defeated young actor Trong Nhan and brought home a cash prize totaling VND450 million. Runner-up Nhan got a cash prize of VND160 million.
This year's contest featured some popular young artists, including actor Minh Luan, comedian Minh Beo, actress/model Trang Tran, singers Cao My Kim and Truong Quynh Anh, and actor Huynh Anh. All of them are not professional singers but are highly appreciated for their abilities to sing multiple genres like pop, rock, and traditional folk songs and stage performances.
According to Mai Thu Huyen, general director of Tincom, the program's producer, Sao Viet toan nang will launch its second season at the end of this year.
Hanoi to host craft villages' exhibition
Hanoi's traditional craft villages, with their centuries old cultural values and techniques passed down from generation to generation, have become increasingly popular with tourists.
The villages range from specialising in lacquer painting, pottery and porcelain, embroidery and rattan knitting to textiles, paper, folk print and many others.
To help promote the tourism potential of the villages, Heritage Space is organising a cultural exhibition casting the spotlight on the villagers' handiwork kicking off at 3pm on January 24 at Dolphin Plaza on 28 Tran Binh road.
In connection with the event, which runs through March 30, a representative of Heritage Space has also revealed that a large number of famous celebrities are planning to attend.
The organising board plans on it becoming an annual event educating young people about their heritage and promoting tourism and small-scale manufacturing, the representative stressed.
Thousand-year-old antiques on display in Ninh Binh
More than 300 artifacts dating from over a thousand years ago are on display in the provincial museum of the northern province of Ninh Binh from January 20-24.
The exhibits include drums, knives, jars, bells, necklaces, bricks, and bows, some of which have been dated back to the Dong Son culture in 700 BC and reach throughout the Dinh, Ly, Tran, Le and Nguyen feudal regimes.
Many of them were uncovered in the Hoa Lu ancient citadel in Ninh Binh, which was once the country's capital.
According to Director of the Ninh Binh Museum Nguyen Xuan Khang, the antiques reveal a great deal about the culture and its socio-economic development through various periods in history.
He said he hopes the exhibit will contribute to raising public awareness of the importance of preserving national cultural values.
Italian daily calls Hoi An intersection of the Far East
The Italian daily paper La Repubblica recently ran an article entitled "Hoi An – Intersection of the Far East", portraying the ancient city as a tranquil and idyllic place worth visiting in central Vietnam.
It went on to say that Hoi An is an intersection of culture between Vietnam and China, Japan, the Netherlands and India. Coming here, visitors travelling by bicycles or on foot can get a feel for Vietnamese history as the city itself serves as a museum with its rows of colonial houses.
Thousands of multi-coloured lanterns are hung at night, giving visitors an experience of living in a fairy world.
Referring to a guidebook of tourism and culinary attractions, visitors were urged to explore Hoi An's UNESCO heritage sites.
Over the past few months, La Repubblica has featured places of interest in Hanoi, Sapa, Ha Long Bay, the Mekong Delta, and Mui Ne coastal resort town.
The State television station RAI broadcast several documentaries about Vietnam's scenic locations and welcoming people.
The Vietnamese embassy in Italy also worked with other local groups to organise workshops on Vietnam's tourism in a bid to further promote Vietnamese destinations to Italian tourists.
According to the Vietnam National Administration of Tourism, the number of Italian tourists coming to Vietnam has grown over the past years, from 31,300 in 2012 to over 50,000 in 2013, though these figures still represent a limited proportion of the nearly 6 million foreign arrivals in the country.-
Pop singer rocks new approach to hits
In his new album Pha (Offbeat), singer Pham Anh Khoa "breaks away" from his catchy pop style to experiment with a rock-influenced approach, aided by producer Huy Tuan.
The seven songs on the album include Ngau Hung Song Hong (Red River Improvisation), Bien Khat (Thirsty Sea) and Cho Nguoi Noi Ay (I'm Waiting for You), hits that were originally performed by popular singers Hong Nhung, Tran Thu Ha and Uyen Linh.
The songs were selected by the duo because they were the most popular songs in the Vietnamese pop genre in recent years.
"We rock these songs because no one thinks that these songs could be sung with rock. It is an interesting experiment," Tuan said.
The album release on January 13 kicked off a series of musical events by Khoa to celebrate his ten-year career, including a live show and a new music video Rain.
Khoa, 30, was born in Khanh Hoa Province and is a student at the HCM City Conservatory. His powerful music, strong voice and good looks helped him win the jury prize in a televised singing contest held by Viet Nam Television in 2006.
His two albums, PAK 01 (a reference to his stage name PAK, derived from his initials) and Lam Sao Noi Het (How Can I Say Everything), were released in 2007 and 2009.
Stone sculptures decorate beach in Quy Nhon
The central beach of Quy Nhon now features 20 stone sculptures about love, peace, family, women and children.
Twelve more statues about local cultural heritage and handicrafts will be added to the 3km-long beach by February 10.
Film week celebrates 85th anniversary of the Vietnam Communist Party
A film week marking the 85thanniversary of Vietnam Communist Party (February 3, 1930-2015) and the traditional Lunar New Year will take place across the country from January 30 to February 5.
Films on screen include movies namely "Thau Chin (Ho Chi Minh's nickname) in Siam", "Volunteer", and a documentary entitled "Communists".
The film week aims to honor glorious history and combats, promote patriotism and national pride in building and protecting the country.
The event is organized by the National Cinema Department, Film Studio of the Vietnam Cinema Association, Vietnam Feature Film Studio 1, Viet Nam National Documentary and Scientific Film Studio and Vietnam National Cinema Center.
VNS/SGT/SGGP/VNA/VOV