Art exhibition offers new perspectives on time and history
An exhibition at Hanoi's Manzi Art Space is offering visitors new perspectives on time and history through the artworks on display.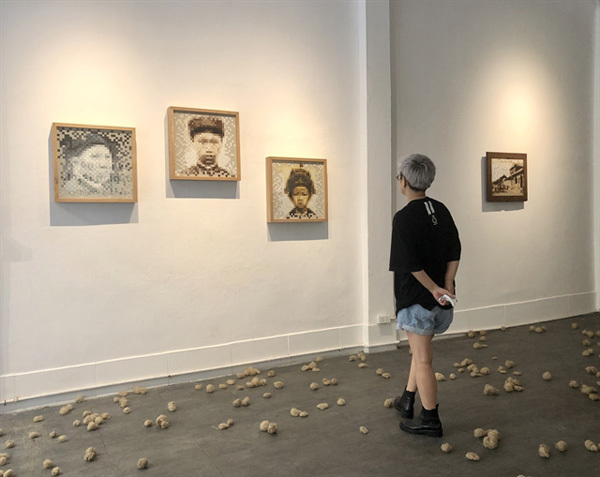 A visitor looks at embroidered paintings by Vo Tran Chau, while raw jute balls can be seen scattered on the floor of the Manzi Art Space. The balls are an installation by Phan Thao Nguyen. — VNS Photo Thuy Hang
The exhibition, Extended Realities, is showcasing works in different mediums by contemporary Vietnamese artists Nguyen Huy An, Phan Thao Nguyen, Nguyen Trinh Thi, Truong Cong Tung and Vo Tran Chau. Through their creations, the artists are showing how they are working with the ideas of time, memory and history.  
A sheaf of paper placed on top of a small white stand is a minimalist installation by the Hanoi-based artist An, who is considered one of the most dynamic and innovative artists of his generation.  
Entitled Exercise No 2, the creation is part of his ongoing project inspired by the undeniable significance of Russian revolutionary V.I. Lenin as a political figure in the history of the country, and of Hanoi in particular.
Written in the form of a math exercise requesting people to determine the shadow area of a public sculpture of Lenin in Hanoi at different times of the day, consolidated into a mathematical equation, the work gives the viewers an opportunity to reflect on the way our logic, ideals and world views have always been constrained and impacted by natural forces beyond our control.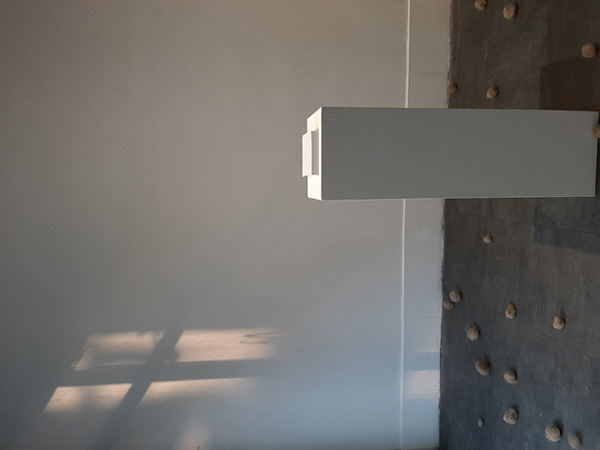 ''Exercise No 2'' by Nguyen Huy An. — Photo courtesy of Nhung Nguyen
By pixelating the photographs of architectural structures or historical figures that have completely or partially disappeared from public memory and then reconstructing them with secondhand clothing or threads and fabric, the latest series of mosaic and embroidery paintings by the HCM City-based artist Chau are a way of recreating collective memories, as she observes and more deeply explores multiple angles of history.
The Portraits No 8, 9, 10 are three mosaic embroidered portraits of Vietnamese kings Ham Nghi, Thanh Thai and Duy Tan – three kings of the Nguyen Dynasty who all were dethroned by the French and exiled to Africa.
Using secondhand clothing and a cabinet door, Somewhere Near Here 1 reconstructs the image of Thu Duc Market and Thu Duc Communal House which no longer exist, while Somewhere Near Here 2 reveals the long gone Cho Lon Post Office.
Nguyen is exhibiting Hunger Thread – an ephemeral installation consisting of hundreds of raw jute balls that are scattered throughout the exhibition space. Those jute balls can be blown away by the wind or kicked or stepped on by viewers. Hunger Thread is part of her continuing multimedia project entitled Mute Grain.
Mute Grain is Nguyen's personal interpretation of the 1945 famine in Vietnam, during the Japanese occupation of Indochina. However, with a new perspective on history and narration, and an artistic medium, Mute Grain proposes a more nuanced approach to personal and historical tragedies. The artist said she hoped to present the crop failure and famine in the most compassionate and objective way possible, combining sorrow with optimism to celebrate the ephemeral beauty of plant, animal and human lives.
In contrast with Nguyen, her husband Tung has considered time as a medium for his series of paintings The Time of Passing Shadows (1 2 3 4...).  In this series, using pencil and digital prints on Mylar film, light, darkness and dust, he sets out a layered narrative of time that is coherent yet tacitly perplexing, with images and information interleaved with fact and fiction.
The Hanoi-based artist Thi presents Eleven Men – a video composed of scenes from a range of Vietnamese classic films featuring actress Nhu Quynh. Spanning three decades of her legendary acting career, most of the appropriated movies, from 1966 to 2000, were produced by the Vietnam Feature Film Studio.
The film's text was adapted from the short story Eleven Sons by Franz Kafka, which begins with a father's declaration: 'I have eleven sons', then describes each one of them in acute and ironic detail. Transposing the father's voice of Kafka's story, the film begins with a woman stating: 'I have eleven men'.
Extended Realities, which has been organised in collaboration with the Goethe Institute in Hanoi, is open from Tuesday to Sunday until September 25. Manzi Art Space is at 2 Hang Bun Alley. VNS
An exhibition displaying artworks from leading contemporary Vietnamese artists opened at the Vietnam National Fine Arts Museum in Hanoi on August 6.