Among the nine categories for the music awards, which maintained its traditional voting by journalists covering cultural aspects, singer Hoang Thuy Linh won three, namely the awards for music video, female singer, and album of the year.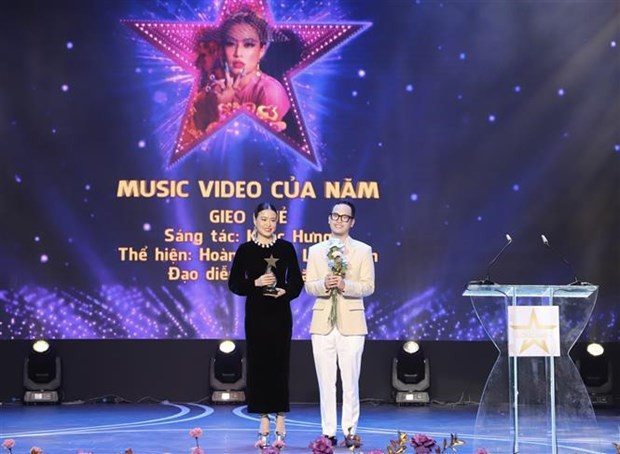 Singer Hoang Thuy Ling (L) receives her award for the best music video of the year. (Photo: VNA)
MONO (real name Nguyen Viet Hoang, born 2000) was named as new artist of the year, while the awards for male singer, producer and musician of the year went to Tung Duong, DTAP, and Khac Hung, respectively. The song of the year was "Ben tren tang lau" composed and performed by Tang Duy Tan, while the show of the year was "Tri am" by singer My Tam.
In the sport categories, football player Khuat Van Khang seized the award for the young athlete of the year, while Nguyen Thi Oanh, a female track-and-field athlete, was honoured as the sport figure of the year, which honour athletes with outstanding achievements, good impressions and dedication in sports activities. The two awards were based on votes by fans via the Bvote system.
The last award 'Sports Achievement of the Year', which recognises breakthrough by an individual or a team in professional fields, went to the national female football team who won a berth in the FIFA Women's World Cup 2023. The winner was selected by a council under the organising committee.
At the awards ceremony, Le Xuan Thanh, Editor-in-Chief of The Thao & Van Hoa, highlighted a series of the 2023 edition's first-times, including the opening of sports categories and the Bvote system, and the application of blockchain technology in organisational work.
The Devotion Awards were first launched in 2005./. VNA