Artists experiment with new techniques in contemporary Vietnamese paintings
VietNamNet Bridge – Vietnamese artists, both professional and amateur, young and old, are now more and more active in searching for new materials and experimenting with new forms of creation in paintings,
VietNamNet Bridge – Vietnamese artists, both professional and amateur, young and old, are now more and more active in searching for new materials and experimenting with new forms of creation in paintings, bringing an encouraging sign for Vietnamese fine arts.
Veteran painter shows love for unique torn-fabric paintings
Born in 1960, painter Tran Thanh Thuc has spent 30 years working with torn-fabric paintings. Thuc had previously worked on oil and watercolours paintings, but a new idea came to her while visiting a friend who is a tailor, and watching her cutting pieces of fabric and attaching them together to form a piece. The unique effects created from fabric drew her attention and she decided to try working on it.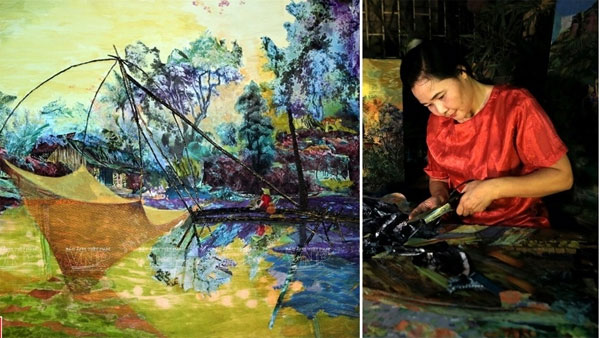 Painter Tran Thanh Thuc and her torn-fabric painting.
According to Thuc, making torn-fabric artworks the artist cannot make a sketch of their work beforehand as usual; it is a long and tough road from planning an idea to reflecting it in a real artwork. The process is time-consuming and requires the artist to be meticulous, patient and cautious. Each painting needs hundreds of pieces of fabric and it often takes her two or three months to complete.
Another obstacle is finding materials for the paintings. Thuc often maps out an idea for the artwork and then finds suitable material to realise the idea. But sometimes, it is the patterns on the fabric bring a flash of inspiration to the artist. She has learnt that most beautiful patterns and unique colour ranges can be found in fabrics for making an Ao Dai (traditional Vietnamese dress).
Thuc never colours, cuts or dyes the fabric to ensure that her artworks keep the original colours of the fabric. Whenever she goes on a trip, she always searches for fabric markets. She also has her friends buy pieces of fabric on their travels.
Since it costs her a lot to buy materials, her paintings are sold for thousands of US dollars and they have drawn great interest from art lovers, particularly foreigners.
Most of her works focus on the theme of natural landscapes and the beauty and tranquility of Vietnam's rural areas. She has shared her experiences with talented youngsters and fine arts students who show their passion for this type of painting.
Youngsters experiment with modern-style art
Anyone in Vietnam with an interest in glass art knows the name Do Tuan Khoi, a 1988-born painter who established his own brand at artkglass.com. Khoi studied applied arts at the Nha Trang College of Arts, Culture and Tourism and graphic design at Hoa Sen University in Ho Chi Minh City.
Glass art by Do Tuan Khoi (Photo: artkglass.com)
After graduating, he received a well-paid job as a designer at a real estate company. While surfing the internet, his attention was caught by glass art works, which were not popular in the Vietnamese market at the time. Khoi quit his job in order to explore glass art. His first products received so much appreciation from his friends that he decided to sell them online.
It took him years to master drawing and mixing colours on the surface of glass, a task that challenges to painters to make vivid and lively strokes. Glass is also crystal clear, which makes it easy for customers to see any little mistake.
Khoi is also a vanguard in chibi drawing - a popular trend for the youth - on glass. In addition to drawing on cups and vases, Khoi also tries to paint on other materials such as ceramic, and works with hotels and shops on interior decoration projects in order to advertise his products to more customers.
Thanks to his efforts, Khoi has received orders from foreign markets, such as Australia and the US. This project has created jobs for many art students.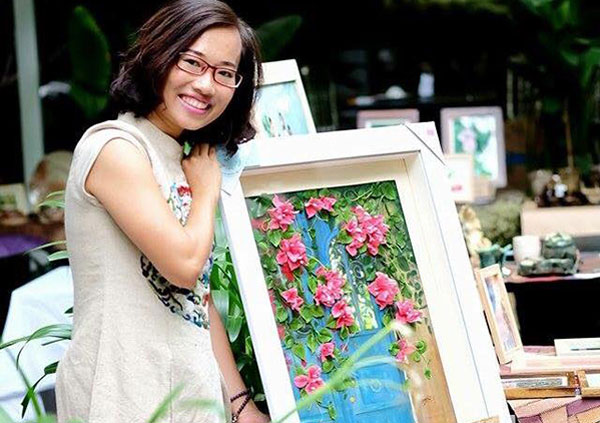 Phuong Chi and her clay flower painting (Photo: cgvdt.vn)
Another young face on the art scene is Tran Phuong Chi, the owner of Phuong Chi Art - a clay flower painting shop in Ho Chi Minh City. Chi studied law at school but she has held a deep passion for flowers since she was a little girl.
Chi said that it often takes her up to a month to complete a clay painting, from mapping the idea and blending colours, to making the flower's parts, including stamen and petals, as well as leaves and a sprig. Chi often paints details such as a bird or sunlight in oil to enhance her paintings.
According to Chi, painting requires the artist to be skillful and meticulous, but also have a deep understanding of various kinds of flowers.
Prices for Chi's paintings range from millions to dozens of millions of dong, and they have become a favourite for art lovers.
Together with Thanh Thuc, Tuan Khoi and Phuong Chi, many other artists have figured out new ways of using non-traditional materials, such as sand, butterfly wings, straw, coffee and cigarette ash. Their passion, creativity and readiness to try new things have undoubtedly raised a new hope for the development and diversity of modern Vietnamese fine arts and paintings.
Nhan Dan