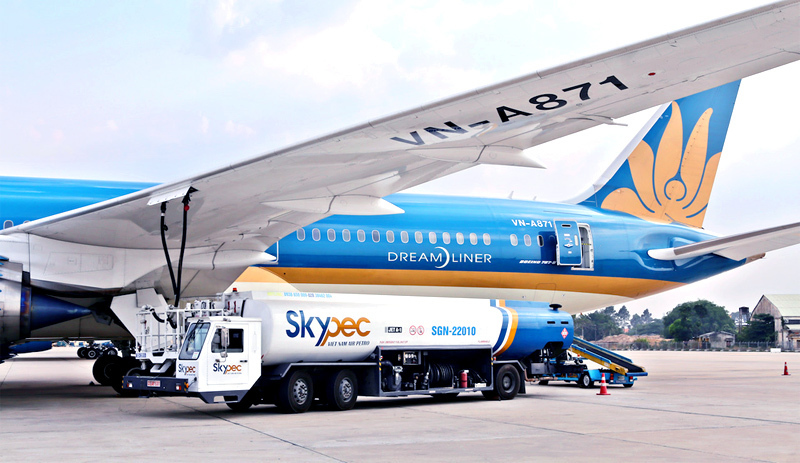 Vietnam Airlines has sent a document to the Ministry of Finance and Ministry of Transport, reporting the impact of the higher fuel prices on the carrier's operation.
The crude oil price has been surging, hitting a peak of $138 per barrel, and the Jet A1 price has also been increasing, from $73 per barrel in 2021 to over $100.
Vietnam Airlines fears that the disadvantageous factors will increase the price of Jet A1 above $160 per barrel. In the worst scenario, the price may hit $200 per barrel.
Fuel accounts for 40 percent of total operation of an airline. According to Bui Doan Ne from VABA (the Vietnam Aviation Business Association), each flight between Hanoi and HCMC with a narrow-body aircraft consumes 4 tons of fuel, while the figure is 10 tons with A330 wide-body aircraft.
Meanwhile, air carriers have undergone a difficult 2-year period because of Covid-19 and have not recovered well. The expenses on pandemic prevention and control measures are high, and now the fuel price hike is dealing another blow.
If the air petrol price stays at $130 per barrel for 2022, Vietnam Airlines would have to pay VND5.7 trillion more for fuel. If the petrol price is $160 per barrel, the additional expenses would increase by VND9.12 trillion.
The national flag air carrier has asked MOF to exempt the environmental protection tax for airlines in 2022 (the current tax rate is 50 percent). If the tax exemption is approved, the airlines would be able to cut expenses on fuel by VND600 billion.
Meanwhile, Vietravel Airlines has proposed a fuel import tariff reduction from 7 percent to zero percent, and environmental tax cut to VND1,000 per liter until the end of 2022.
Vietravel Airlines has also asked to speed up the disbursement of the credit package for aviation enterprises, both private and state-owned.
The air carrier wants the Government to give credit support through loans with an interest rate of zero percent or preferential interest rates for 3-5 years.
Also, it proposed a CIT (corporate income tax) exemption in 2022 and VAT (value added tax) reduction to 5 percent to stimulate demand.
How high will airfares rise?
In addition to requests for tax exemption and preferential loans, airlines also want the Government to allow fuel surcharges applied to domestic air routes.
According to Vietnam Airlines, airfares for domestic flights with a wide range of prices depend on the market situation and the air ticket issuance period.
A representative of Vietnam Airlines said that the lifting of ceiling airfare would not lead to higher airfares. He said the lifting, if approved, would create favorable conditions for airlines to apply a flexible airfare policy, which both offsets the increased expenses caused by fuel price hikes and improves the quality of services, satisfying the requirements of passengers with high payment capability, while respecting current regulations.
Vietnam Airlines believes that amending the regulation on ceiling airfare will be more feasible and timely. It has asked the Ministry of Transport (MOT) to adjust the ceiling airfare for domestic routes to levels applied in 2014, commencing from April 1, 2022.
It wants to collect fuel surcharges for domestic air routes if the fuel price fluctuates.
This is also what Vietravel Airlines wants if the Jet A1 price increases to over $100 per barrel.
According to Ne, other regional countries have taken measures to cope with the fuel price hike. Airlines in Malaysia, Thailand, South Korea and Japan have begun collecting fuel surcharges, $5-10 per passenger.
Meanwhile, in Vietnam, air fuel has three kinds of tax, including import tax, environmental protection tax and VAT.
With the surcharge policy, airlines will be able to apply their airfare policy in a flexible way, which will help to cover operation costs and ensure healthy competition.
Ne said airlines are taking measures to cut expenses and trying to stabilize airfares, but an airfare increase must be kept open as a possibility.
"No one wants to raise airfares. But if the fuel price increases too sharply and becomes unbearable for airlines, they will have to think of adjusting the airfare," he said.
"We hope that we can receive sympathy from passengers and partners in the aviation ecosystem. We also hope that commercial banks share difficulties with us by providing loans at reasonable prices and allowing debt payment delays," Ne said. 
Ngoc Ha

The petrol price hike, which has led to an increase in nearly all goods and services, from food to medicine to fertilizer, has caused consumers constant anxiety.
E-riding firms have raised taxi fares, and traditional taxi firms are expected to follow the move.