ASEAN, China officials debate recent developments in East Sea

Senior officials from foreign ministries of ASEAN countries and China gathered in Da Lat to discuss recent complicated developments, especially on-going incidents in Vietnam's exclusive economic zone.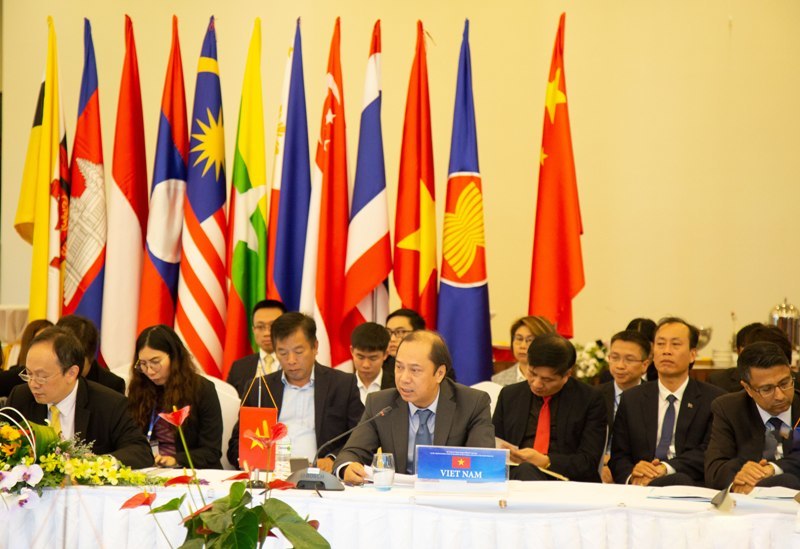 The Vietnamese delegation at the event.
Deputy Foreign Minister Nguyen Quoc Dung led the Vietnamese delegation to the event which was designed to review the implementation of the Declaration on the Conduct of Parties in the East Sea (DOC) signed between ASEAN and China.
The ASEAN officials reiterated the principles of self-restraint, non-militarization, avoidance of acts that may further complicate the situation or intensify tension, and settlement of disputes through peaceful measures in accordance with international law and the 1982 UN Convention on the Law of the Sea.
The participants agreed that it is necessary to continue full and effective implementation of the DOC, giving priority to the deployment of confidence building measures and cooperation in dealing with common challenges like marine environment protection and humanitarian treatment of fishermen.
Regarding negotiations on the Code of Conduct in the East Sea (COC), the participants welcomed the conclusion of the initial review of the draft negotiating text for the COC and agreed to continue maintaining the achieved progress.
They underlined the need to double efforts in formulating an effective and practical COC which could help prevent occurrence of the current complicated incidents.
The participants agreed on the need to prepare well for the next rounds of talks to achieve concrete and substantial outcomes.
Addressing the event, the Vietnamese delegation clarified recent complicated developments in the East Sea, particularly Viet Nam's sovereignty and sovereign rights have been seriously violated.
The Vietnamese delegation also emphasized that China's violations have caused negative impacts on peace and security in the region and created adverse atmosphere to the COC negotiations process. VGP

China's survey vessel Haiyang Dizhi-8 and its escorts have conducted regular oil exploration activities and expanded operations in the Tu Chinh-Vung May or Vanguard Bank region of Vietnam's exclusive economic zone.

Tensions in the East Sea are still under control, without armed war, but the acts of using or threatening to use force have been recorded with many different forms.