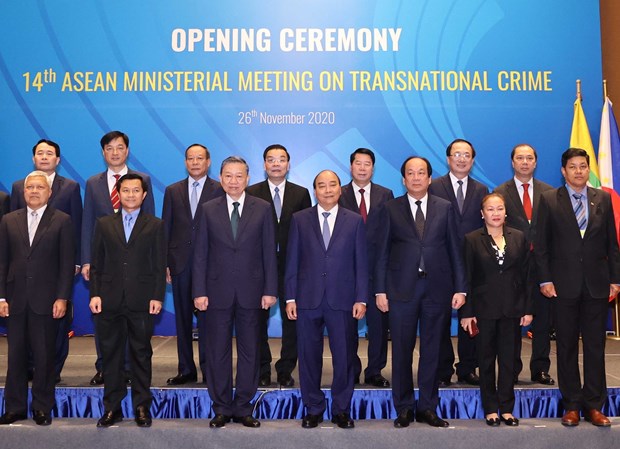 Prime Minister Nguyen Xuan Phuc (front, centre), Minister of Public Security To Lam (front, third, left), and official pose for a photo at the 14th ASEAN Ministerial Meeting on Transnational Crime on November 26 (Photo: VNA)
In his remarks, Prime Minister Nguyen Xuan Phuc noted that at the recent 37th ASEAN Summit, leaders of the member states agreed on many measures and major orientations for developing the ASEAN Community, with people always at the centre, and assisting people and businesses to soon overcome the COVID-19 pandemic's impact, stabilise their life, ensure social order, and recover economic growth.
In particular, the Political-Security Community is an important pillar in the building of a united and strong ASEAN Community that can bring into play its stature and central role in regional security issues, he said.
Apart from the COVID-19 combat, regional countries have also had to deal with another "dangerous enemy" which is the growing transnational crime, he said, pointing out that anti-pandemic measures have led to stagnation in production and business activities and an increase in unemployment, which has triggered crimes, especially cyber crime.
PM Phuc highly valued the theme of the AMMTC 14, "Cohesive and responsive ASEAN in preventing and fighting transnational crime", which reflects the strong commitment and resolve of the ASEAN ministers in charge of transnational crime prevention and control to contribute to the regional peace, security, and stability.
To build a cohesive and responsive ASEAN in the transnational crime fight, he suggested some priorities, including fully and effectively implementing the ASEAN Community Vision 2025 and the Hanoi Declaration on the ASEAN Community's Post-2025 Vision, with special attention paid to the building of a strong Political-Security Community.
ASEAN countries should increase building trust, further share information among law enforcement agencies, and not let any organisations or individuals take advantage of one country's territory to harm others.
They also need to enhance cooperation and exchange experience in fighting transnational crime so as to ensure security and safety for ASEAN citizens and prevent social uncertainties caused by COVID-19, according to the PM.
He affirmed Vietnam's commitment to exert every effort to join other member states in building an ASEAN Community of peace, stability, and development.
Addressing the meeting, Minister of Public Security, General To Lam said the MPS of Vietnam will take an active and responsible part in cooperation frameworks of ASEAN so as to help maintain peace and stability for countries to deal with the pandemic's consequences and recover.
Regional countries will continue upholding the "cohesive and responsive" spirit to work together in combating transnational crime to develop a politically cohesive, economically integrated, and socially responsible ASEAN Community that have extensive cooperation with external partners, he added.
During the event, participants reviewed the global and regional situation, discuss solutions to promote the realisation of targets set in the ASEAN Plan of Action to Combat Transnational Crime for 2016-2025, and looked into documents on the member states' initiatives and ideas within the AMMTC framework./.VNA