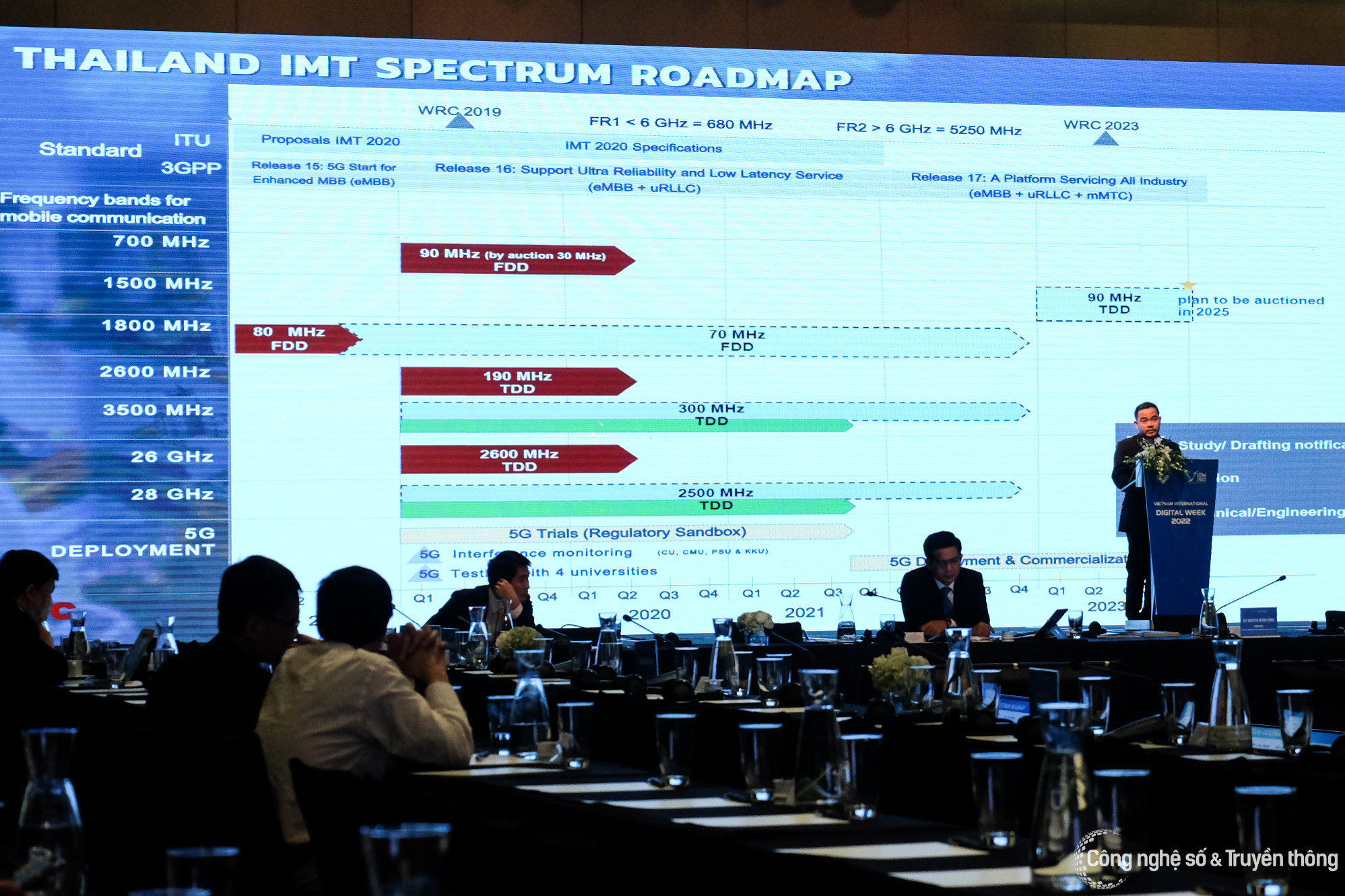 This is an initiative of Vietnam, announced by Minister of Information and Communications Nguyen Manh Hung at the 2018 ASEAN Telecommunications and IT Ministers' Meeting to promote regional coordination on policy, investment, and public development on 5G technologies, services and applications.
The meeting aimed to discuss directions on how to promote 5G deployment, and exchange recommendations on the 5G roadmap for ASEAN from now to 2025.
Mr. Yew Liang Cheng - Director of RedHat ASEAN - said that by June 2022, 70 countries had implemented 5G with a total of 1 billion 5G users.
Earlier this year, research on the economic and social impact of 5G conducted by GSMA showed that by 2030, 5G will contribute an additional $961 billion per year to the global economy. The frequency allocation for 5G plays a very important role.
Mr. Yishen Chan - GSMA Asia Pacific Spectrum Manager – said that 5G is designed to cater to a variety of usage scenarios.
5G requires much larger bandwidth and frequency requirements than 3G and 4G. He said that governments must ensure that 5G frequency bands are allocated to businesses and should not consider the band license fee as a tool to increase budget revenue.
Vietnam has been among the first countries to pilot and apply 5G since 2020. Mr. Nguyen Phong Nha - Deputy Director of the Department of Telecommunications – said that Vietnam has tested 5G in 55 provinces and cities.
Vietnam wants to develop companies to research and produce 5G terminals and pilot 5G in high-tech parks, universities, and research institutes. Vietnam has set a target that by 2030, 100% of the population will have 5G connectivity.
Representatives of ASEAN countries also showed interest in developing 5G.
Mr. Wan Reza - Head of 5G Office of the Ministry of Information and Communications of Malaysia - said that since 2018, the country has recognized the potential of 5G as a life-changing factor to promote economic development. At that time, Malaysia established an agency to promote the development of 5G.
Malaysia conducted its first 5G trial in December 2021. 5G coverage will increase from 5.8% in 2021 to 36% in 2022. The country aims to increase 5G coverage to 80% by 2023-2024 and 90% between 2025-2029.
Another country, Thailand, has done pre-feasibility studies and tested 5G in various bands. Up to now, 5G coverage in Bangkok has reached 99.23%.
According to a representative from Brunei, this country has set up a task force for 5G development to carry out various tasks, including legal trials on sandboxes. The trial is expected to start on November 18.
A representative of the Lao Ministry of Technology and Communications told the meeting that this country is considering lessons from other countries to deploy 5G, with two carriers licensed to test 5G. However, at present, only about 5% of telecom devices in this country are compatible with 5G, the remaining 95% are compatible with 4G. Therefore, it needs a framework to help with device compatibility to promote 5G.
All ASEAN countries shared the same view that 5G will play an important role in the economy of the region. The deployment of 5G is considered a launching pad to promote digital transformation, digital economy and digital society in many countries.
Trong Dat