ASEAN resolves disputes in East Sea by international law
ASEAN is steadfast in its stance of restraint and peaceful settlement of disputes on the basis of international law in the face of threats to stability, security and safety, and freedom of navigation and aviation in the East Sea.
Speaking at the opening of the 53rd ASEAN Foreign Ministers Meeting (AMM 53) and related conferences on September 9, Deputy Prime Minister and Foreign Minister Pham Binh Minh said this was the first time the meeting has been held online. "Dynamism in action, flexibility in response, and creativity in cooperation are characteristic of ASEAN over the past five decades," he said.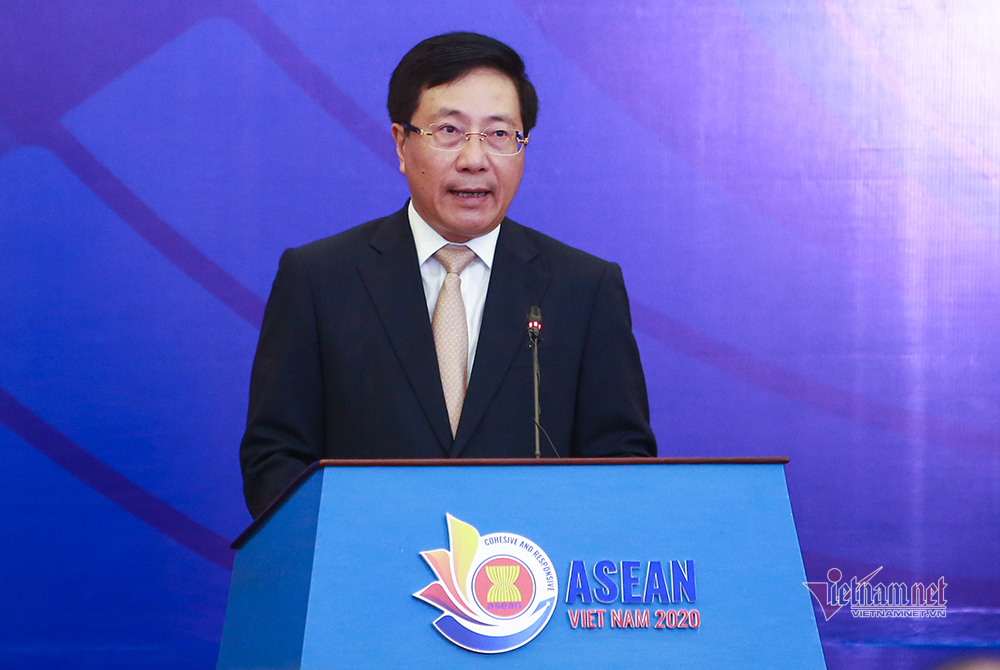 Deputy Prime Minister and Foreign Minister Pham Binh Minh
Entering its 6th decade, ASEAN is now in a period of accelerating community building, while promoting its role and position in the region and actively contributing to efforts for peace, stability and development of the international community.
He said there is a strong shift in the way the international relations system works. The roles of international law and multilateral institutions are facing many challenges. Political power, selfishness and uncertainty in the behavior of nations has increased.
The process of globalization, regional integration and economic liberalization have somewhat slowed down. Along with that are complex developments of global problems, particularly the Covid-19 pandemic.
"Awake to challenges, proactive in response, cohesive in action, ASEAN has united steadfastly with its goals and joined hands to repel the pandemic. This determination of ASEAN has been expressed in the Declaration on the vision for a cohesive and proactive ASEAN released at the 36th ASEAN Summit", said Mr. Minh.
He said this conference will jointly discuss specific measures to implement the direction of the 36th ASEAN Summit, continue to maintain regional cooperation and linkages, firmly overcome challenges and difficulties, and successfully implement the set objectives and long-term development orientations for ASEAN for the next stage.
Determining that the Covid-19 pandemic is still a permanent threat, ASEAN will actively control and repel it, and at the same time, immediately implement effective measures to support people and businesses step by step to restore economic and social stability. The ASEAN Coordinating Council will discuss extensively the effective promotion of ASEAN's Covid-19 response efforts and initiatives.
In order to minimize the consequences of complex changes in the regional and international strategic environment, to maintain stability and focus on disease response, Mr. Minh said It is important to focus on strengthening regional dialogue and cooperation institutions led and motivated by ASEAN.
Meeting with partners, ASEAN foreign ministers will discuss development directions of forums such as the EAS on its 15th anniversary and the ARF with the new period of cooperation and action program 2020-2030. It will continue to expand and deepen cooperation with partners under the frameworks ASEAN + 1 and ASEAN + 3, so that these mechanisms can best play their role in the new context.
Along with this is the effort to build and implement universal standards of conduct, upholding the principles of the United Nations Charter and the ASEAN Charter in relations between countries, including compliance to international law, equality, respect, mutual understanding and trust.
Deputy Prime Minister and Minister of Foreign Affairs Pham Binh Minh emphasized that ASEAN will continue to contribute and promote its role in efforts to maintain international peace and security.
Challenges to security and stability in the region always exist, including factors threatening peace, stability, security and safety, and freedom of navigation and aviation in the East Sea, a major maritime route of the region and the world.
ASEAN will be steadfast in its principles and stance, emphasizing restraint and peaceful settlement of disputes on the basis of international law, the 1982 UN Convention on the Law of the Sea (UNCLOS 1982), promoting dialogue, and strengthening confidence building, not militarizing, and not complicating the situation.
ASEAN steadfastly promotes the full and serious implementation of the DOC and strives to develop an effective, substantive Code of Conduct (COC) consistent with international law and the UNCLOS.
AMM-53 and related conferences will take place from September 9-12 with the participation of 27 delegations from four continents with different time zones. On Wednesday, a series of important conferences were held under the chairmanship of Vietnamese Deputy Prime Minister and Foreign Minister Pham Binh Minh, including: Conference of the Southeast Asia Nuclear-Weapon-Free Zone (SEANWFZ); 27th ASEAN Coordinating Council Meeting; Special Session of the ASEAN Coordinating Council Meeting on Subregional Development; ASEAN - China Foreign Ministerial Meeting, ASEAN - Japan Foreign Ministerial Meeting, ASEAN – South Korea Foreign Ministerial Meeting; 21st ASEAN +3 Foreign Ministers' Meeting (China, Japan, Korea); and the 10th East Asia Summit (EAS) Foreign Ministers Meeting.
Thanh Nam – Pham Hai