VietNamNet Bridge – Da Nang City's Chairman Van Huu Chien on April 9 asked to eliminate singer My Tam from the music show of the International Firework Festival 2013 (DIFC 2013,) scheduled on April 29-30 in Da Nang, for claiming high remuneration.
Danang's VND14.5 bil. for fireworks contest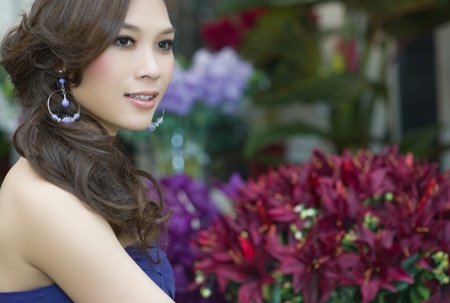 Singer My Tam.
At the meeting discussing preparation for the DIFC 2013, held on April 9, Director of the Da Nang Culture, Sports and Tourism Department – Mr. Ngo Quang Vinh – announced the music show will take place before the firework performances on the evening of April 29-30. The show is organized by the Hanoi-based Son Lam Company.
Vinh said the show will have the participation of the Da Nang-origin pop star My Tam and other famous singers like Ngoc Anh, Luu Huong Giang, Bui Anh Tuan, Kasim Hoang Vu and two artists from the U.S. and Russia.
According to Vinh, this firm asked for more than VND4.7 billion ($230,000) for the show, an increase of VND431 million ($20,000) over the DIFC 2012 and the department agreed.
Immediately, Da Nang's Chairman Chien asked Son Lam Company to reduce the cost by VND1 billion ($50,000) but having to maintain the same scale with the last year's show. Chien also requested the organizer to reject singer My Tam from the show because she claimed remuneration of up to $6,000 for one song each night.
"In difficult time like this, the singers would share difficulties with the city, but My Tam claimed up to VND110 million for singing only one song each night and asked the city to pay 10 percent of VAT for her. It is unacceptable," Chien stressed.
The Chairman also asked the show organizer to eliminate other singers who also claimed high remuneration like Bui Anh Tuan and Kasim Hoang Vy from the show to have more capital for the firework performances because the total capital raised for DIFC 2013 is only VND21.9 billion ($1 million,) equivalent to a half of the funding for the DIFC 2012.
The DIFC has been held in Da Nang five times and this is the biggest cultural and tourism event of this city but My Tam has never performed in her hometown's biggest event.
On April 9, My Tam immediately sent a feedback email to an online newspaper, which said that she did not claim such high pay from Da Nang. However, an official from Son Lam Company on April 10 confirmed with Infonet online newswire that My Tam's manager had claimed the remuneration of $6,000 and that is the "market price" for My Tam.
Compiled by P. Lan