AstraZeneca vaccine will continue to be used in Vietnam
No cases of blood coagulation have been recorded in Vietnam, so the vaccine will continue to be used as planned.
Dr. Dang Duc Anh, Director of the National Institute of Hygiene and Epidemiology, and Head of the Steering Committee of the Expanded Immunization Project, said that nearly 1,600 people were vaccinated with the AstraZeneca vaccine in the last four days in Vietnam. No cases of blood coagulation have been recorded, so the vaccine will continue to be used in Vietnam as planned.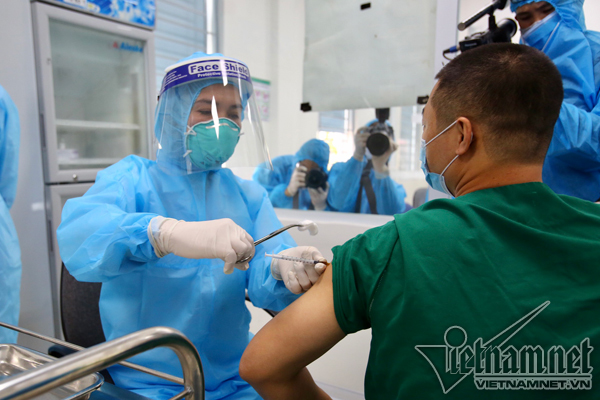 Health workers at the Hanoi-based Central Hospital for Tropical Diseases receive the AstraZeneca vaccine. Photo: Pham Hai
The vaccine has been used in Vietnam's first Covid-19 vaccine campaign since March 8. So far, 1,585 people have been vaccinated at 13 medical facilities in Hanoi, Ho Chi Minh City, and Hai Duong, Bac Ninh, Hai Phong, Hung Yen, Bac Giang, Gia Lai and Long An provinces.
Only six cases of level 2 anaphylactic reactions have been reported and all of them were promptly handled. The rest had mild post-injection reactions such as pain at injection spots, tiredness and low fever.
From now to the end of the year, Vietnam will receive 60 million doses of AstraZeneca vaccine, including 30 million doses from the COVAX program, and 30 million doses ordered by Vietnam. In March and April, Vietnam will receive 4.1 million doses.
AstraZeneca is one of three Covid-19 vaccines approved by the World Health Organization (WHO) for extensive vaccination in emergencies. This vaccine is currently being used in 50 countries.
However, Denmark, Norway and Iceland have decided to suspend the use of AstraZeneca vaccine after some cases of blood coagulation were reported.
Denmark will suspend the use of this vaccine for 14 days to clarify the cause of death of a 60-year-old woman from a blood clot 10 days after receiving the AstraZeneca vaccine.
Austria also reported that a 49-year-old woman died of a blood clotting disorder following the vaccination and a 35-year-old person with a pulmonary embolism.
The vaccine doses used in Austria belong to the shipment of 1 million doses coded AV 5300, distributed to 17 European countries.
Estonia, Latvia, Lithuania and Luxembourg have also stopped using doses of vaccines distributed from this shipment.
However, the European Drug Administration stressed that there was no evidence that AstraZeneca's vaccine caused the clotted blood phenomenon. The suspension is being done as a precautionary measure. AstraZeneca's vaccine offers more benefits than risks, the agency said.
Denmark also said that it had not yet determined a link between the vaccine and blood clotting.
According to the results reported from four clinical trials with nearly 24,000 volunteers who were vaccinated with AstraZeneca in the UK, Brazil and South Africa, the rate of people who felt pain at injection spots accounted for 54-63%. At least 52-53% had headache and felt tired, 44% reported muscle pain, 33.6% had low fever, 7.9% had fever of over 38 degrees Celsius, 31.9% had chills, 26.4% had joint pain, and 21.9 % felt nauseous.
However, most side effects went away after the first few days. By the seventh day, only 4-13% reported at least one local or systemic symptom. After being vaccinated with the second dose, the side effects were much lower.
Only about 0.7% of people reported having serious side effects after the first shot. However, this rate in the group of people who were injected with a placebo was also 0.8%. As such, there are no concerns about the safety of the vaccine.
Thuy Hanh

Many domestic and foreign organizations and businesses have contacted the Ministry of Health to suggest providing vaccines against Covid-19.