At least 62 killed in forest fire still raging in Portugal
A huge forest fire raging since Saturday in central Portugal has killed at least 62 people, most of them dying in their cars as they tried to flee,
A huge forest fire raging since Saturday in central Portugal has killed at least 62 people, most of them dying in their cars as they tried to flee, the government said on Sunday,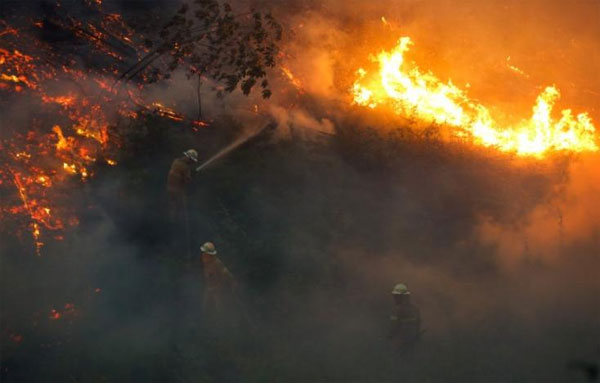 Firefightes work to put out a forest fire near the village of Fato, central Portugal, June 18, 2017.
"The dimension of this fire was such that we don't have memory of such a human tragedy," Prime Minister Antonio Costa said in Pedrogao Grande, the mountainous region about 200 km (125 miles) northeast of Lisbon.
Most victims were caught in their vehicles on the road while fleeing flames that were destroying their homes. The prime minister said the death toll could rise as firefighters inspected charred remains of some buildings in remote villages.
Police said a lightning strike on a tree probably caused the blaze on Saturday in a region hit by an intense heat wave and dry, gusty winds, which has fanned the flames.
The prime minister said the emergency services acted as fast as they could but acknowledged that some of the efforts like alerting the population might have been hindered because the blaze had ruined phone lines and communications towers.
"What happened was cables and communications towers were destroyed by the fire, even their first replacements melted," he said. "But nothing compromised the firefighting efforts."
Most communications have been restored, but Costa called on residents listen to the radio and heed any official advice.
The government declared three days of mourning and sent two army battalions to help the emergency services. The European Union said it would provide firefighting aircraft. France has offered three planes and Spain has sent two, authorities said.
Speaking in the Vatican, Pope Francis, who visited Portugal last month, mentioned the victims in his weekly address.
"I am close to the dear people of Portugal, hit by a devastating fire which is raging in the forests around Pedrogao Grande, causing many victims and injuries. Let us pray in silence," he said.
French President Emmanuel Macron said in a Twitter message: "Solidarity with Portugal, hit by terrible fires. Our thoughts are with victims. France makes its aid available to Portugal".
In one village of Nodeirinho, where 11 residents died, state television RTP showed burned out cars and blackened houses. Shocked residents said a whole family that was trying to flee their home in a car had been caught in "a tornado of flames".
"It does not seem real, it is out of this world ... It is a real inferno, we have never seen anything like that," the mayor of Pedrogao Grande Valdemar Alves told reporters, adding that more than 20 villages had been affected.
Alongside 62 confirmed dead, another 54 people have been injured and taken to hospitals. Four are in a serious condition.
More than 600 firefighters were still battling the flames on Sunday. Several local highways were shut for safety reasons.
The authorities said very low smoke clouds prevented helicopters and fire planes dropping water on the flames efficiently for most of the day.
President Marcelo Rebelo de Sousa visited the site at night and expressed his condolences. He said that "it was not possible to do more than what has been done" in prevention and responding to the fire.
Some local residents said they had been left without firefighters for hours as their homes burned. Many blamed poor forestry reserve planning and depopulation of remote villages that left many wooded areas untended.
Source: Reuters