Sherpa Co., Ltd., a member of Masan Group (MSN), has announced that it will spend US$15 million to buy 20% of Phuc Long Heritage, the owner of the Phuc Long coffee brand.
Under this deal, the two sides will jointly develop the "Phuc Long Kiosk" model through a network of more than 2,200 VinMart+ stores nationwide. They plan to develop 1,000 Phuc Long Kiosks in 18-24 months. In the next five years, as planned, VinMart will have 10,000 stores. This will be an opportunity for Phuc Long bubble tea.
The decision to buy Phuc Long milk tea is to increase the profit margin of VinMart+ system (estimated by 4%) and develop the Point of Life consumer ecosystem.
Vietnam's consumption of tea and coffee is estimated at $2.3 billion and is expected to grow by more than 10% annually. Branded tea and coffee retail chains account for only 25%, including big brands such as Highlands Coffee (over 300 stores), The Coffee House (over 150 stores) and Starbucks (over 70 stores). With a young population who love to experience new products and services, the chain of branded tea and coffee shops is forecasted to explode in the next decade.
Recently, Masa Group of billionaire Nguyen Dang Quang has acquired many leading enterprises in various industries. Its M&A strategy to expand its business lines has been methodically implemented over the years.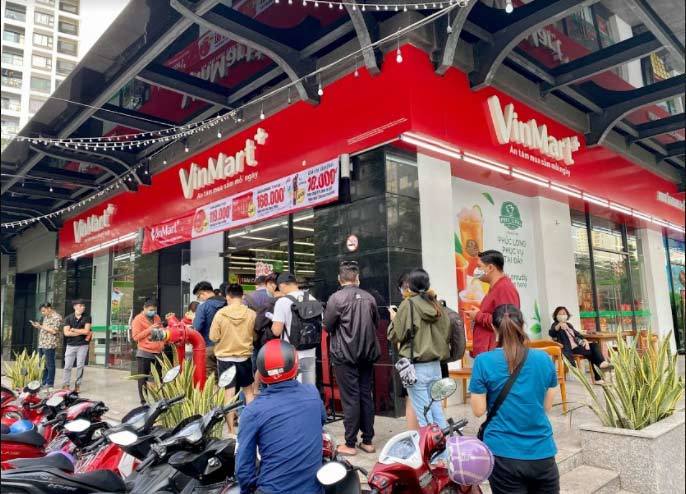 Masan has acquired a series of Vietnamese brands over the past year.
Most recently, Masan, in its biggest deal, acquired VinCommerce from Vingroup Group of billionaire Pham Nhat Vuong in a bid to build the No. 1 retail-consumer empire in Southeast Asia.
Earlier, Masan carried out many big deals, including buying a controlling stake in Nui Phao mine; acquiring Vinacafe Bien Hoa; Vinh Hao; buying shares of Cholimex Foods; investing in Proconco and ANCO; and purchasing control shares of NETCO and 3F Viet.
In the market, investors also witnessed many huge M&A deals: Thaco bought HAGL's agricultural segment; Nova Group spent billions of USD to carry out M&A deals in 2020; Vinamilk spent nearly VND1,800 billion acquiring GTNFoods - the parent company of Moc Chau Milk; and Indo Tran spent more than $40 million acquiring Sotrans. Recently, it was reported that Vinh Hoan planned to spend hundreds of billions of VND to acquire Banh Phong Tom (glutinous rice patty mixed with powdered shrimp) Sa Giang.
M&A activities have been active in recent years and the most prominent deals were conducted by Masan Group by taking advantage of international financial resources. For more than a decade, Masan has raised nearly $3 billion from international capital markets.
Most recently, Masan attracted $400 million from Alibaba and Baring Private Asia (BPEA) to buy newly issued shares of The CrownX (a member of Masan). According to Masan, the group is negotiating a strategic investment transaction with other investors worth between $300 and $400 million in The CrownX, expected to be completed this year.
V. Ha

Vietnam's stock market remained among the world's best performers in the first five months as the benchmark Vn-Index rose by 16.31% against early 2021 to 1,283.93 points at the close on May 21, according to StockQ.

Masan Group billionaire Nguyen Dang Quang is considering a billion-dollar deal in an area that is Vietnam's strength but has been controlled by large foreign corporations for the past decade.