Australian Government provides 50 scholarships for Vietnamese students

The Australian Government has just offered 50 scholarships to 36 female and 14 male emerging leaders from Vietnam to study masters programs at Australia's educational institutions in 2020.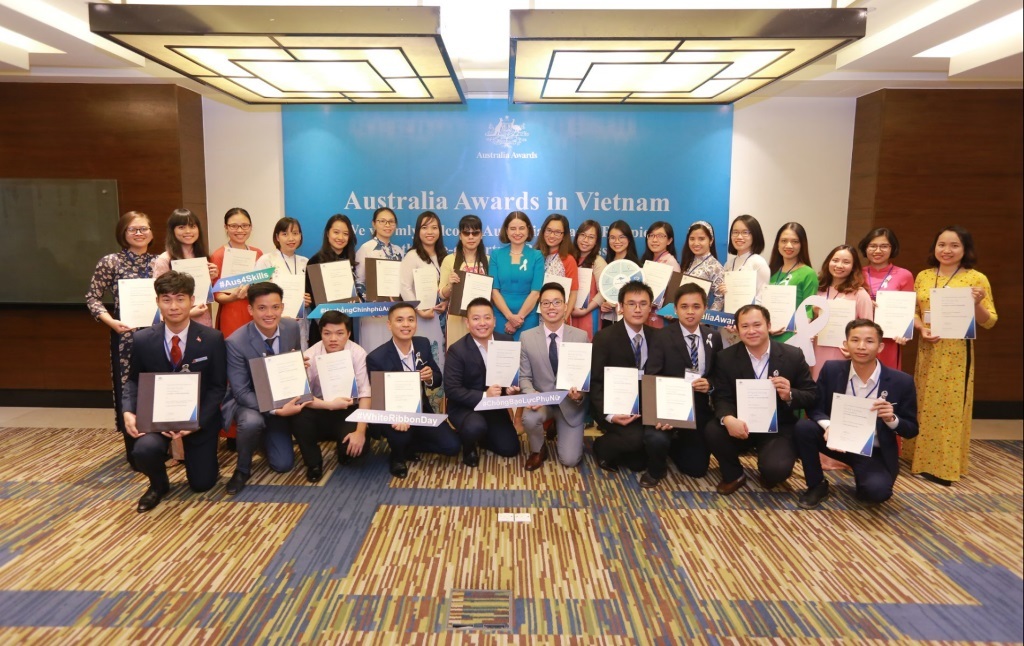 Australian Ambassador to Vietnam Robyn Mudie poses for a photo with successful awardees of the program. Photo by the Australian Embassy in Vietnam
According to the Australian Embassy in Vietnam, the Australia Awards scholars were selected for their academic abilities, leadership qualities, and their potential to drive positive change in Vietnam. They will gain a quality education in Australia, advance their knowledge and build networks across a range of areas, including economic growth, disability, governance, food security, gender equality, health, agriculture and fisheries, infrastructure and regional stability.
Speaking at the recent pre-departure briefing for Australia Awards recipients, Australian Ambassador to Vietnam Robyn Mudie said that Australia Awards scholarships are equipping a new generation of leaders with the skills and knowledge they need to make a difference.
"These scholarship recipients will return home from their study in Australia with new ideas and the ability to make a significant contribution to Vietnam's development," she said. "I am confident that they will thrive during their period of study in Australia and I wish them every success for their future endeavours."
Awardees include people with disability, ethnic minorities and rural disadvantaged.
According to Nguyen Minh Tuan, a successful awardee from the Thien An Shelter Social Centre for The Blind in HCM City, the scholarship will offer him the opportunity to study Master of Education at Flinders University.
"I believe that upon completion of the study and return to Vietnam, I will be able to strengthen the Inclusive Education Programs, and to find practical solutions to educational problems of the people with disability in local areas," he said.
Speaking at the briefing, another successful awardee, Ly Sao Mai said, "My hard work over the past years has finally paid off. I feel so excited and am looking forward to the challenging yet fascinating experience in Australia." 
This cohort of 50 awardees are among over 6,000 Vietnamese students who have received long-term and short-term training opportunities from the Australian Government since the opening of diplomatic relations between the two countries in 1973. Many Australia Awards alumni have reached positions of leadership in both the private and public sectors in different parts of Vietnam.

Vietnam continues to be a top choice destination for Australian undergraduate students participating in the Australian Government's New Colombo Plan.