Authorities clamour for travel passes
While a special travel pass and financial bailouts are expected to help airlines in Vietnam come back from the brink, questions over their feasibility remain.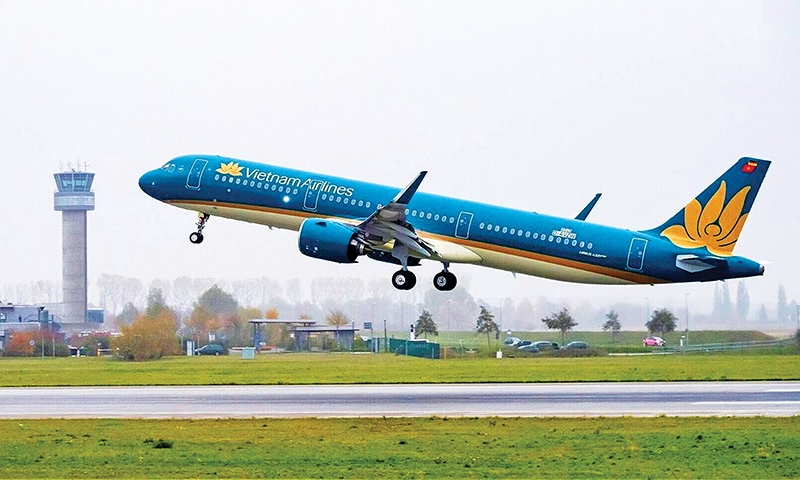 Groups like national carrier Vietnam Airlines are in dire need of supporting policies. Photo: Le Toan
National flag carrier Vietnam Airlines last week announced that it would restart international flights to several destinations in Asia and the European Union from July to October to meet the demand among passengers, especially labourers, overseas students, and expatriates.
The move was made following a trial run of the International Air Transport Association (IATA) Travel Pass mobile application on flights from Narita Airport in Japan to the central city of Danang. The app was being made available for use on flights on July 15 and July 23. Vietnam Airlines hopes that the success of the trial will be the foundation for the government to consider wider recognition, thus enabling airlines to resume more cross-border flights.
Like Vietnam Airlines, Vietjet also announced a similar pilot.
However, industry insiders still wonder whether the pass can truly help Vietnam Airlines and Vietjet achieve their goal to shelter from the financial storm.
The northeastern province of Quang Ninh has been piloting a quarantine of seven days for entrants, who have already been vaccinated against COVID-19, since July 1.
Previously, international business associations like the Korea Chamber of Business in Vietnam had called for loosened requirements for expats – but now, with the pandemic situation worse than ever in the country, more tightened restrictions are being applied in affected areas, especially Ho Chi Minh City.
Experts said that the IATA Travel Pass is a solution that could take time for airlines to utilise correctly because it depends on the readiness of other countries. But Vietnam is on the right track in preparing for this.
In addition, the airlines' financial situations are getting worse. According to the Ministry of Planning and Investment, Vietnam Airlines was estimated to have lost VND10 trillion ($435 million) in the first half of 2021 and is at risk of bankruptcy. Moreover, it would appear that total new loans to date have been less than $100 million at a time when quarterly losses are running at double that amount.
Experts said that the progress of financial support has also been slow. Part of the government's rescue plan that has been approved is the purchase of about VND8 trillion ($348 million) of new equity by State Capital Investment Corporation. However, the latest expectation is that this will not be implemented until the last quarter.
Vietjet and Bamboo Airways are in a similar situation. While the Vietnam Aviation Business Association has proposed a similar refinancing package for them, no signal of approval is on the horizon.
"Airlines need more supporting policies to survive these challenging times, as COVID-19 continues to rage more seriously. Countries have big bailouts to support liquidity and solvency in low-interest loans to help cover the labour costs and pay short-term debts," Nguyen Tien Lap from law firm NHQuang&Associates told VIR. "And it is not only airlines – other air carriers are also in need of more support."
The IATA Travel Pass is a mobile app that helps travellers to store and manage their verified certifications for COVID-19 tests and in future vaccinations. At present, the pass is being trialled by many airlines worldwide, such as those in Singapore, Panama, and Estonia. Meanwhile, over 30 air carriers announced trial runs, including Qatar Airways, Etihad, Singapore Airlines, Royal Brunei and more.
Nick Careen, IATA's senior vice president of Airports, Passengers, Cargo, and Security, said, "We look forward to working with Vietjet to trial the IATA Travel Pass and demonstrate that digital health apps can securely, conveniently, and efficiently help manage passenger travel health credentials. This is a positive step forward towards restarting international aviation."
Source: VIR

Vietnam Airlines has signed an agreement with the International Air Transport Association (IATA) to test the IATA Travel Pass, a type of electronic health passport application.