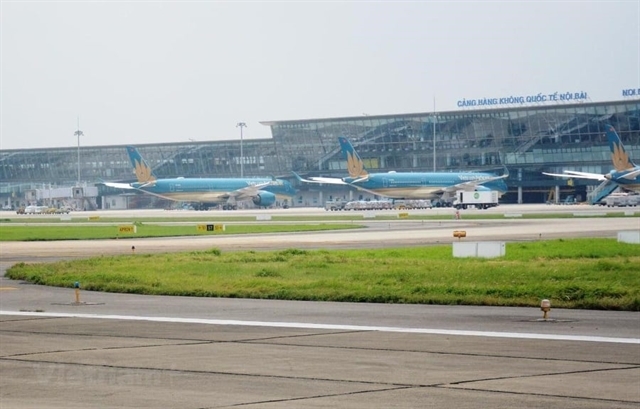 In the report on the evaluation of airport planning submitted to the Ministry of Transport in early May, the CAAV suggested keeping the current number of airports, both planned for construction and fully operational, of 28 by 2030 and adding just one more airport in the northern province of Cao Bang by 2050.
The proposals for building five airports in the northern provinces of Bac Giang, Ha Giang, Ninh Binh, central Ha Tĩnh Province and southern Bình Phước Province were rejected.
Nguyen Anh Dung, deputy head of the Transport Ministry's Department of Planning and Investment told local media that there were six main criteria for airport construction.
They included the future forecast demand for passenger volume, evaluating its role in promoting socio-economic development, ensuring national defence and security, emergency relief, natural conditions and access to a city centre. Of these, the demand for passenger volume and natural conditions were the most important criteria.
Dũng said that all airports with annual traffic of fewer than 2 million passengers are facing losses.
In addition, according to international experience, the distance between two airports should be more than 100 kilometres, or it would likely be ineffective, he said.
PhD Nguyen Bach Tung, an aviation expert, said the locations of airports were not suitable to the topography.
Tùng cited Ha Giang and Ninh Binh as examples. Ha Giang, with its hilly and mountainous terrain, was not suitable to build an airport while Ninh Binh had large rice fields, which would cause impacts on local people's livelihood in the land acquisition process.
Tùng also said the majority of domestic airports currently did not reach designed capacity. Some airports often had few passengers in the early stages such as Van Don and Can Tho.
Therefore, the efficiency of airport investment should be carefully considered.
Pham Van Toi, vice chairman of Vietnam Association of Aviation Science and Technology, said many proposals for airport construction have not been fully surveyed and considered.
For example, Ha Giang proposed an airport for both military and civil purposes, but its land and airspace was limited.
In the report, the CAAV has asked the ministry to keep the planning for Hai Phong international airport in Tiên Lang District to be a subsitute for Noi Bai and Cat Bi airports by 2050.
Tới said Tien Lang District had a land fund of 4,000 to 6,000 hectares, ensuring the construction of an airport with a capacity of more than 100 million passengers per year. Most of the land was alluvial ground between the Thai Binh and Van Uc rivers, so it was convenient for site clearance as it would not affect locals' livelihood.
However, foundation construction would be complicated and costly.
He said Tien Lang was a good location as the highways connected it to Hanoi, making travel more convenient.
He also added that the existing Cat Bi Airport could not be expanded as it was located near a river.
In the report on airport planning, the CAAV proposed the country would have 29 airports by 2050, including 14 international and 15 domestic airports.
Currently, Vietnam has 22 airports operating nationwide.
VNS
The latest Covid-19 outbreak has hit Da Nang's tourism industry at the time it was preparing for the summer recovery. Just several days ago, during the April 30 – May 1 holiday, the city was packed with tourists.