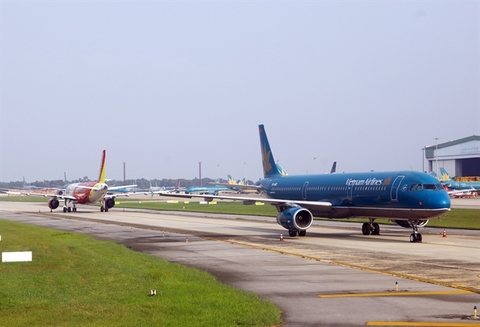 Airplanes are seen in Phu Cat airport in Binh Dinh Province. The CAAV has proposed airlines can decide their own domestic ticket prices on routes with three or more airlines operating together. 
The Civil Aviation Authority of Vietnam (CAAV) has proposed the removal of the cap for airfares on domestic flight routes operated by at least three carriers.
It made the request in a draft report reviewing the implementation of the 2006 Law on Civil Aviation of Vietnam and the revised edition in 2014. It said the domestic transportation market has become very competitive with more and more airlines.
The CAAV has proposed on routes with three or more airlines operating together, airlines can decide their own domestic ticket prices and list them according to regulations.
At present, the ceiling rates of domestic airfares are decided based on distance in accordance with State regulations.
The basic economy fares are applicable from August 2015 for five groups of air routes, stand between VND1.6 million and VND3.75 million (US$70-$163), depending on distance and excluding additional costs.
Ceiling prices will limit airlines from improving flight service quality. This will affect the airlines 'ability to compete on quality of service', an important factor in sustainable development, CAAV, stated in a report submitted to the Ministry of Transport.
Experts said the removal of the caps will help airlines become more flexible in adjusting ticket prices during peak times and maximise revenue.
National flag carrier Vietnam Airlines proposed in 2019 that Viet Nam abolish the domestic price ceiling. Currently, Viet Nam is one of the few countries in the world that still imposes a ceiling on airfares. The CAAV has also repeatedly proposed to remove the ceiling price when amending and supplementing the Civil Aviation Law, but it has not been approved.
Vietnam Airlines also proposed to impose a domestic floor price of about VND560,000 to VND1.4 million to help airlines overcome the pandemic difficulties. However, the Ministry of Transport has not taken this into account. Some believe by removing the floor price will offer clients opportunities to get cheap airfares.
Local carriers served 11.7 million passengers in the first four months of 2021, up 9.5 per cent year-on-year, according to the General Statistics Office.
Viet Nam is now home to six domestic airlines of national flag carrier Vietnam Airlines, Pacific Airlines, Vasco, Vietjet Air, Bamboo Airways and Vietravel Airlines. — VNS

Some local air carriers such as Vietnam Airlines, Pacific Airlines, Vasco and Bamboo Airways will increase their management fees by up to VND100,000 per passenger.