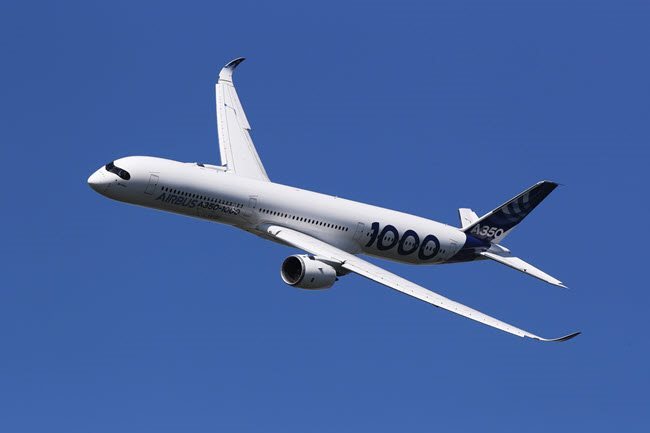 An Airbus jetliner is seen in a demonstration at Paris Air Show. Kite Air project, once approved, will have 30 aircraft until 2024, including 15 ATR 72 units and 15 A320/A321s - PHOTO: VNA
The firm has submitted applications to the Department of Planning and Investment of Quang Nam Province, seeking approval for its airline project, which is set to be headquartered at Chu Lai Airport in the central province's Nui Thanh District.
According to the company's plans, the airline will have 30 aircraft until 2024, including 15 ATR 72s and 15 A320/A321s or similar aircraft.
The firm will invest in six ATR 72 turbo-prop aircraft during the first year of operations and then double the number of aircraft in the second year. Until the third year, it is expected to operate a total of 15 ATR 72s and five A320s/A321s. The airline operator will add five A320s/A321s to the fleet annually in the two following years.
Thien Minh Aviation Company was founded in late June this year by Tran Trong Kien, chairman of Thien Minh Group. Kien holds a 60% stake in the newly established firm, equivalent to VND600 billion, while the ownership of Thien Minh Travel JSC and Tran Hang Thu, deputy general director at the group, in the aviation firm account for 30% and 10%, respectively.
The firm's proposal to set up Kite Air has contributed to the current boom in the local aviation sector, attracting many private investors.
Recently, the Civil Aviation Authority of Vietnam wrote to the Ministry of Transport presenting schemes to establish two new carriers: Vinpearl Air and Vietravel Air. 
Aviation regulator endorses Vietravel's proposal to set up airline
The Civil Aviation Authority of Vietnam (CAAV) has thrown its support behind a proposal from local tour operator Vietravel to establish an airline called Vietravel Airlines.
The CAAV sent a report to the Ministry of Transport expressing its stand on the proposal.
Having appraised the project, the CAAV noted that the project would meet sufficient requirements for the ministry to present it to the prime minister for consideration and in-principle approval.
Vietravel's plan to charter aircraft is unique to Vietnam, according to the local aviation regulator.
If the proposal is given the go-ahead, Vietravel Airlines may operate its maiden flight in the second quarter of 2020.
Nguyen Quoc Ky, chairman of Vietravel, told The Saigon Times last month that the firm will earmark some VND1 trillion (US$42.9 million) for the establishment of Vietravel Airlines.
He added that the carrier also plans to operate chartered flights using Airbus 321 aircraft from Phu Bai International Airport in the north-central coastal province of Thua Thien-Hue to tourist destinations at home and abroad within its first three years of operation.
The airline will have significant advantages in operating chartered flights, Ky stated. Last year, Vietravel chartered more than 300 flights with 180-200 seats each for local and international guests.
In May this year, Vietravel acquired a 66% stake in HCMC-based Kent International, the owner of Kent International College. The move is intended to prepare manpower for the future airline.
The firm has also worked with international aviation manpower providers, such as Brookfield Aviation and Ireland's Sigma Aviation Services, which provide aviation workers, especially pilots and aircraft maintenance technicians.
Currently, Vietnam has five airlines: Vietnam Airlines, Jetstar Pacific, Vietjet Air, Vietnam Air Services Company (a subsidiary of Vietnam Airlines) and the fledgling Bamboo Airways.
Inadequate infrastructure affects takeoff at TSN airport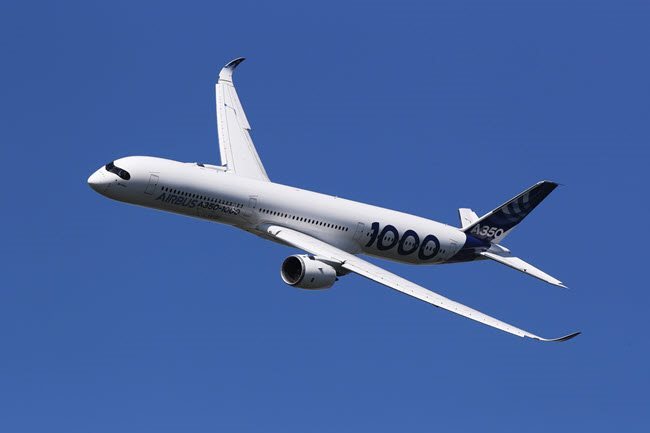 Planes have to queue to take off at the Tan Son Nhat International Airport in HCMC – PHOTO: TNO
Planes at Tan Son Nhat International Airport usually have to wait a long time in queue to take off due to its inadequate infrastructure, according to Vietnam Air Traffic Management Corporation.
Passengers have reportedly complained that they are sometimes stuck on the taxiway for hours before takeoff.
The corporation noted in a statement that the airport has two parallel runways that were built in 1967. However, they are not far enough apart, based on regulations for independent runs, so only one plane is allowed to land or take off at a time.
As a result, during peak times, planes have to wait long for slots to land or take off.
In an effort to tackle the problem, the Airports Corporation of Vietnam plans to upgrade the existing taxiway and build another taxiway parallel to the runways.
Statistics reveal that Tan Son Nhat International Airport served more than 38.5 million passenger arrivals last year, which exceeded its designed capacity of 25 million arrivals. The number of landings and take-offs averaged 700 flights per day. SGT