Ba Pho Music House, special space to preserve traditional musical instruments

The "Ba Pho Music House" is a special space to preserve traditional musical instruments which serves as a tourism destination for visitors to Hanoi and also helps introduce musician Ba Pho, the founder of the troupe, to the public.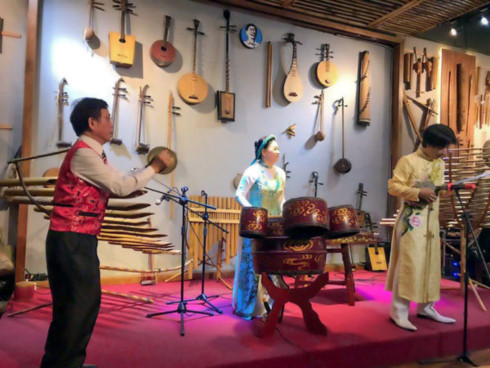 The Ba Pho's family troupe. (Photo: sovhtt.hanoi.gov.vn)
I visited the Ba Pho Music House one summer evening after one of my foreign friends told me how excited he had been about Vietnam's traditional musical instruments. 
As soon as I came into the house which is located on a small street in Hanoi, I were strongly impressed by a collection of more than 200 types of folk instruments of ethnic minority groups nationwide, many of which look extremely strange such as the "Dan luu" of from northern plains, the "Dan co ke" and "flute of Mong" of the northwestern region, the stone instruments of the Mo Nong group and the stone instruments of the Ede group. Surely, few people know about them.
The collection represents the effort made by meritorious artist Ba Pho over the course of half a century. Pho said he established the house in the hopes of gathering those who like traditional music and traditional musical instruments to meet, learn, and exchange with each other. That's why he doesn't sell tickets. Visitors to the music house can see and even play any of the musical instruments on display.
"We want to share with the public what we have been researching over the years. On top of preserving and developing folk instruments, we also want to inspire patriotism and the love of national traditions on the part of our visitors. In addition, we hope our music house will be a tourist destination through which we can introduce the quintessence of Vietnamese culture to the world," Pho said.
While two hundred folk instruments is a rather voluminous collection, Pho said he didn't want to turn it into a museum, preferring instead to opening it as a music house.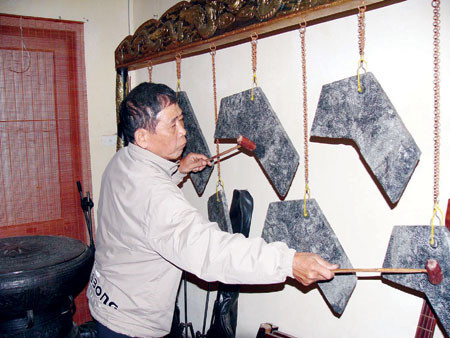 Ba Pho's stone bell is Vietnam's unique set which remains usable.  (Photo: giadinh.net.vn)
"I call it a music house because all of folk instruments here are on display because I want people to think of studying, respecting, and restoring them. Theoretical research plays an important role. Previously researchers only attached importance to sociological aspects – when the instruments were formed and how to play them. But in order to bring them back to robust real-life instruments, we need to understand them in a scientific sense – what are their acoustic characteristics and whether or not the technical state of things is strong enough. I study both aspects," he explained. 
In addition to his collection, Pho has done his own research and made new musical instruments based on original ideas. His improved T'rung, or bamboo xylophone, as an example, has been granted by the National Music Council with a certificate.
The T'rung instrument used to be popular only in the Central Highlands and its origin did not have a stand. The player put one of its ends on one foot while playing. The other end was hung on a tree. Since it was introduced to the north in the early 1960s, Pho had researched it and made one for himself with a wider range of tones.
More impressively, Pho's T'rung generally looks like the roof of Rong house, which is a community gathering place in the central highlands. If you look at it from the front, it's like a single pillar pagoda. From another angle it is like a crane rising up into the blue sky.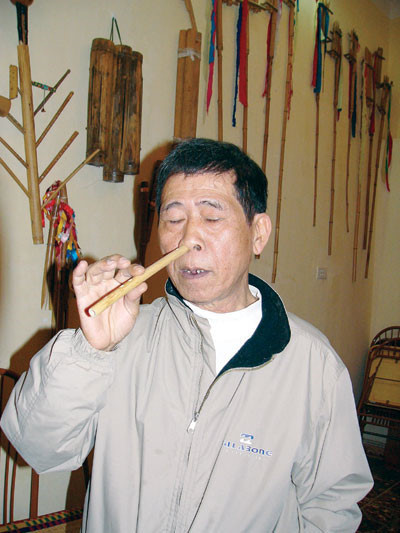 The pikhuu, a kind of bamboo flute of the Khang ethnic group. (Photo: giadinh.net.vn)
Musician Ba Pho has successfully restored an ancient bronze drum whose sound, he said, resounded such that it could make the enemy so frightened that their hair turned grey.
Pho can also play the pikhuu, a kind of bamboo flute of the Khang ethnic group, with his nose, adding that all musical instruments of the ethnic groups express their desire for life and love. The player should be able to express that feeling and reflect the culture of that group, Pho noted.
According to artist Ba Pho, with 54 ethnic groups living across Vietnam, the nation is also rich in traditional musical instruments, thus making it hard for collectors and researchers in terms of time and cost. A collector should have plenty of money and more importantly great passion and profound knowledge to pursue the hobby for a long time. That's why collection itself doesn't have either a beginning or an end, Pho said.
The performances at Ba Pho Music House are different to other music shows. There aren't scripts and MCs. Audiences mix with artists in the programs and fondly appreciate each melody and each musical instrument. 
After each item on a program, there sounds big rounds of applause. Folk music and folk musical instruments are the bridge to help artists and viewers understand and harmonize with each other. After each performance, the artist will explain to the viewers about the musical instrument.
If you find strange the "dan co ke", the flute of Mong ethnic people in the northwestern region, or stone instruments, you should not be worried as Ba Pho Music House's artists like Mai Lien will tell you what it is, how it works, and how to play it.
Lien shared her thought "I feel happy because I have brought happiness to the community. The musical instruments are an indispensable source of spiritual nourishment for ethnic people in their lives. In this regard, I think our ancestors were better off than we are today. Our unique mission is to take over and preserve what the ancestors have left us. This is a good way to show our gratitude to the ancestors."
Coming to the music house, you can hear well-known international tunes played by Vietnamese instruments like the Turkish March song.
"It's a very special thing when using Vietnamese folk instruments to play foreign songs. This will make the shows at Ba Pho Music House different from any others. The Turkish March is just such an example," said a viewer after watching a program. 
The mysterious sound of bamboo or stone musical instruments played by members of Ba Pho's family leads the audience through different areas in Vietnam, telling them the life and cultural beauty of ethnic groups nationwide.
Traditional music also served as the matchmaker for artist Ba Pho and his beloved wife, Meritorious Artist Mai Lien. Over the past 30 years, she has been side by side with him in both daily activities and work. 
"As one of Pho's colleagues and his wife, I think I should wholeheartedly support him in the establishment of this music house. We share something major in common, and that is our passion for traditional music and for the arts, apart from the marital and family love," said Lien.
Ba Nha, the only son of the two artists, was considered a musical prodigy when he won the first prize at an international competition on traditional music at the age of 8 and was allowed to enroll at the Vietnam National Academy of Music as a rare exception. At 15 years old, Ba Nha became the youngest graduate in music in Vietnam. 
"I feel proud to be born to a family with parents preserving a time-honored artistic tradition. I have inherited a great deal from my parents. They have supported me a lot in my study and development as a musician. When I was honored to receive an award in Shanghai, I told of my father's music house with its 200 folk instruments which remind us, especially our foreign friends, of the great benefits derived from the culture of the 54 ethnic minority groups in Vietnam," said Nha.
Ba Pho's desire to preserve and spread Vietnamese traditional music to the public has been strongly been supported by family members. Indeed, a family troupe was established involving his wife, son, and brother-in-law.
In the mind of colleagues like musician Nguyen Chinh, former Deputy Director of the Vietnamese Music and Dance Theater, artist Ba Pho is a person with profound musical knowledge.
"Musician Ba Pho has a great passion for and takes pains to study and make traditional musical instruments. He has spent much time traveling from north to south to collect folk instruments and learn how to play them. His collection is well worth of praise and being introduced abroad so that other countries can learn how rich Vietnam is in traditional ethnic music. Ba Pho himself, along with his wife and son have added a great deal to Vietnamese patriotism. The most important thing is to develop the national spirit and soul," said Chinh. VOV5