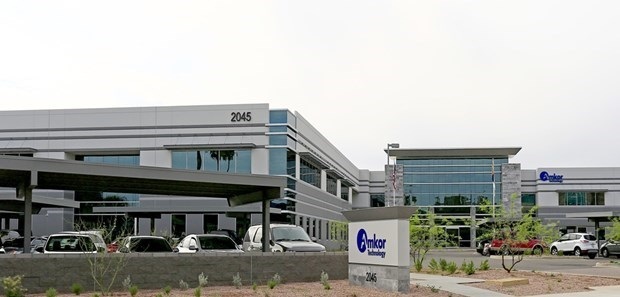 Amkor Technology, Inc. headquartered in the US. (Photo: Amkor)
The Viglacera Real Estate Company and Amkor Technology, Inc., one of the world's largest providers of outsourced semiconductor packaging, design, and test services, have recently signed a contract in principle to lease land to build a project for manufacturing, assembling and testing semiconductor materials at Yen Phong II-C Industrial Park in the northern province of Bac Ninh.
Accordingly, Amkor Technology will invest 1.6 billion USD between now and 2035 to build a plant to manufacture, assemble and test semiconductor products on a site of 23ha in the IP.
Construction of the project is expected to begin in the first quarter of next year.
The first phase of the project will focus on the production, assembly and testing of semiconductor materials for the world's leading semiconductor and electronic manufacturing companies.
"This is a strategic, long-term investment in geographical diversification and factory capacity expansion, supporting the company's commitment to reliable supply chain solutions for our customers. Factory utilization is high, particularly at our advanced packaging sites, and we expect the strong market demand for assembly and test solutions to continue. Investing in Bac Ninh expands our manufacturing footprint in support of customer need for an alternative cost-competitive supply chain solution for Advanced System in Package (SiP) – and for other packaging solutions in the future," Giel Rutten, Amkor's President and Chief Executive Officer, said in a press statement.

"Support from Bac Ninh and a strong labour force make Bac Ninh an excellent choice for this expansion, and we expect this new facility to become an important part of our assembly and test network in the future," he said.
Established in 1968, with headquarters in Arizona, the US, and 17 factories in China, Japan, the Republic of Korea, Malaysia, the Philippines, Portugal and Taiwan (China), Amkor Technology, Inc. is considered one of the world's largest manufacturers, assemblers and testers of semiconductor materials, and is currently a strategic manufacturing partner for the world's leading chip companies, chip foundries and microchips such as Qualcomm, Samsung, NVIDIA, Foxconn, Broadcom, LG, and SK Hynix./.
Source: VNA