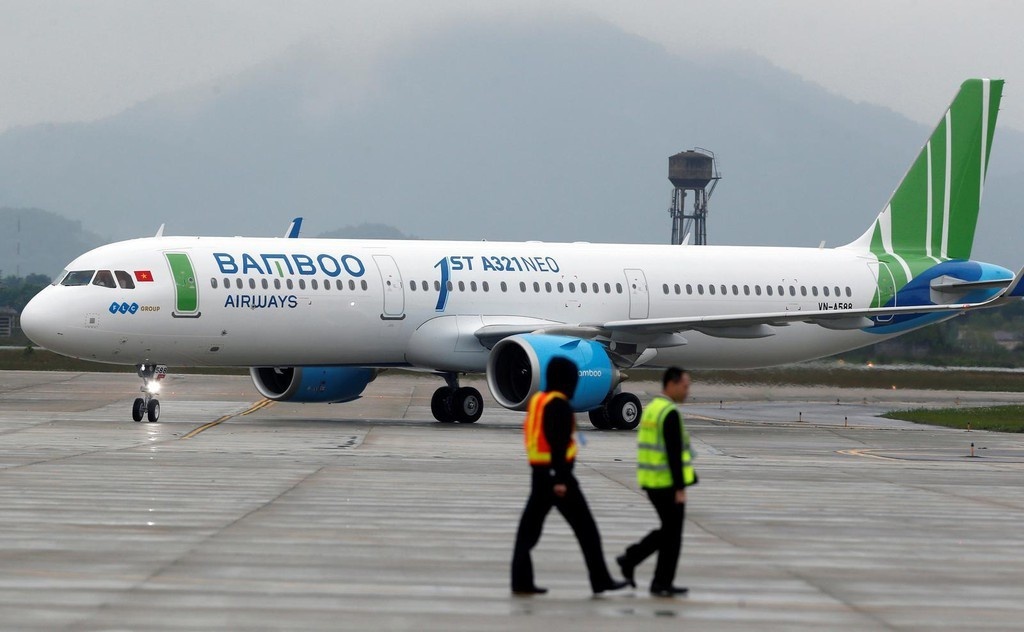 Ho Minh Tan, Deputy head of CAAV, said the watchdog agency will more strictly supervise the operation of Bamboo Airways for at least 3-6 months with the focus on aircraft maintenance and exploitation, and training.
Vu Hong Quang, deputy head of the transport division under CAAV, said Bamboo Airways' air transport business license was last amended on February 3, 2021.
Bamboo Airways Chair Trinh Van Quyet doesn't have the right to determine the company's development strategy and the business and fleet development plan.
Bamboo Airways is now using 29 aircraft, including one A319 which will see the leasing contract terminate by the end of this year. The leasing contracts of the remaining aircraft will terminate in 2024, 2025 and the following years.
To date, CAAV has not received any document from aircraft leasing organizations or authorized organization that request the halt of the aircraft use.
According to Bamboo Airways' Deputy CEO Nguyen Ngoc Trang, on March 29, the air carrier's leaders assessed the risks and possible influences to the operation of the air carrier following a sudden change of the top position.
Quyet has authorized all shareholder's rights for the shares he is holding to Vu Dang Hai Yen.
The entire management team, especially the apparatus operating in accordance with the Aircraft Operator Certificate (AOC), the Approved Maintenance Organization (AMO) and the Approved Training Center (ATO) will be kept intact. There is currently no change in high-quality personnel: pilots, flight attendants and engineers.
The sales system of Bamboo Airways is still running smoothly with the modern administration software.
Financial institutions all commit to continue implementing the contracts signed before between them and Bamboo Airways.
With the FLC ecosystem and cooperative relations with prestigious commercial banks and financial institutions, the cash flow for Bamboo Airways' operation will be maintained. As for clients, Bamboo Airways commits to continue its obligations.
Bamboo Airways has implemented measures to enhance safety to ensure flight operations, minimize risks, and maintain stable and sustainable operations.
Quyet, 47, owns over 30 percent FLC Group shares (215 million shares), and millions of shares in other subsidiaries, including ROS, GAB, ART and BOS.
The Ministry of Public Security on March 29 filed charges against Quyet and arrested him, pending investigations into suspicion of stock market manipulation.
Vu Diep

Property developer FLC Group announced on March 31 that Dang Tat Thang will be chairman of the group and Bamboo Airways until a new decision from shareholders' meeting and the board of directors.

High-profile FLC Group chairman Trinh Van Quyet would have enjoyed illicit perks worth over VND530 billion if his sale of 74.8 million FLC shares had not been cancelled in January for his failure to disclose information prior to the transaction.